Ready to transform your website from showcase site to sales machine? These 8 "must have" plugins are what you need to achieve it.
WordPress greatest strength is its flexibility. A WordPress website can do whatever you want it to achieve. It can be a blog, an eCommerce store, a portfolio, or the online face of a brick and mortar store.
By adding in the right plugins you can radically change its functionality. But adding plugins isn't something to be taken lightly. Many website owners take the oft-quoted phrase "there is a plugin for that" to heart. They upload and activate plugins en-masse. The end result is plugin bloat leading to reduced website performance.
The key is to add only the right plugins. These are the best plugins in their category. They are what you need to use if you want to turn your website into a site that sells.
Once set-up, they will help you to attract traffic, convert visitors into leads and turn those leads into customers.
1. Yoast SEO (Search Engine Optimization)

Having a steady stream of target visitors from the search engines is one of the most cost-effective ways of generating sales. In order to get those visitors you need to make sure that your WordPress website is properly optimized. Yoast SEO is the leading WordPress plugin for optimizing your website for the search engines. Yoast SEO simplifies all of the processes that are required for on-page SEO. This includes creating your meta titles and descriptions, choosing your target keywords, including the optimal keyword density, and more. You can install Yoast SEO on any self-hosted WordPress website and there is both a free and a premium version available.
Key Features:
Keyword optimization checklist
XML sitemap generation
Linking with Google Search Console
Edit meta titles and descriptions
Index or non index specific pages and posts
Permalink control
Once you have installed and activated Yoast SEO you will first setup the general settings. This includes top-level information about your website, such as the name and company or person associated with. This information is used to improve your presence with Google Knowledge Graph. If you are using either Google, Bing or Yandex webmaster tools, you can verify and link the account with Yoast SEO.
As mentioned, one of the core features of Yoast SEO is the ability to customize your meta titles and descriptions. Changing your meta titles and description will change their appearance in the SERPs. Making sure that these are well optimized is one of the best ways of improving the number of users who click through to your website.
If you are already using a different SEO plugin like All-in-One SEO or Headspace2, you can import your settings. This simplifies switching to Yoast SEO, so you don't need to re-optimize all of your content. You can do this through the Import and Export section under tools.
2. Constant Contact (Email Marketing)

59% of B2B marketers said that email was their most effective marketing channel. Email marketing allows you to reach out to visitors and bring them back to your website. Unlike marketing channels, your email list is a property that you completely control. And email is a fantastic way to build rapport with prospects and educate them about your products and services.
Constant Contact is one of the top email marketing service providers. Using Constant Contact you can build your own email lists and create customized email newsletters.
Key Features:
Reporting tools
Autoresponder to send automated email sequences
High deliverability rates
Contact management system
Custom fields and tagging
The Constant Contact plugin allows you to create forms for your website that are user-friendly and optimized for mobile. This can help to increase conversion rates meaning more people sign up for your email newsletter.
3. Blog Designer Pro WordPress Plugin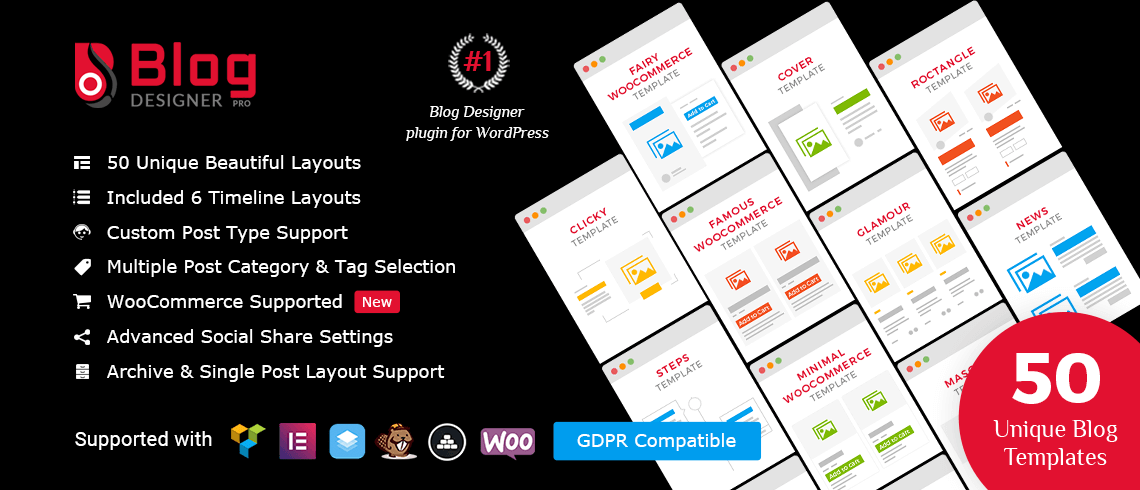 The blog is a very essential part of any business website. Only content is not enough to impress your website visitors. Blog design is one of the most important factors.
Blog Designer Pro is the ultimate solution to your blogging website. It will give a unique flavor to your blog page with unique 50+ blog layouts. It is compatible with almost all the WordPress themes. Blog Designer allows you to showcase your blog posts in various designs like a grid, slider, list, masonry, etc.
Key Features:
Support Of Single Post Design
Manageable Posts Per Page
Author Page Design
Blog customization options
The plugin helps you to get stick your website visitors on your site. Blog Designer is the WooCommerce supported plugin, which helps you to sell your products from the blog, too. Sounds interesting? Use now & make your blog awesome.
4. Broken Link Checker (On Page SEO)

Broken links are all too common problem. Unfortunately, many website owners underestimate the impact that broken links can have on their sales. Broken links hurt the user experience when a visitor clicks through on a link only to find the page is missing. This may mean that they are unable to find the information they require and navigate away from the website altogether. It can also hurt your rankings in the search engines, which in turn reduces the amount of organic visitors to your website.
Broken Link Checker is a plugin which makes it easy to identify where you have broken links on your website and to fix them.
Key Features:
Broken link notifications available through the dashboard or by email
Option to stop search engines from following broken links
Monitors broken links across your website including pages, posts, comments and custom fields
Easy to configure
Depending on the size of your website, it can take as little as several minutes to identify all of the broken links on your website. Once identified, the plugin gives you plenty of options, including editing or unlinking the broken link.
5. Live Chat (Live Chat)

63% of people surveyed said that they were more likely to return to a website with live chat, and 62% said that they were more likely to make a purchase. If you are looking for ways to improve sales, then live chat has to be on the list.
Having a live chat means that customers can find the answers to their questions immediately. By resolving these questions quickly and accurately, it is much more likely that the visitor will choose to buy.
While live chat can be incredibly effective for reducing shopping cart abandonment and improving conversions, not all live chat solutions are equal. Users who have a bad experience with your live chat may be less likely to buy. Many live chat solutions are also technically difficult to implement too.
A great option is the Live Chat WordPress plugin, which is both free and simple to set up. Live Chat has been designed to work across devices for both users and agents. This means that you are able to manage conversations with prospects from your tablet or mobile phone.
Key Features:
Works with desktop mobile and tablets
Integrates with most popular CRMs
Include surveys to measure customer satisfaction
Send support tickets during off hours
Understanding whether your agents are providing an excellent customer service is essential. Live Chat makes this easy by allowing you to include a customer survey both before and after the chat. When an agent is not available to take a chat, such as outside working hours, users can send a support ticket.
Perhaps the best aspect of Live Chat is that it is extremely fast loading. The user experience from start to finish is seamless, keeping your customers happy.
6. Hostry PageSpeed Booster (Page Loading Speed)

40% of people said that they would abandon a website that took more than three seconds to load. In fact, studies have shown that each 1-second delay causes a 7% reduction in conversions. When you consider the impact that a 7% reduction in conversions would have on your sales, you can see why saving seconds of your load speed is so important.
One way to increase page load speed is а content delivery network (CDN) for WordPress. WordPress is what is known as a dynamic content management system. When a visitor comes to your website, information is fetched from the database. There will be a number of steps before it is then sent on to that user's browser. All of this, of course, takes time. As more visitors come to the website, page load speed will often decrease.
For the overall user experience and satisfaction, page speed is of no small importance too. Prolonged load time brings unsatisfactory bounce rates, users are less likely to linger on such page. Let alone the chilling effect longer load time casts over type conversions.
Arguably the best of the increasing page loading speed plugins is Hostry PageSpeed Booster. One of the biggest advantages of Hostry is that it is very user-friendly. You can get Hostry setup, even if you aren't an expert in CSS, JS, HTML or CDN.
Key Features:
Replace static links with CDN links
Setting content for uploading into the CDN network at the level of file extensions
Set a custom CDN hostname
HTML minification
CSS/JS minification and unifying styles in a single file
HTTPS support
Free SSL certificate or third-party certificates
Global reach – 52 distributed edge points of presence
The plugin improves the indicator of webpage loading time by means of scaling statics by using content delivery network (CDN), and contributes to a substantial increase in productivity on account of reducing the size of CSS/JS statics and HTML content. Hostry is also providing free CDN traffic to its users, so it's a win-win for your website. After plugin installation and activation, you only have to provide the CDN link and activate the service.
7. Sucuri (Security)

If your website goes down then your sales stop. So making sure that your site is secure should be a priority. One of the best WordPress security platforms is Sucuri.
Key Features:
Protection against major forms of attacks including SQL injections, RCE and XSS
DDOS protection for all plans
Custom SSL certificates support
Password protection, 2FA and captcha for any page
Free SSL certificate
Sucuri provides a complete end-to-end protection against attacks and threats. Unlike many other security plugins, it's easy to use and quick to get setup. As your website is one of your business major assets, it's critical to keep it protected.
8. Bookly (Booking Form)

If you are running a service based business, then you need to have online booking. If customers don't have a way of making an appointment through your website, then you are losing out on sales. The modern consumer doesn't want to have to call or email in order to book their appointment. They want to make their appointment whenever they want and using any kind of device.
Bookly makes the process of taking bookings completely automated. With Bookly you can quickly setup custom booking forms that your customers will love.
Key Features:
Payment integration
User-friendly admin panel
Unlimited number of booking forms
Customer can view and edit their own bookings
SMS and email notifications
Google and Outlook calendar integration
Multi-language support
One of the easiest ways to improve sales is to ensure you are getting paid up front. Bookly makes this easy by enabling your customers to pay for their appointment as they are making their booking. Bookly integrates with dozens of different payment gateways, giving you plenty of payment options to offer your customers. Bookly also allows you to take deposits during the booking process. You can choose either a percentage or a fixed amount of the total fee for that appointment.
Ensuring that your clients have all of the relevant information that they require about their appointment is an important part of customer service. It also helps to minimize the possibility of clients failing to turn up at the designated time. Bookly enables you to automate this process using SMS and email notifications. Notifications can be sent automatically either based on a particular event or at a set interval. For example, you might want a reminder notification sent to your clients the day before their appointment time. In addition, notifications can be used to send a thank you email or SMS message, creating a great customer experience.
Conclusion
Depending on your business model, not all of the products above may be needed. But, for most businesses, these are the plugins that will keep you online and producing sales. If you aren't currently using one of the plugins above, take a second to look and see how they could help your business to grow.