#1 Wordpress booking plugin for your business
Let your clients enjoy the booking process.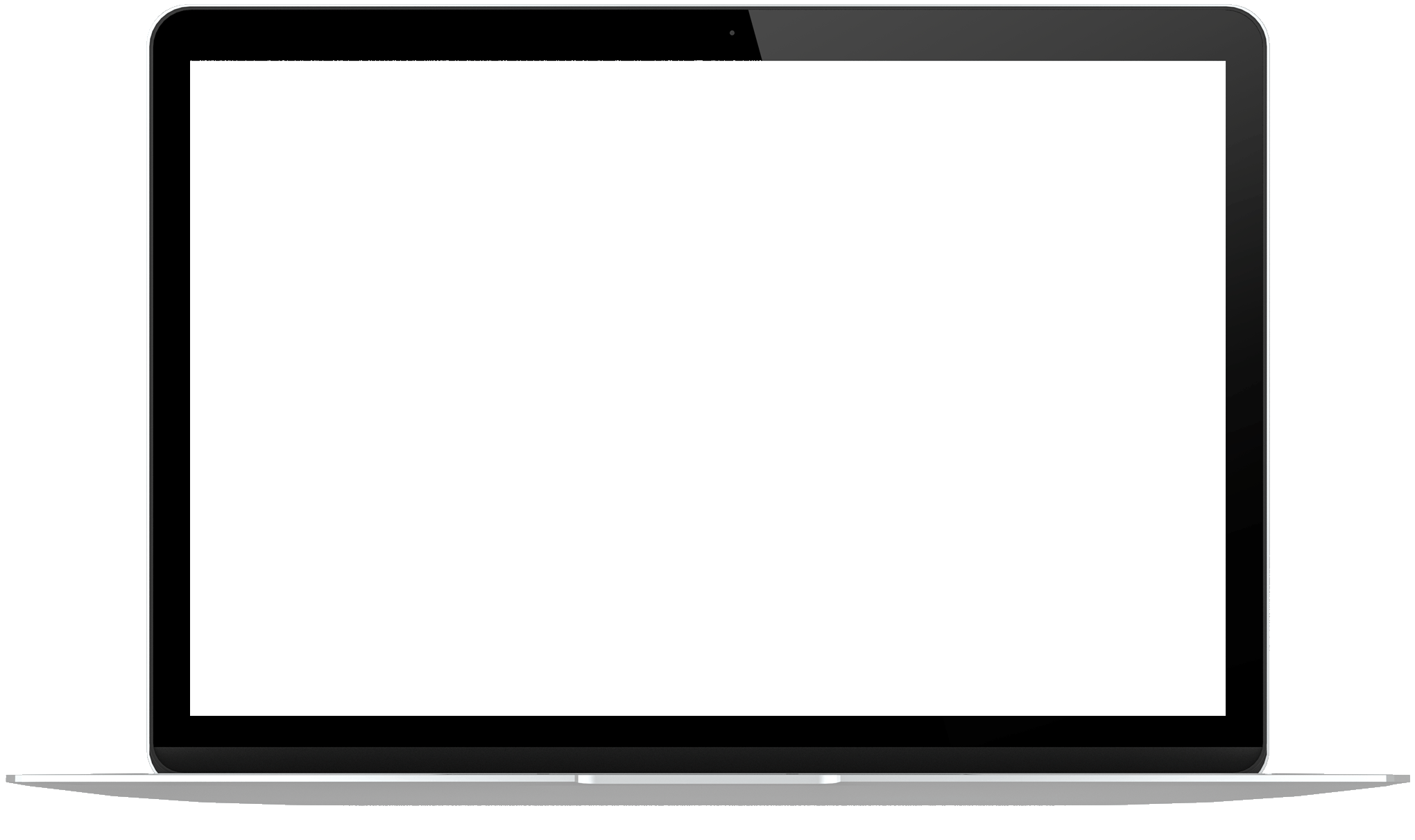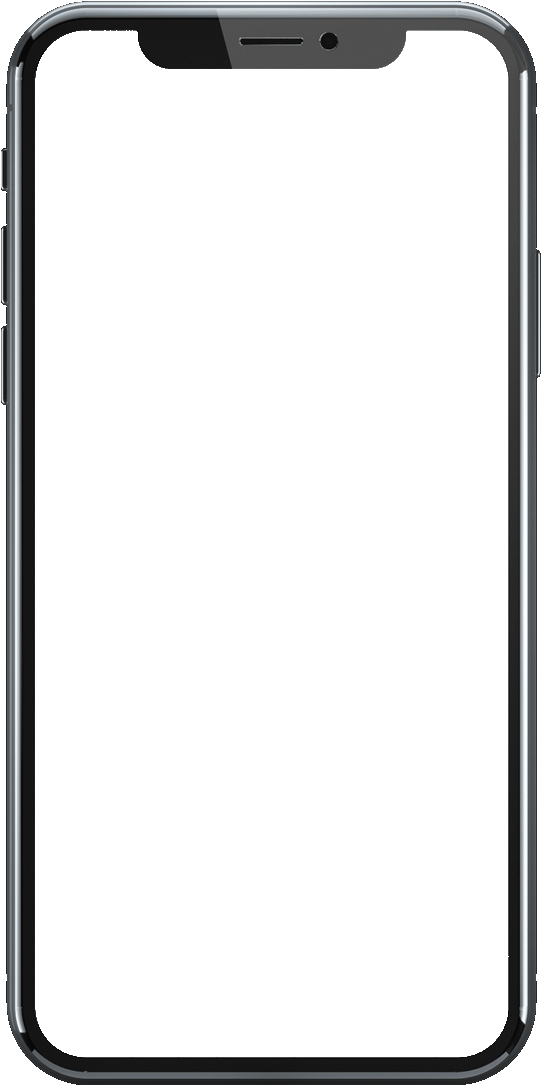 All Bookly add-ons are available exclusively on CodeCanyon.
After you click download you will be redirected to our official Bookly WordPress page.
Bookly WordPress Booking plugin lays the foundation of our ultimate service booking and appointment scheduling solutions. And with our WordPress appointment plugin, you can make the first step to creating the process. Simplify your appointment scheduling routine and let your customers book your services with ease.
Bookly is more than just a free appointment scheduling software. It's an ultimate solution for service booking and appointment scheduling with free and paid options, which can fit any business industry and budget. This free WordPress booking plugin allows you to manage your booking calendar, services, and client base in one place.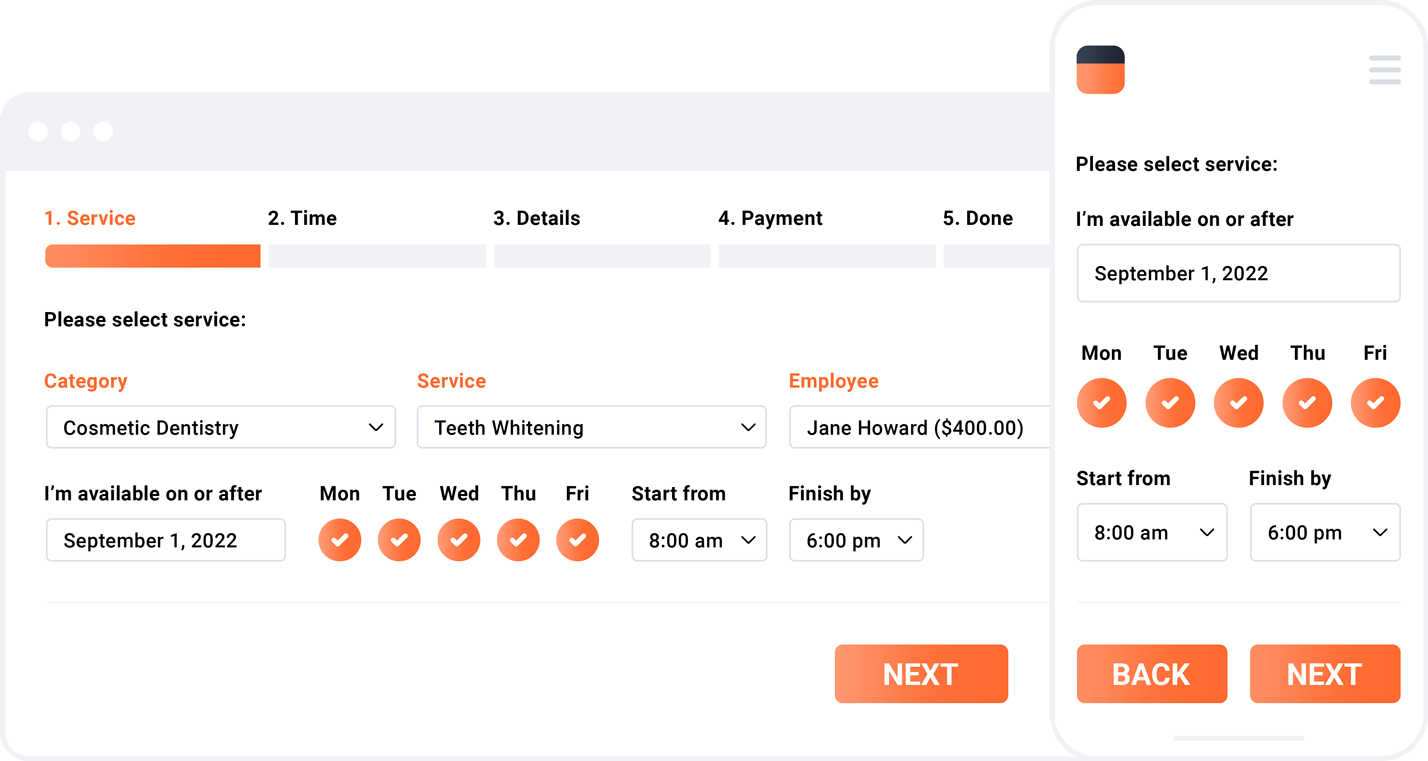 Our free online booking calendar helps to grow sales and simplify the booking process across hundreds of industries including SPA, Finance, Massage, Beauty Salons and more. Bookly plugin is an excellent choice for entrepreneurs on a tight budget because it's free appointment scheduling software. But our WordPress appointment plugin also has a paid version, which is available with a Pro add-on. It allows to remove staff and service limitations and install more add-ons, which are essential for growing or medium business and can fulfill specific needs.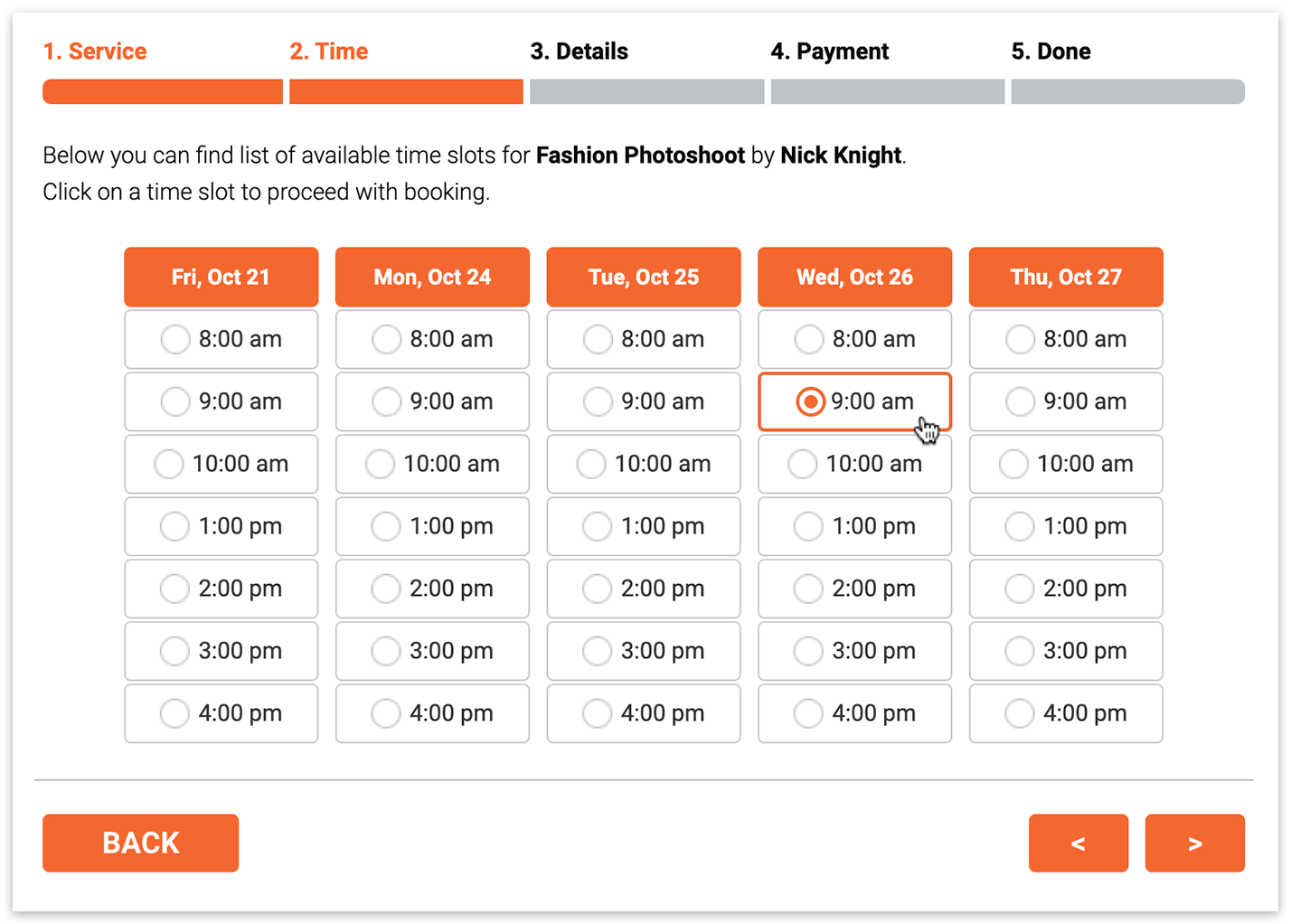 Benefits of WordPress booking plugin for clients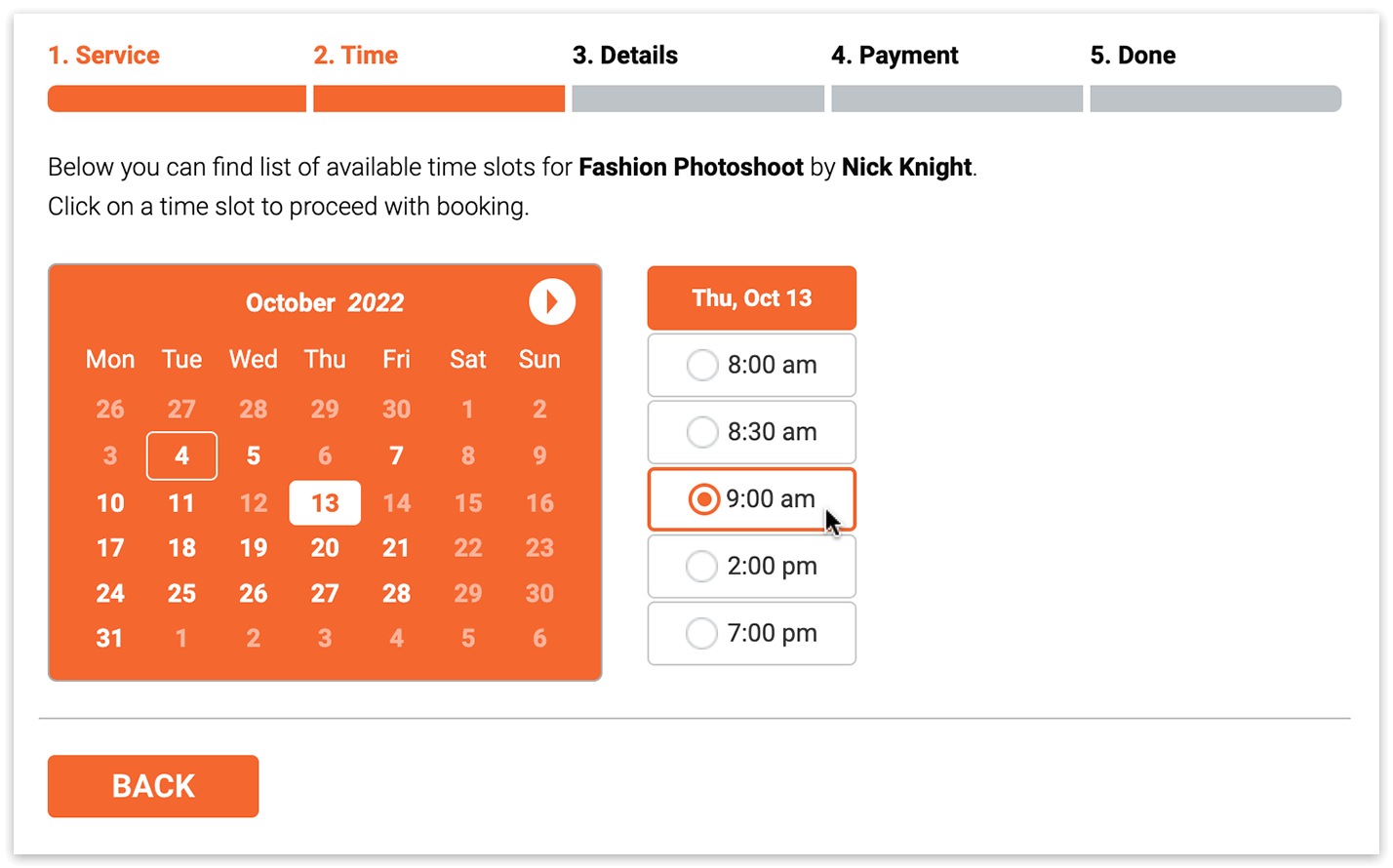 Nowadays we live in a busy world and time is one of the most precious things we all have. With Bookly you simplify the way your clients can book services. It's like having a front desk person available 24/7, who has an up-to-date schedule, knows the services you sell, can schedule an appointment for your client and remind about it when needed.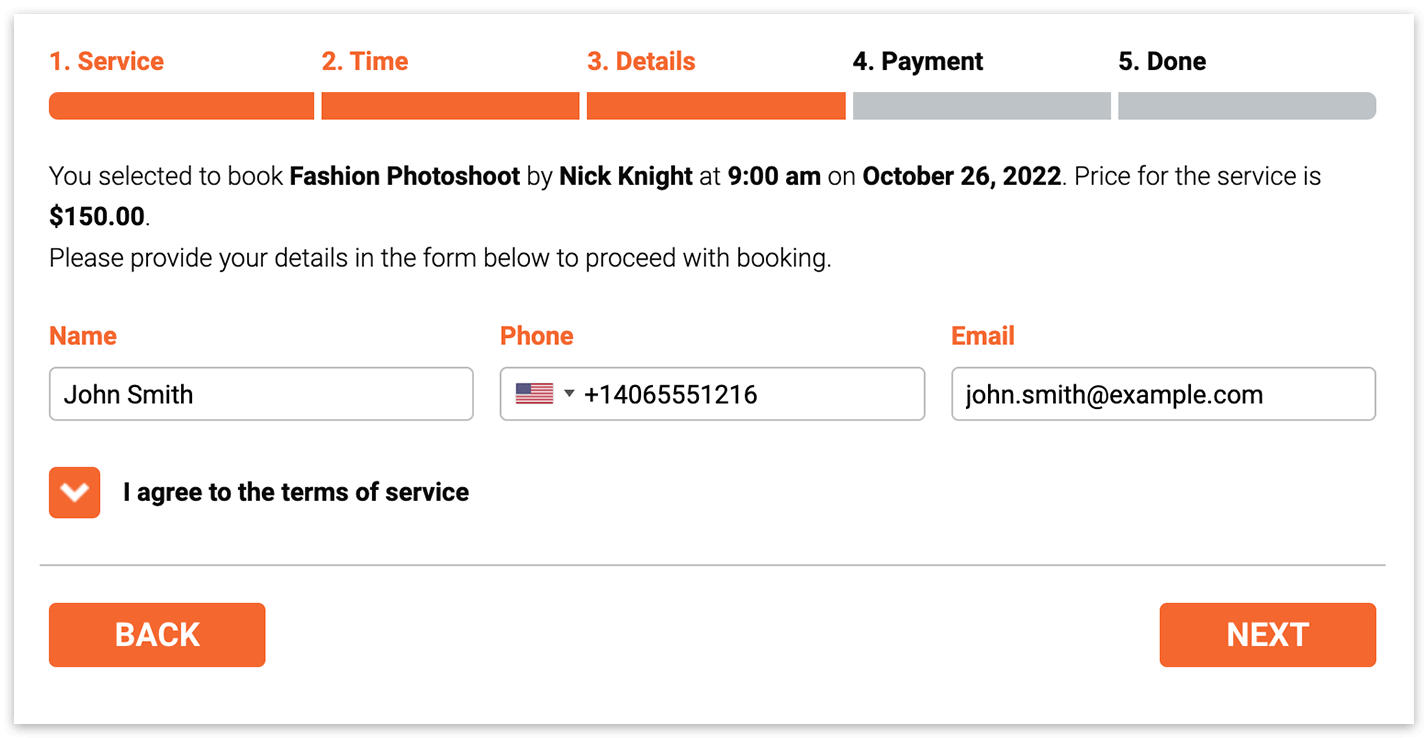 Online Scheduling with Bookly WordPress booking plugin couldn't be any easier for your customers. Responsive booking form lets your customer book your service when it's convenient for them from any device. All they need is to pick their desired service and time, provide you with a few personal details, and voilà – it's done! Your customers will receive an email or SMS notification before the appointment, and it will be automatically added to your free online booking calendar.
Install WordPress appointment plugin for free and let your customers:
Book your services and schedule appointment in minutes, without back and forth emails and calls;
Benefit from WordPress booking plugin, which allows them to make a booking on any device;
Choose the service and employee to work on it;
Define the dates and time that work best for them and the free online booking calendar will offer only available time slots;
Fill in the basic contact information;
Receive email and SMS notifications with booking confirmation;
Get SMS reminders about an upcoming appointment.
Benefits of free appointment scheduling software for business
Bookly WordPress appointment plugin fits business of any size and from a different industry. It provides appointment scheduling software free download option making it possible for you to benefit from Bookly today.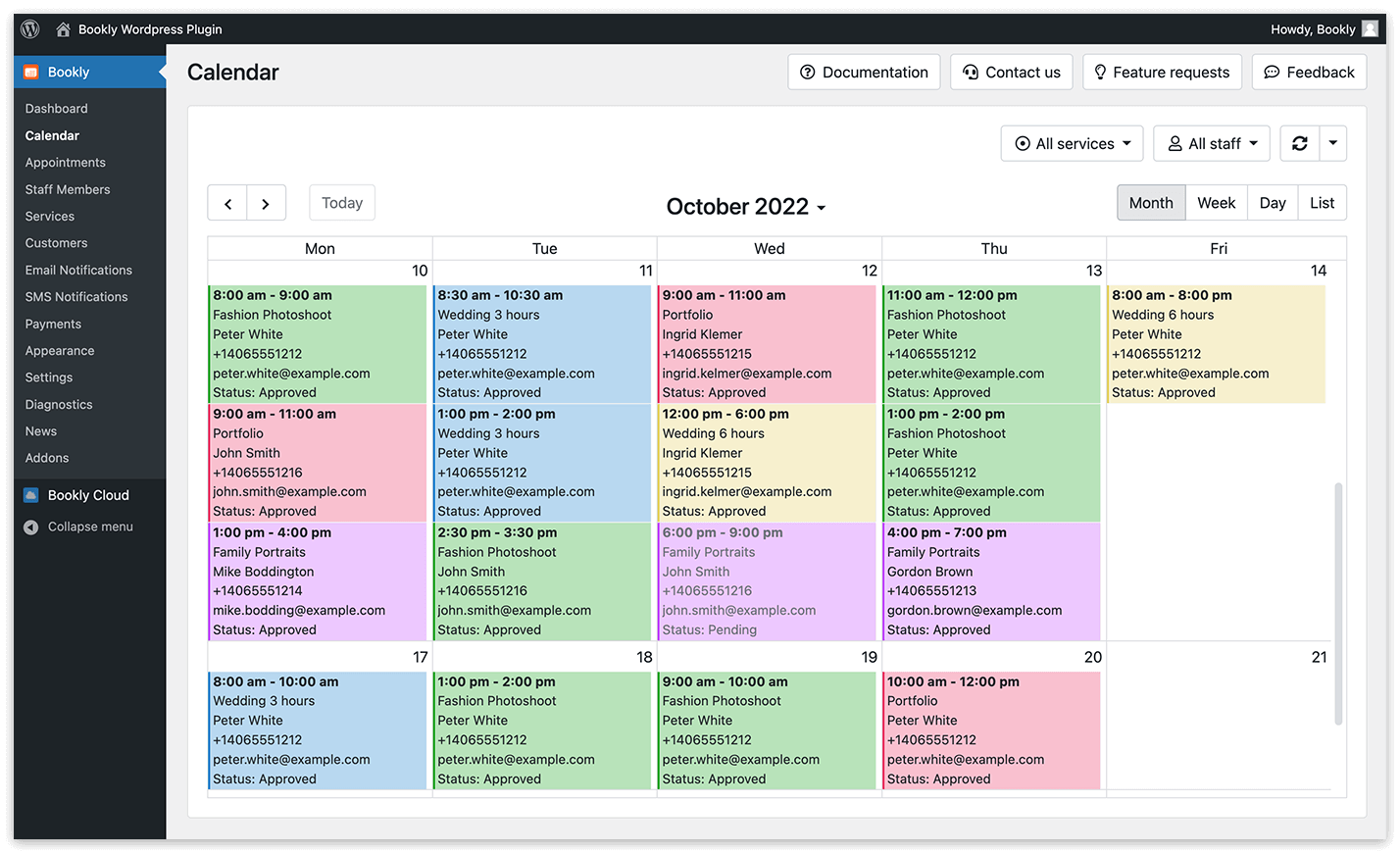 You don't need coding experience to set up and start using Bookly. We did our best to make it as easy and quick as possible to install and start using WordPress booking plugin on your website. Moreover, Bookly is a scalable solution. You can upgrade it with the Pro add-on, which removes the limitations of the free version of Bookly plugin and unlocks new features. It also enables you to buy additional add-ons for Bookly Pro to fulfill specific business needs and customize the solution for your industry and business process.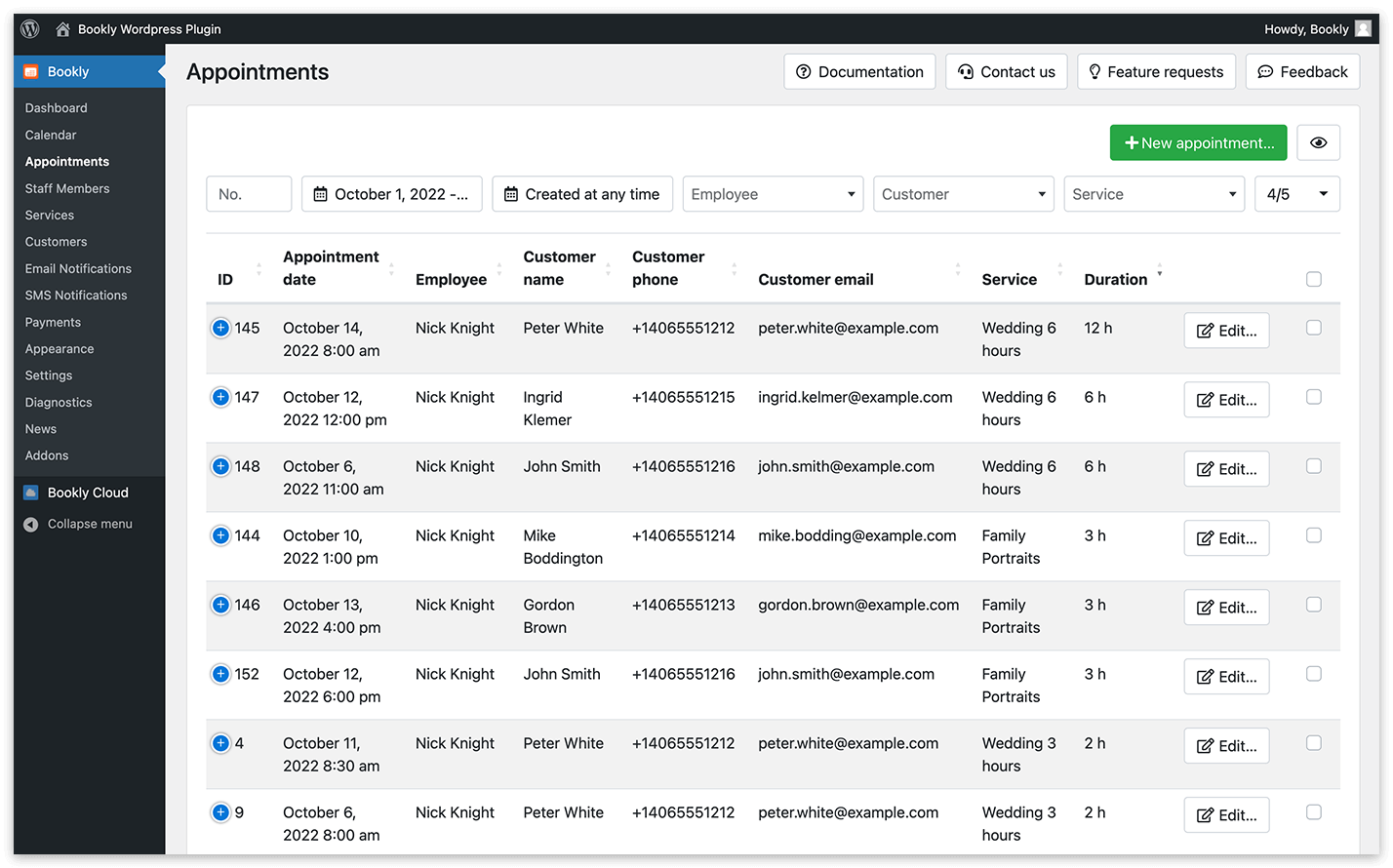 Besides, you can make modifications of the booking form appearance to match your business, website, and branding, manage your services and the customers' list and send email and SMS notifications – all in one place.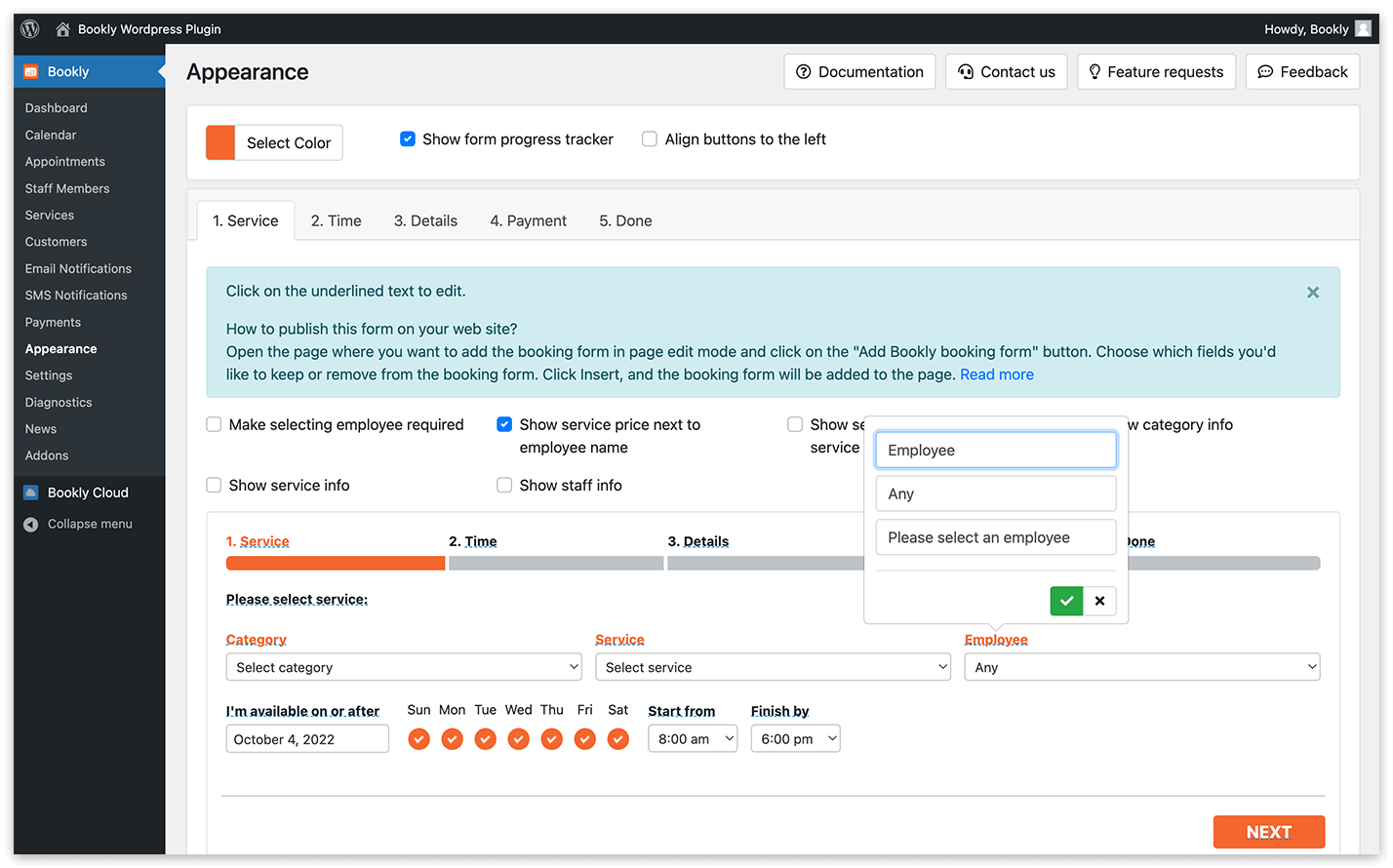 Free appointment scheduling software with rich features
Modify and customize the responsive booking form without any coding skills.
Use the WPML plugin to translate the user interface and notification templates into 40+ languages.
Add multiple booking forms to your website.
Define the fields you want to show or hide.
Use pre-defined parameters for Category, Service and Employee fields in the booking form.
Display available time slots in the client's time zone.
Set duration for each service separately.
Set individual color codes for each service.
Categorize your services (you can add up to five services with the free version of Bookly).
WordPress booking plugin features
Fast online booking with intuitively manageable forms. Our booking form is tested by thousands of businesses worldwide. It takes minutes to book the services you provide.
Easy customization of the booking form, which requires no coding experience. You don't have to be the developer to customize the form so that it could fit the appearance of your website.
Unlimited number of booking forms on your site.
Comprehensive admin area with an intuitive interface. We managed to design the complex solution, which is easy to use and trusted by over 60000 clients worldwide.
Monthly/weekly/daily free online booking calendar view for the service provider.
Manageable list of your customers with options for sorting and searching.
Variable duration for each service. Bookly can be adjusted for services of any duration starting from 5 minutes to seven days.
Services grouped into categories.
Variety of settings for SMS and email notifications.
WPML integration for multi-language support.
Who can benefit from using Bookly WordPress appointment plugin
First of all local businesses and entrepreneurs who sell various services love Bookly. Customization options of the Bookly form make it a flexible solution, which is successfully used in many business segments such as Healthcare, Beauty, Education, Medicine, Consulting, etc.
Also, Bookly is an excellent solution for web studios and developers, who are looking for ways to improve the appointment process for their customers.
Online Scheduling for:
Salon & Beauty (hair salons, nail salons, cosmetology centers, tanning studios, barbershops);
Health and wellness (wellness, spa & massage, aromatherapy, baths);
Medicine (clinics, doctors, dentists, medical centers);
Education (education centers, tutors, language schools, private lessons);
Fitness & Gyms (yoga classes, personal trainers, health clubs, fitness centers, dance instructors);
Professional services (coaches, consultants, lawyers, photographers, consulting psychologist, cleaning services)
or any other services which can be scheduled and reserved online using the booking system.
All Bookly add-ons are available exclusively on CodeCanyon.
After you click download you will be redirected to our official Bookly WordPress page.
We do our best to provide support for Bookly and Bookly Pro users, but for priority support, we recommend Bookly Pro.
Learn more
.
The ease of use and improvements throughout the years. The beautiful front-end on my website looks very professional and I love how it's customizable.
Have been working with it for over 2 years now. Very handy and lots of options! Love it!
I did not find any better. Just I await some more improvements to fit into my business needs and Bookly team bring every time something new. We need to be passionate and Bookly will be very very smart booking system to cut any needs of hiring a receptionist.
Need a reliable solution?
Try Bookly now!