Add Locations to Your Booking Form
Manage bookings in multiple locations with an add-on for Bookly PRO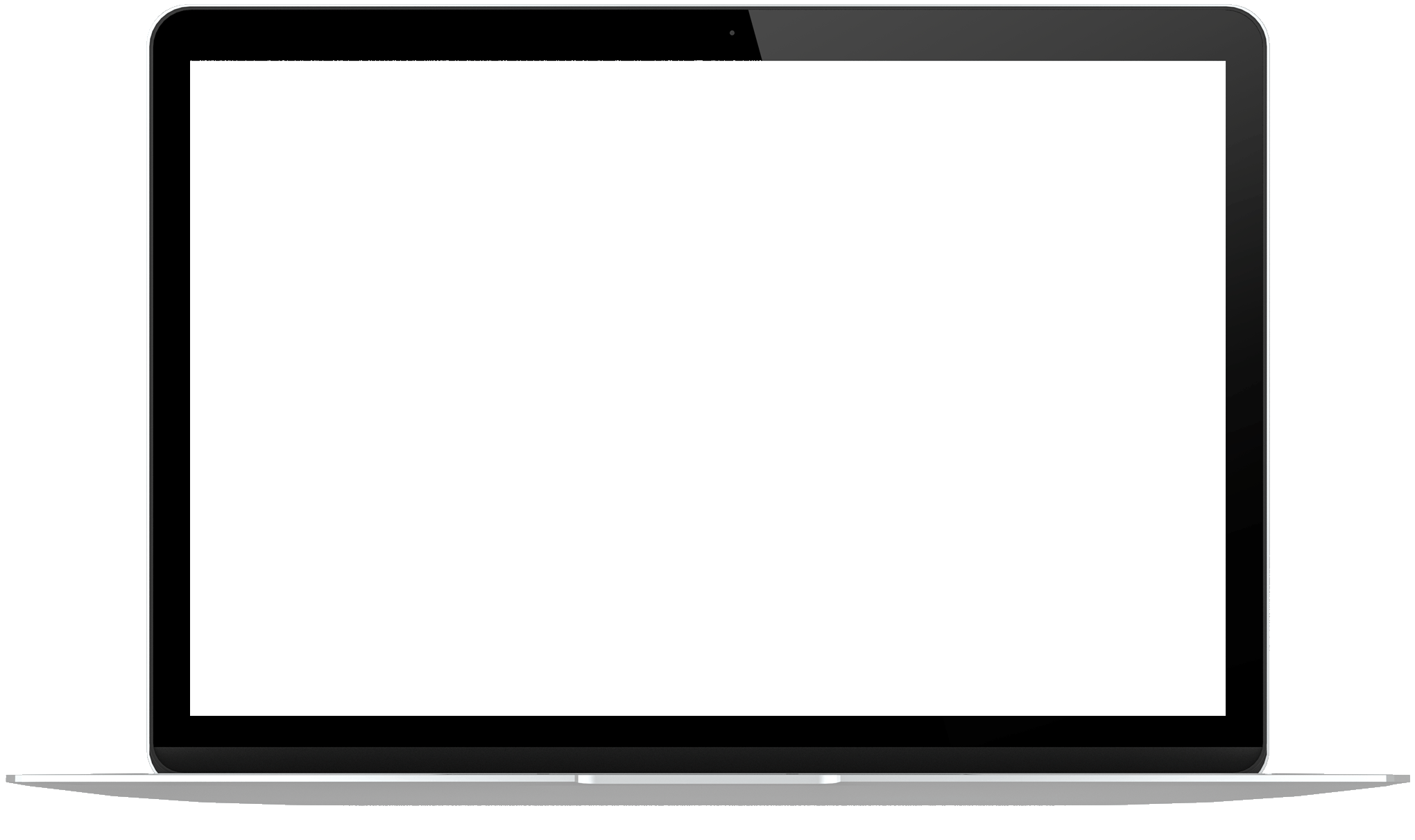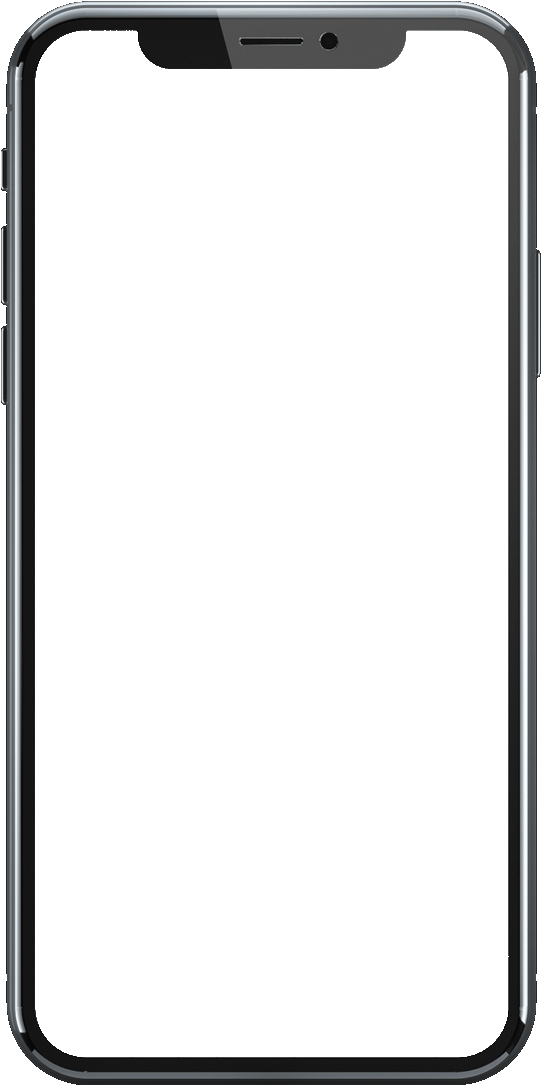 All Bookly add-ons are available exclusively on CodeCanyon.
Click Buy to proceed to Codecanyon for the secure checkout. Or add the item to the Codecanyon cart and continue shopping.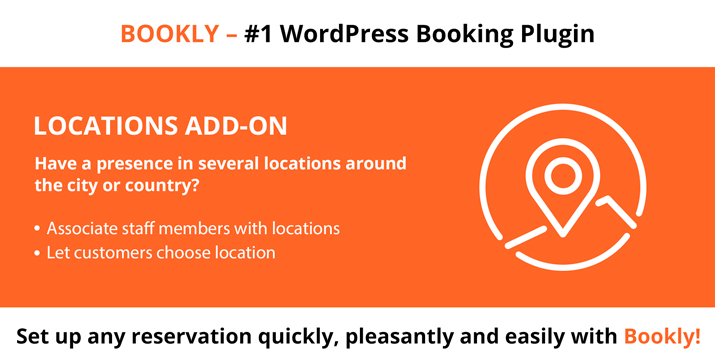 3 Easy Steps to Start Using Add-on
You can enhance your user experience with various Bookly add-ons. The Locations add-on for Bookly Pro can make multiple locations booking and managing much easier for you. All you have to do is download, install and activate this add-on, and you'll be able to associate staff members with various places and give your clients the option to pick the location of their choice during the appointment booking process.
Anytime Booking
With Bookly Pro your clients can make a booking at any time of the day through your website. If your company works in multiple places in the city, you will need the Bookly Locations add-on to make the appointment booking much smoother for your staff and clients.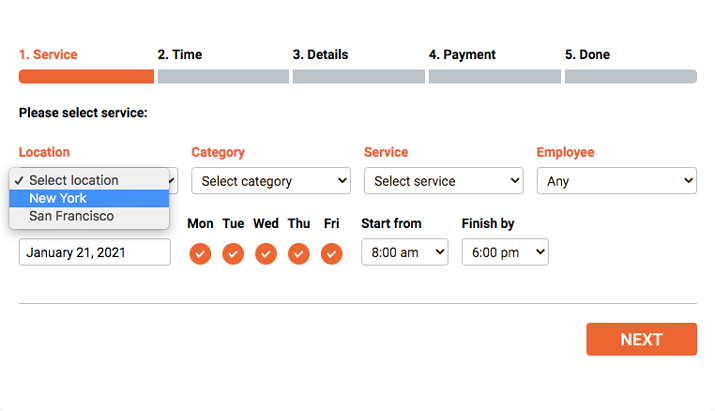 Fit The Client's Location
If your business provides services from several locations, you can allow your clients to make a booking at the area that suits them. To do this, you will need to get the Locations add-on – a perfect solution for business with two or more location areas.
Multiple GEOs Management
The multiple locations booking add-on allows you to efficiently manage various places of your business. Once you install the Bookly Locations (Add-on), a Locations tab will be created in your Bookly PRO menu. You can add as many locations as you need, and they will be visible to your clients during the booking process.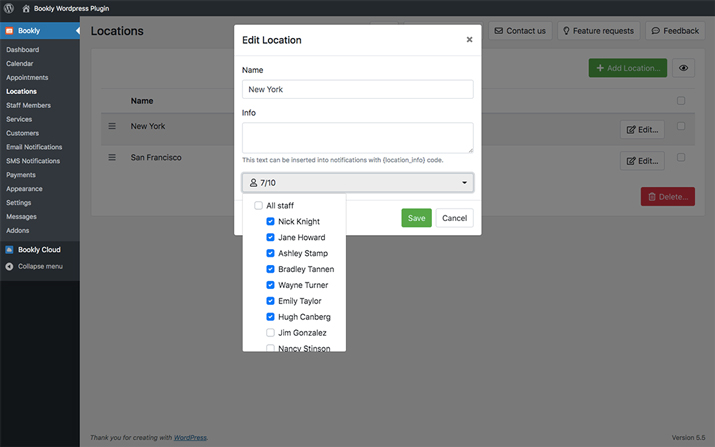 "Near Me" Solution
When the clients are making an appointment, they will be provided with the list of locations to choose from. This can help your customers make an appointment for the location closest to their home, and also make booking much less complicated for your employees to manage. With Bookly automated email and SMS notifications, the staff of the particular location will be notified about the new booking, and Bookly will add it to the employee's calendar.
No additional person required. One moment booking process.
There is no longer a need to hire a front desk employee who directs customers to the location that is most suitable for them or offers the services they need. With Bookly Pro your clients can make appointments in a few seconds.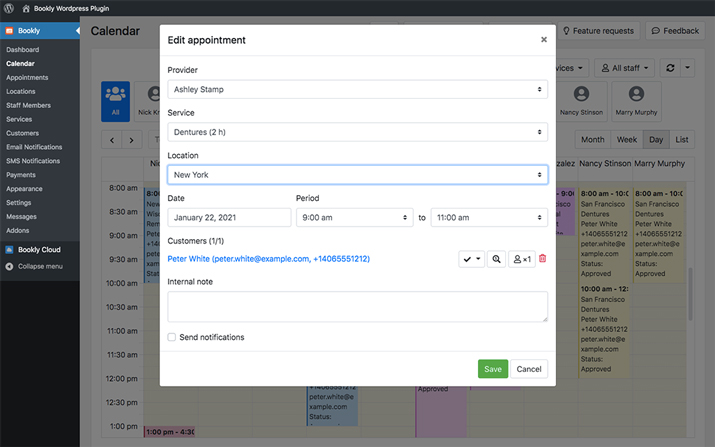 Features
Bookly makes managing multiple locations booking much less complicated. Here are some features that make this add-on a must have for business located in different places.
Seamlessly integrates multiple locations booking into your booking form.
Enables your clients to view and pick from a list of your locations during the booking.
Allows you to associate employees with different locations and set separate schedules in them.
So what are you waiting for? Purchase this add-on right away.
This add-on works with Bookly PRO, so don't forget to check out our Bookly PRO page.
All Bookly add-ons are available exclusively on Codecanyon.
Click Buy to proceed to CodeCanyon for the secure checkout. Or add the item to the CodeCanyon cart and continue shopping.
To receive the support you need the valid support pack according to Codecanyon terms.
The appointment scheduling process was easy for my clients to understand. The ability to collect payment and integrate with my client's calendar was awesome! I purchased over a dozen addons. It was well worth the investment!
Excellent software that was very easy to configure and has proved to be a super success with our customers. Its flexibility in usage has proved to be extremely useful for our business.
Bookly is, by far, the best plugin for scheduling appointments I've found to date! The layout is simplistic, the work you'll do to get it put together is minimal, and the installation process is as easy as it comes.
Need a reliable solution?
Try Bookly now!
Still hesitate?
Create your sandbox website to test Bookly plugin and any add-on in a live environment for free.