This update brings a new product in Bookly Cloud – Cloud Cron, integration with BigBlueButton – virtual classroom software, customization of ICS files, read-only access for calendar in Staff Cabinet, improvements in the Files (Add-on), and more.
Here are the features and updates in the new Bookly PRO version 4.9.
Bookly Cloud Cron
Cron is a technology that is used to run scheduled actions on your web server at a specified frequency. For example, you can set up a job to perform a certain action at a specific time every day.
Bookly requires cron setup for sending scheduled Email and SMS notifications (appointment reminders, birthday greetings, staff agendas), SMS campaigns, and automatic appointment status changes. Usually, cron jobs are set up in your hosting provider's control panel and require some technical skills.
From now on, instead of setting up cron on your server, you can enable the Bookly cloud solution, which will work immediately without additional configuration.
Bookly Cloud Cron is one-click enabled and runs frequently – every 5 minutes, so you can be sure that Bookly will properly perform all your time-based actions.
Click the Get Started button in Bookly Cloud > Products to activate the Cloud Cron service.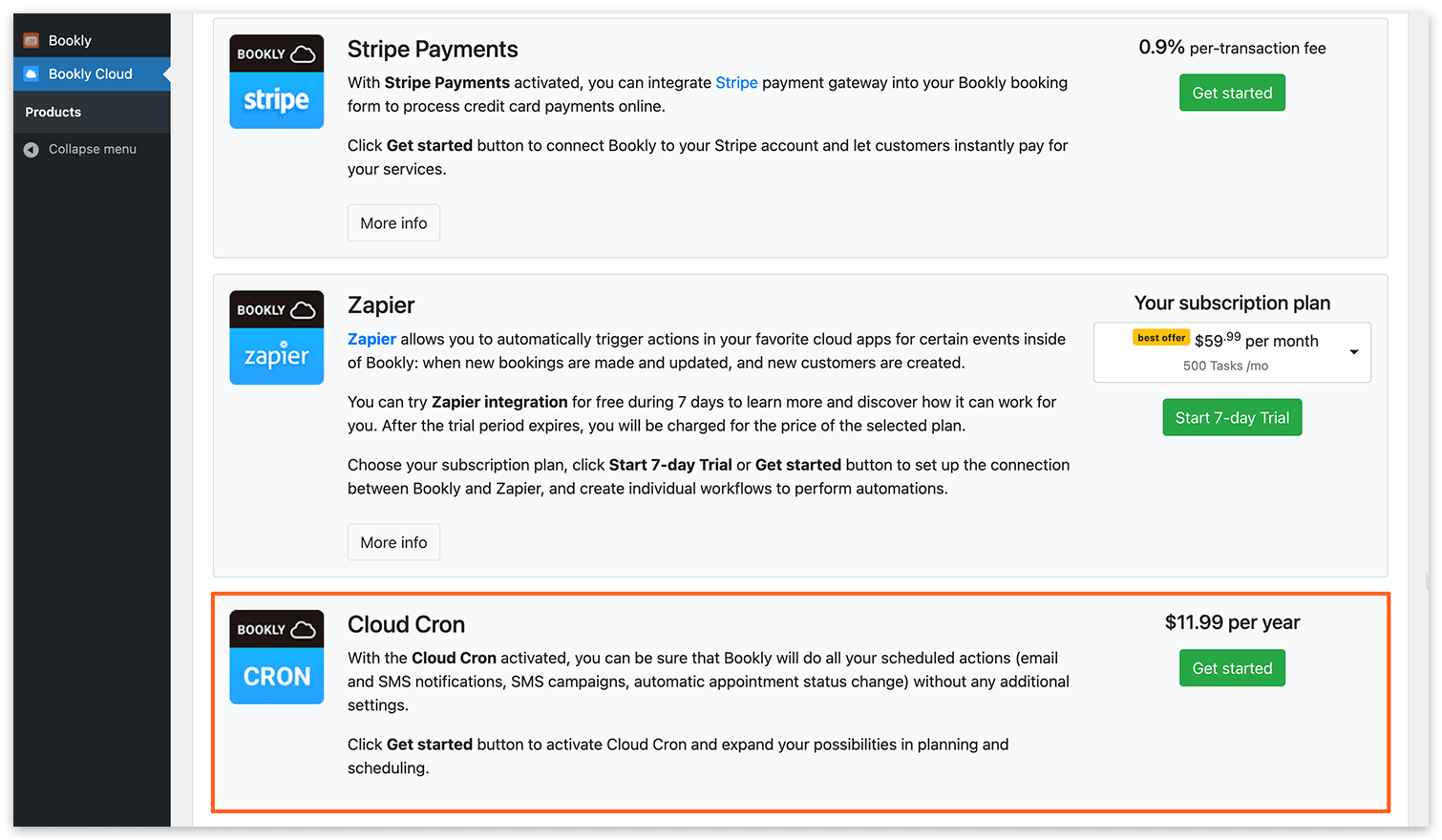 Note: Bookly Cloud Cron works only with Bookly.
Integration with BigBlueButton
BigBlueButton is an open-source self-hosted web conferencing system designed for online learning. This integration allows users to easily create, manage and join BigBlueButton video meetings from Bookly.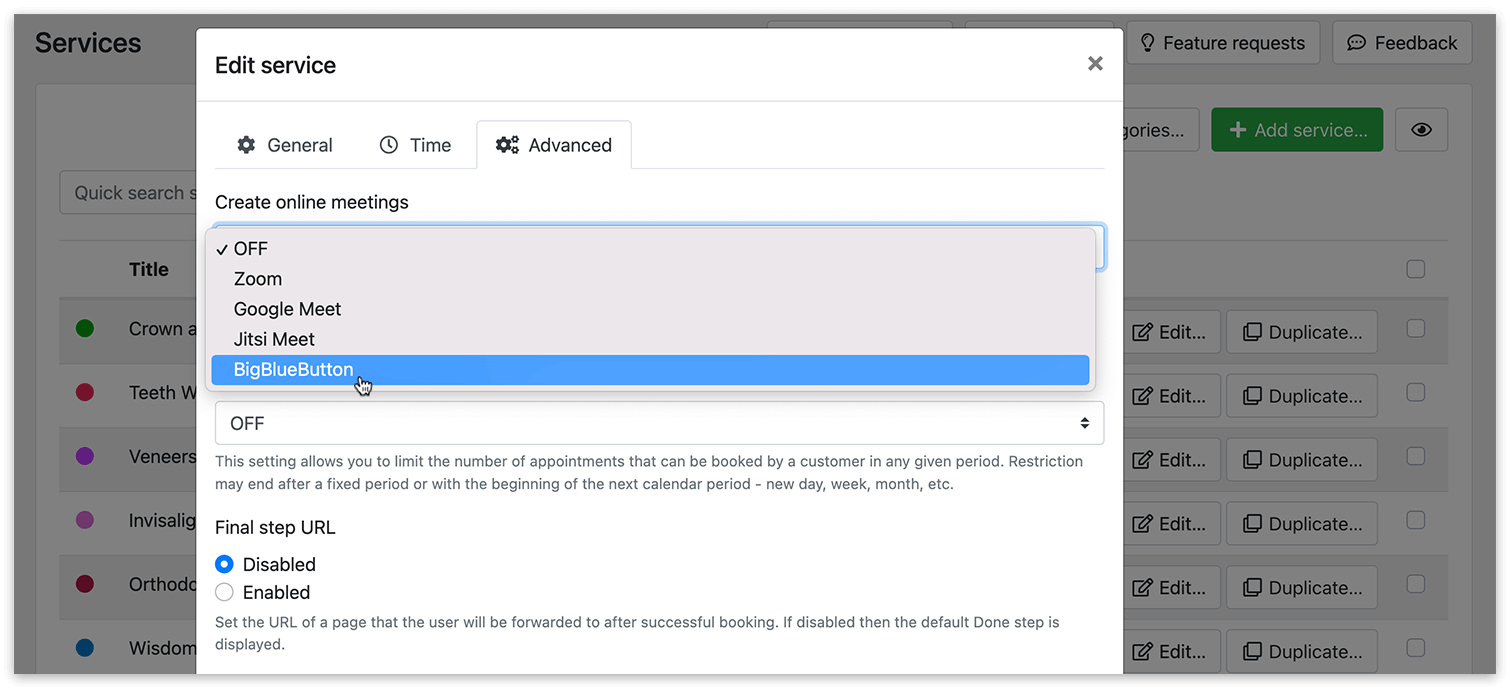 To set up the integration, go to the Settings > Online Meetings and follow instructions under the BigBlueButton section.
For more information, visit our Help Center.
Customize ICS files description
Now you can customize the description of the ICS file (calendar file that you can attach to notifications). In the Settings > Appointments, you'll see ICS description for customers and ICS description for staff. Use available variables to configure a template.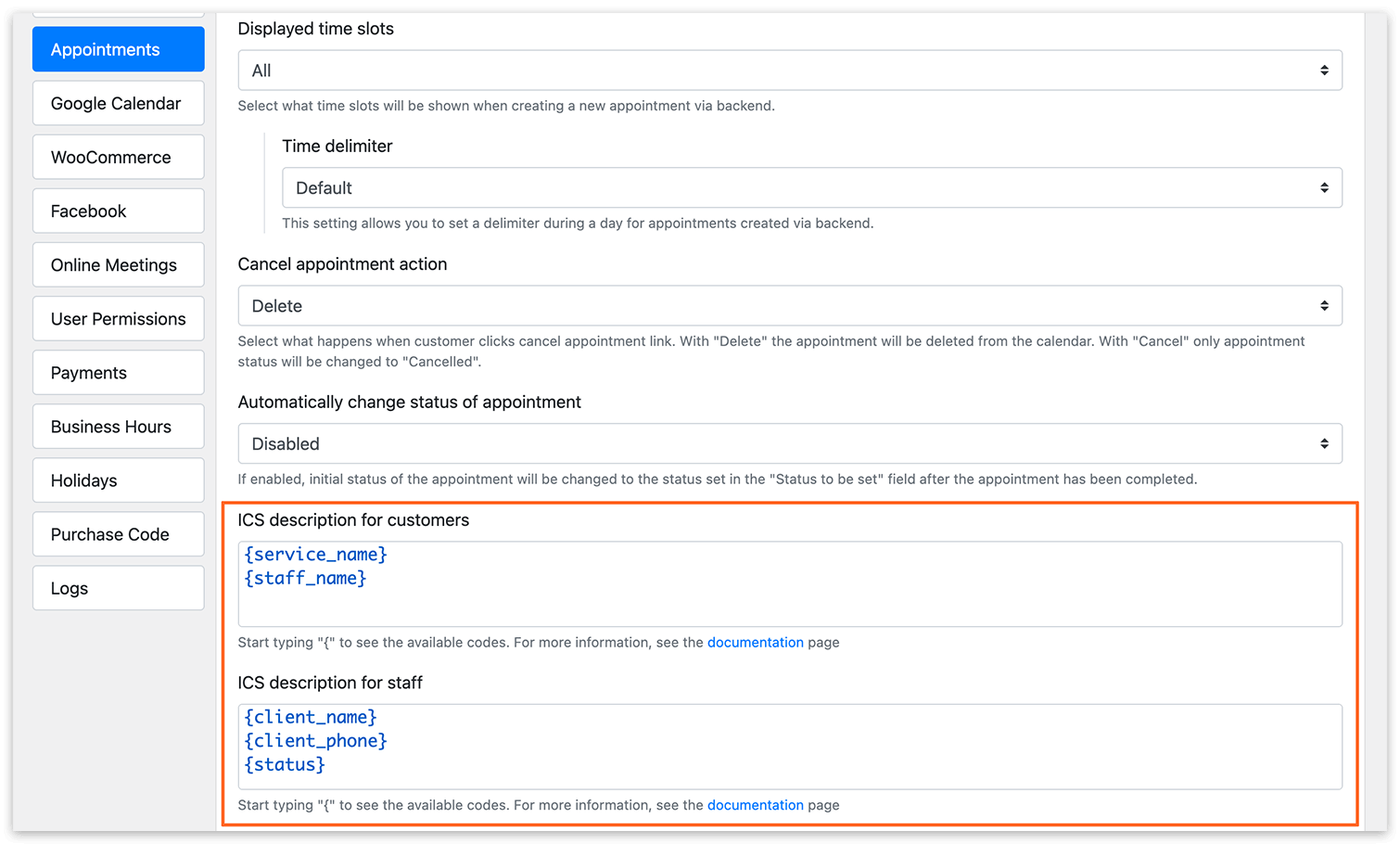 Set allowed file extensions
In the Bookly Files (Add-on), you can now set up the file format allowed for uploading. Go to Settings > Files > Allowed file extensions to enter file extensions.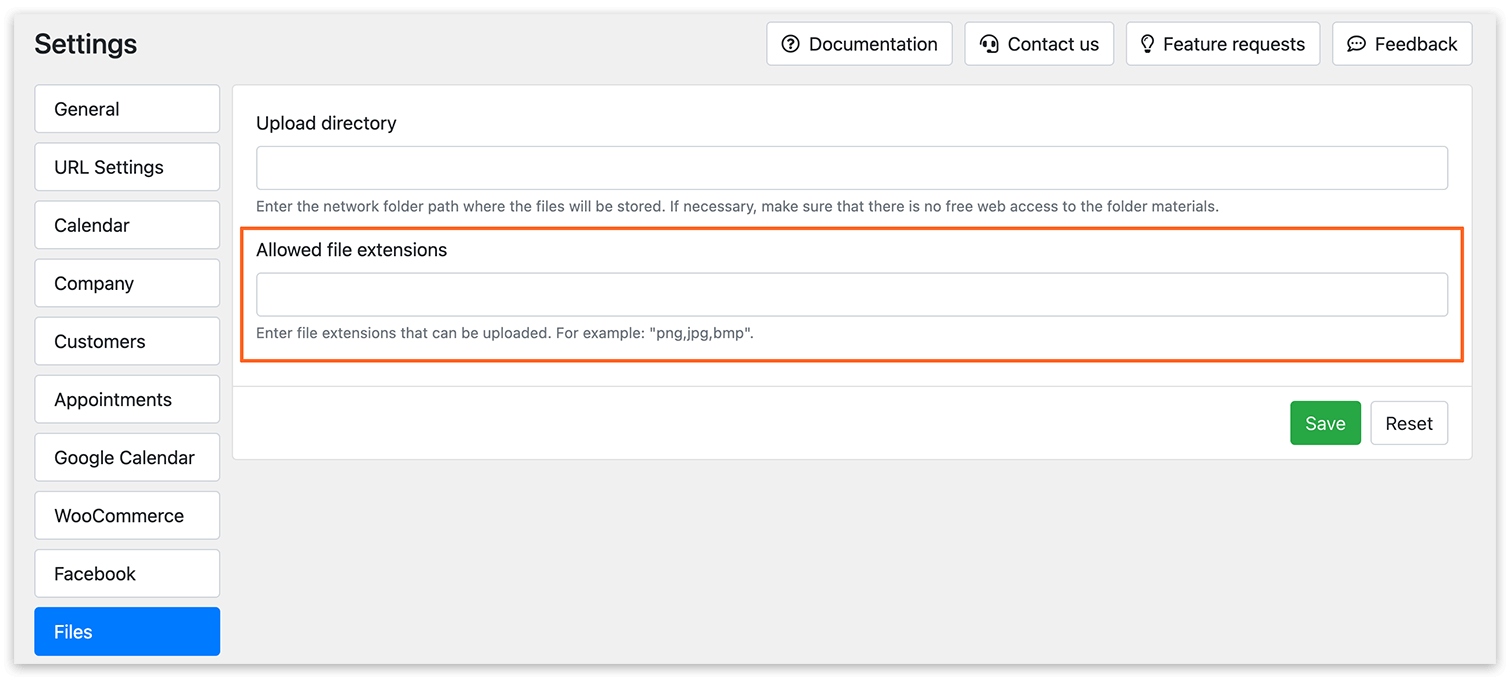 New trigger in Zapier – Updated appointment
Use a new trigger to set up necessary automation in Zapier once an appointment in Bookly has been updated.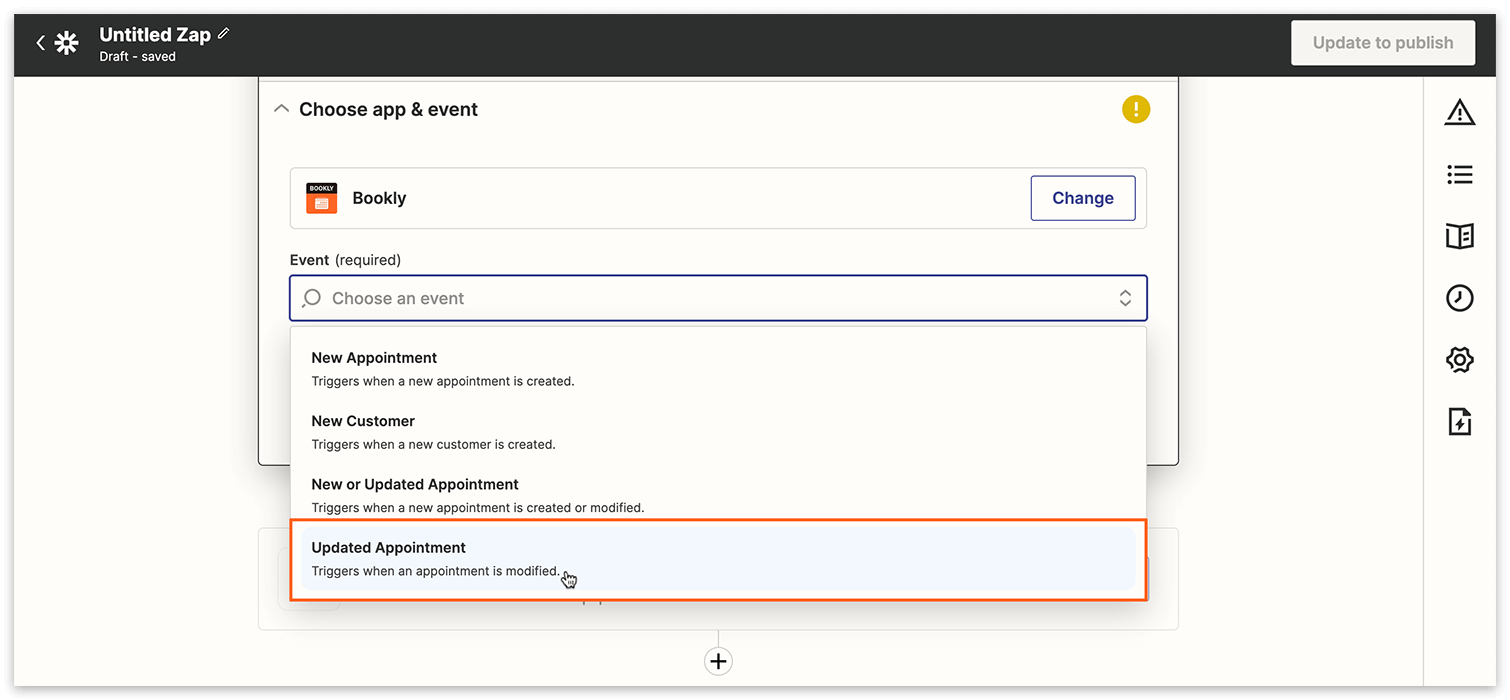 You can find detailed instructions about Zapier integration in our Help Center.
Read-only mode for Staff Cabinet
If you use the Bookly Staff Cabinet (Add-on), employees can now access their front-end calendars but are restricted from updating appointment details. To enable a read-only mode, toggle the Read only option when adding the Staff Calendar to a webpage.

Other improvements in this release:
You can see a full list of the changes and bug fixes in our changelog.
Make sure to update Bookly core (free) plugin together with Bookly Pro (Add-on) and other Bookly items.
As usual, we love hearing your feedback because meeting your expectations is important to us!
If you enjoy continued updates in Bookly, please rate us 5 stars on WordPress or CodeCanyon.