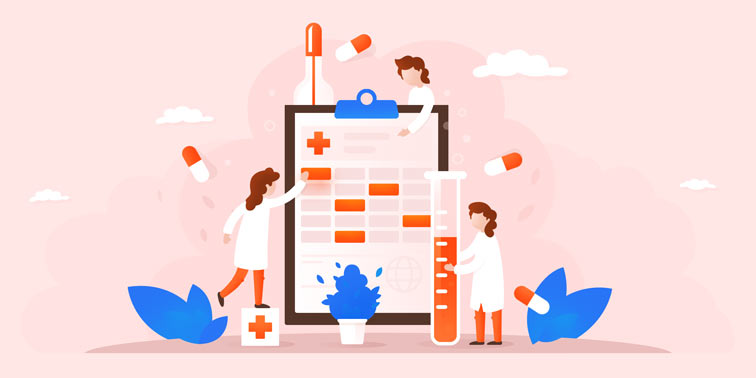 Global healthcare innovation technology trends for 2019-2025
Global healthcare is entering a transformative phase over the next five years. Promising new technologies and treatments are set to see much wider adoption. At the same time demographic trends, such as growing middle class and an aging population, mean that the demand for health care services is likely to expand significantly.
Rising levels of income and education are driving popular support for the expansion of health care coverage. Concerns over the costs of universal healthcare may see governments push back. The potential for innovative treatments not available through public healthcare provider could motivate potentially more clients to seek private health care.
In this report we will look at these trends in details. We will examine the underlying causes of the rise in demand for health care services between 2019 – 2025. We will also look at some of the most important technological trends which will impact how our patients are diagnosed and treated.
Finally, we will examine why many consumers are likely to opt for private healthcare solutions, even if public healthcare is available. We will also explain why the private health care market is likely to become increasingly competitive and how clinics can use healthcare information technology to distinguish themselves in this market.
Demographic and health trends
While there are underlying trends the picture for global health care is not consistent across all countries. As a consequence, it is impossible to paint a single picture for global health care in 2025. Instead, there are important variations across countries, income levels and urbanisation.
One of the most important global health trends has been the increase in life expectancy. According to the World Health Organization (WHO) global life expectancy has nearly doubled over the past seventy years. In 1955 the average person was expected to live only 48 years.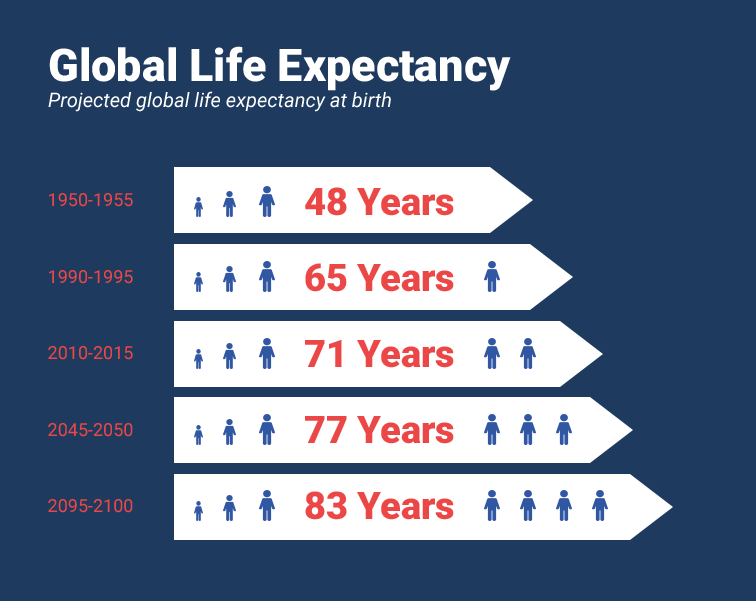 By 1995 life expectancy had raised to 65 years old. By 2025 it is estimated that global life expectancy will reach 73 years old.
Despite the overall global increase in life expectancy, the gains have been uneven. The same WHO statistics show that approximately 300 million across 16 different countries saw their life expectancy actually decreased between 1975 and 1995. Conversely in other parts of the world life expectancy will surpass the global averages. In particular, the number of people who live past their 100th birthday will increase markedly. This means that many of the people born in the 21st century will also live into the 22nd.
The type of diseases that impact people will also vary moving through to 2025. In the developing world infectious diseases dominate. One of the biggest health issues facing children for example is HIV / AIDS. In 1997 it was estimated that there were over half a million children who were infected with HIV. The prevalence of HIV was sufficient to undermine much of the work that had been done to improve the health of children over the past century.
The problems of infectious disease are likely to continue in developing countries, but this will be exacerbated by non-communicable diseases. As incomes rise in developing countries, an increasing number of people will adopt western lifestyles. This includes consumption of a high fat diet combined with relatively low levels of exercise. This will see developing countries have increasingly prevalent rates of the type of non-communicable diseases that dominant developed countries. Despite the rise of underlying health problems, in the developed countries the availability of treatments has actually seen death from heart disease and strokes fall. Whether developing countries will likewise be able to offer their cities that same level of treatments remains to be seen.
One marked trend in these lifestyle attributed diseases is in the increase in diabetes. It is expected that the number of diabetics will more than double from 143 million to 300 million by 2025. Cancer will also be a major cause of death globally. In particular, rates of death from lung and colorectal cancer is expected to increase due to a rise in smoking and unhealthy diet. There are a number of positive trends in the reduction of cancer deaths. Higher rates of scanning mean that cervical cancer death rates are falling in developed countries. Liver cancer deaths are also expected to fall due to the immunization efforts against hepatitis B. Stomach cancer is also becoming less common due to changes in diet and better food processes.
The impact of urbanisation and wealth inequality on healthcare
As already stated, one of the most observed trends for global healthcare is the impact of the aging population. Less frequently noted is the impact of increased urbanisation. By 2025 estimates are that 66% of the world's population will live in cities. The result of this predominately urbanised population will vary significantly.
Cities will range from being extremely affluent to incredibly poor. In both poor and wealthy cities, these urbanised citizens will have a high level of access to information. This will in turn lead to greater demands for adequate healthcare. Because of the high population density of cities, delivering healthcare will be more efficient. However, if healthcare is not adequately supplied, the potential for pandemics will increase. Combined with a well-informed population this could easily lead to civil unrest. As a consequence, healthcare may play an important role in law in order, especially in developing countries.
The urbanised population will likely also have an impact on city design itself. There is rising awareness amongst the general population, as well as city planners, of the importance of city planning on health outcomes. This includes the psychological and physical impact of providing adequate greenspaces. Improving public transport infrastructure has also been shown to reduce incidents of heart disease. The need to provide health cities will vie against commercial demands and population migration to the cities.
Growing wealth inequality is another issue which is impacting many facets of our globalised society. Chief among these is healthcare. Middle income countries have been successful in expanding the reach of healthcare to a wider part of the population. However, in poor countries progress has been far worse. This is most clearly illustrated by the falling life expectancy in many countries.
At the same time global pandemics will likely impact these countries at a far greater rate. Healthcare in poor countries have a high likelihood of being overwhelmed in the face of these pandemics. Within these countries the middle class and elites are likely to avail themselves of private healthcare solutions. If the public healthcare system is defunct abandoned by more affluent members of society, we can see elites failing to provide the financial support that it requires.
Expenditure on global health care is rising
According to a recent report by Deloitte, spending on health care is expected to rise to an average annual rate of 5.4% between 2018 and 2022.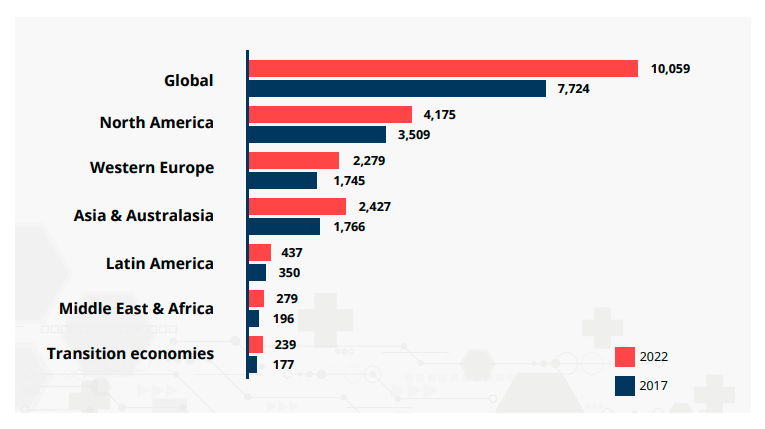 This is up from an annual rate of growth of 2.9% between 2013 and 2017. There are a number of reasons contributing to the growth in health care spending. Key among these are:
Increased costs for labour in the health sector;
An aging population globally;
Healthcare coverage being extended to a wider segment of the population;
Introduction of new healthcare treatments and technologies.
By 2022 it is expected that the average spending on healthcare will be $11,674 per person. Increased costs are not the only factor which is driving healthcare spending. Economic growth, in particular in China and India, is expanding the amount that is being spent on healthcare.
The rise in global health care spending will almost certainly mean that public healthcare providers will look at cost reduction and efficiency improvements solutions. Many of these improvements may be gained from new technologies which are laid out in this report. In particular, machine learning and remote medicine may free up physician's time to focus on treatment.
There are also reasons to believe that the rise in spending on healthcare may not be as problematic as it first seems. Provided that countries are able to maintain economic growth and implement cost containment processes, the percentage spent on healthcare should remain consistent as a percentage of GDP.
As identified in the introduction, one of the causes of rising global healthcare costs is the move towards universal healthcare. Increasingly citizens are demanding the healthcare is extended to the entire population. In order to provide universal coverage, governments will need to meet a greater portion of healthcare costs.
In particular an expanding middle class in developing countries will increase demands on the healthcare sector. A study by the Brookings Institute estimates that by 2030 fully 65% of the population will be classed as middle class. This politically active group will place demands on government to provide healthcare. At the same time the nature of the work this group performs will lead to a more sedentary lifestyle. This in turn will lead to related health conditions including diabetes and obesity.
Against this expansion of health care coverage are some counter trends. Specifically, in the current political environment the United States government will continue to limit the Affordable Care Act (ACA) program. Also as already pointed out, if public healthcare is seen as failing, private alternatives may gain greater sway.
The impact of healthcare technology on the sector
The introduction of innovative new healthcare technology will have a major impact on the industry. New healthcare technologies will have a dual effect on cost spending. In one regard new healthcare information technology will create new demand and increased spending. On the other side, healthcare information technology may lead to greater efficiencies and cost savings.
The potential of technology to transform the healthcare industry can be easy to underestimate. One of the most well observed phenomena in technology is Moore's law which states that processing power doubles on average every eighteen months. Many of the technologies that are likely to have the biggest impact on the healthcare industry in 2025 are still in the nascent stage. While progress may seem slow at first, expansion could increase significantly.
Drugs are being introduced at an increasing rate. The Food and Drug Administration now approves twice as many drugs as it did in the previous decade. Included among these are individualized treatment approaches. For example, there are leukaemia treatments which modify the patient's own immune cells. These provide radically new approaches to the treatment of patients.
Here we will look at some of the most important technologies that will impact the healthcare sector through to 2025.
Internet of Things (IoT)
One technology sector in the global healthcare industry primed for expansion is IoT (Internet of Things). According to research from Grand View Research it is predicted that spending on IoT for healthcare will reach $534.3 billion in 2025. That's an annual growth rate of 19.9%.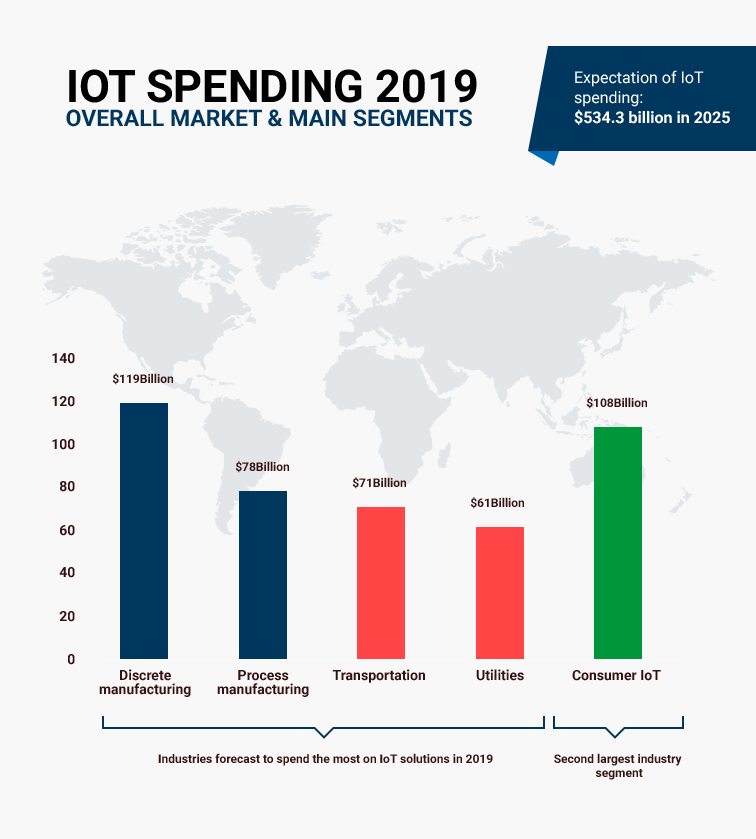 Fuelling the growth in IOT are two primary factors: increased adoption of connected devices and IOT systems and software. There is growing demand for real time data which will allow medical professionals to better manage chronic diseases. The combination of existing healthcare technology including remote monitoring and analytics has already seen a reduction in the number of patients which require readmission for chronic diseases. This has been bolstered by the introduction of real time transmission of data.
North America is predicted to be the leading market for IoT technology and systems. This is because of a strong trend towards investment in IT solutions and a substantial existing infrastructure.
However, the highest annual growth will likely come from the Asia Pacific revision. This is due to significant investment by both medical device and pharmaceutical companies in IOT technology. In particular healthcare spending in China has increased sharply. Between 2014 and 2018, the average annual increase in Chinese healthcare spending was estimated at 11.8%. The rise in Chinese healthcare spending is attributed to a rise in per capita income and the government's expansion and reform of the medical sector. Another factor driving increased healthcare spending is medical tourism. China has attracted significant medical tourism because of the relatively high level of expertise and lower costs combined with a friendly government environment. IoT could see the medical tourism sector in China further expand.
IoT technology will make it easier for patients to connect with medical professionals in other parts of the globe. This will simplify the experience of patients seeking medical care overseas and could see more Western patients shift towards lower cost, but equally good, treatment in China. This trend will likely be compounded if treatment costs in Western countries continue to rise.
Leaders in the growing IoT field include:
IBM Corp.
Microsoft Corporation
Boston Scientific
Biotronik
Drägerwerk AG & Co
Koninklijke Philips N.V
Wearable medical devices and remote medicine
One of the key areas for IoT is monitoring the health of patients. Wearable devices such as smart watches and health bands are already becoming commonplace. This wearable device allows for both remote monitoring of a patient's health, as well as empowering the patient to better monitor their own condition.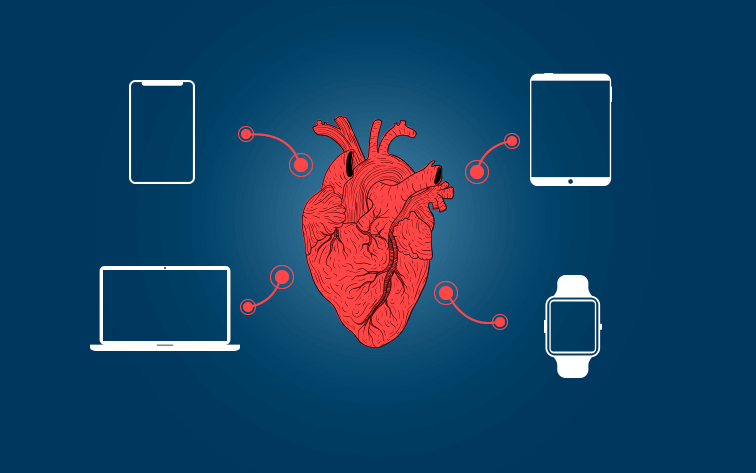 One area where there has been significant success is in the treatment of diabetes. Monitoring devices allow both patients and their physicians to track blood glucose levels, deliver insulin and analyze food consumption. Over the next six years the use of wearable devices and better IoT integration will provide physicians with better information and help to reduce treatment times.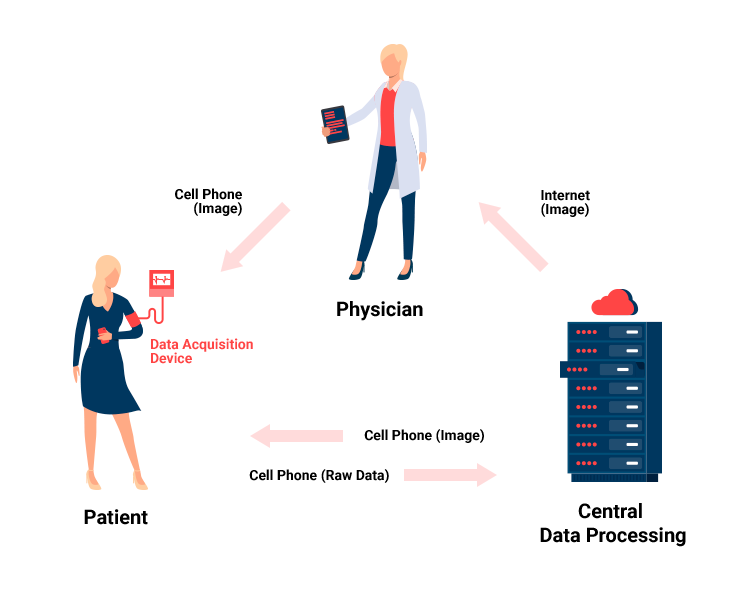 Improvements in sensor technology combined with falling costs are also helping to drive IoT adoption. As connected medical devices proliferate medical professional will have access to better quality data. Connected devices also delivered alerts to hospitals if the patient requires emergency assistance. All of the data that is produced from these connected devices will be stored in the cloud where it can be analyzed via machine learning. This should improve the ability to deliver accurate and efficient patient diagnosis.
Chatbots
Meeting the growing needs of an aging population will require reducing the burden on physicians. One healthcare information technology which promises a lot of potential in this area are chatbots. Chatbots are software programs which are able to answer text and/or auditory questions.
Thanks to improvements in technologies include machine learning and voice recognition, chatbots are becoming increasingly sophisticated at answering questions. In fact, chatbots should be able to reach a level where interactions are undisguisable with those from a human. As a consequence, the chatbot market is predicted to grow at an annual rate of 21.2% until 2025 reaching $USD470 million.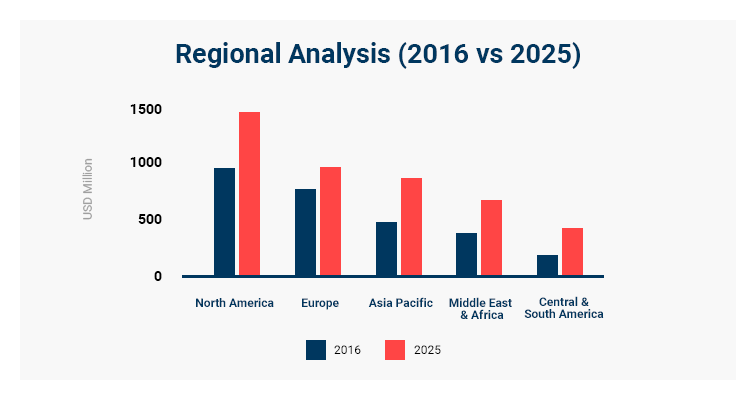 The benefit of chatbots would alleviate physicians from the need to provide initial screening of patients and help with ongoing care. This would allow patients to receive both faster care and enable physicians to spend more time on diagnosing and delivering treatment. While the overall outlook for chatbots is positive there are some potential constraints which may slow adoption of the technology.
Firstly, there are concerns over privacy. Patients may feel unconformable disclosing their health issues to a non-human actor due to the potential misuses of that data. Secondly, a belief that the healthcare technology is inadequate to meet the needs of patients slow its adoption. According to studies, Europe is the market which is likely to see the fastest rates of chatbot usage through to 2025. This is due to the fact of high rates of internet penetration combined with a large health care sector. Following on from Europe, North America is likely to be the second largest market for chatbots.
3D Printing
3D printing involves producing physical objects from digital files. Like most of the technological trends highlighted, 3D printing is not specific to the health industry. Overall the market for 3D printing is expected to reach $2.3 billion by 2020. Due to the increasingly customized nature of healthcare, 3D printing is likely to prove a popular technology.
One likely used case for 3D printing is prosthetics. Using 3D printing it would be relatively easy to produce a prosthetic that was completely customized to a specific individual. Better fitted prosthetics would have a significant impact on quality of life for the patient. As the cost of 3D printers fall this technology could be made more widely available in developing countries.
Another area that 3D printing could be useful is in modelling. Using 3D printing it is possible to produce an accurate, customised model of a patient's organs. This would make visualising problems and potential treatment approaches easier.
3D will be able to deliver individualised solutions for patients and their physicians, perhaps equally importantly this can be done at a lower cost and more quickly than existing technology. And because 3D printing machines allows for a wider distribution networks, it will enable more convenient patient care for non-urbanised populations.
Machine learning (AI)
Arguably the most significant technological trend is machine learning, and more broadly AI technology. Machine learning is still in the early stages of adoption. However, there have already been examples of how machine learning can be used. One such case is the use of a Google powered machine learning algorithm to identify cancers.
Machine learning will be able to scan, detect and diagnose health problems much faster and more accurately than humans. This should also allow for earlier detection of potential problems. When combined with remote health monitoring enabled by IoT, we can see a future where health problems are identified without requiring a visit to a physician. As already noted, devices, such as smart watches, are already highly popular. As a consequence, the impact of both IoT and machine learning will likely be a marked presence by 2025.
One of the factors driving the adoption of machine learning is increased digitisation of medical records. In the United States currently 67% of all medical records are currently digitised. Machine learning models require large data sets. As more and more records become digitised, the utility of machine learning increases.
Online services in healthcare industry
Online services that have been recently actively introduced have significantly increased the logistics capabilities of medical institutions, which in turn raises the quality of medical services to a new level. The effectiveness of medical services is growing due to the high-quality management of the appointment booking process with the doctor, planning schedules for visits, collection of additional statistics and improvement of the process of satisfying the needs of medical institutions through the whole processes automation.
The best example of using the online technology is Bookly solution, which allows automating the appointment online scheduling process on the health clinic website.
Using Bookly plugin to offer 24/7 appointments
WordPress currently runs about a third of all the websites on the internet. This includes a large number of private health care clinic websites. Plugins allow new functionality to be added to that website with only a few clicks. Using the Bookly WordPress plugin for clinics can quickly setup unique, customisable booking forms on any page of their website.
Essentially this empowers customers to both make and manage their own family doctor appointment. Bookings can be made using any device. Bookly is fully responsive, meaning that the forms are specifically designed to work seamlessly with mobile devices. Once setup customers can book an after hours doctor. This is perfect for busy clients who may not have the opportunity to call to make an appointment.
Once an appointment has been made, the client can be provided with their own unique login details. This allows them to access their full appointment information. The booking system can be setup so that the client is able to cancel or modify their appointment as they require. Approval for these types of changes can be done on either an automated or manual basis.
Bookly not only acts as a booking form but also as an integrated scheduling software. This means that private clinics can automate their appointment availability and correspondent it with staff schedules. Customers will only be able to book an appointment when a physician is available. When an appointment is made that physician will be notified and the appointment added to their schedule. This schedule works with many of popular calendar tools include Google and Outlook calendar.
Bookly comes with a number of advanced features which improve customer experience while streamlining patient management. One such feature is the ability to setup automated SMS or email reminder notifications. This motivation includes key information about the patient's appointment date, time and location. These can be set to be delivered at a predetermined item(s) before the actual appointment. This is a great way of reducing the number of no-shows.
Bookly also can be integrated with a wide variety of payment platforms. This allows the clinic to take online payment either in part or full for the appointment. This is convenient option for many clients who prefer to know in advance how much their appointment will cost and would prefer to pay via their mobile or desktop. At the same time this can be beneficial for the clinic in terms of locking in payments.
Technology concerns
While the shift towards wider use of technology in healthcare is all but inevitable over the next five years, there are issues which will need to be addressed.
Data privacy and security
Two of the biggest concerns are around data privacy and security. How data is used and who has access is something that patients are increasingly aware of. What level of access to a patient's health data should be made available to employers or insurers? And how is permission for this access controlled.
Along with protecting a patient's data, is concerns over the security of that data. Has numerous data hacks have shown almost any system is vulnerable to penetration. Included among hacked data has been health records. As more records become digitised the potential for such hacks increases. This is compounded by the fact that in order for technology like machine learning and remote medicine to work, data will need to be shared. How this can be encrypted and secured will be a problem that needs to be solved if patients are to be confident in these solutions.
Cost of upgrading infrastructure
In order to take advantage of many of the technologies detailed in this report there will need to be an upgrade of infrastructure. For example, wireless network access is often not properly support in many older facilities. Upgrading these facilities may weigh on already heavily strained healthcare budgets.
At the same time providing reliable infrastructure will be vital if these technologies are to be widely adopted. If you are watching a YouTube video or playing a game, then a loss in service may be annoying but that is the extent of the problem. In contrast, for health care providers a similar loss of service could cause delays in diagnosis and have even potentially fatal results.
Challenges facing healthcare in 2025
The healthcare industry faces a number of significant challenges over the next five years. A recent survey by Polycom, Inc interviewing over one thousand healthcare industry professionals across the world outlined some of the key challenges including:
Aging population – The biggest challenge that respondents to the survey highlighted was the aging population. In a study by the United Nations it was predicted that by 2025 the global population will increase by one billion people. Approximately 300 million people will be over the age of 65. The aging population will place heavy demands on the healthcare infrastructure and necessitate increased government spending. The aging population will require long term health care. In addition, many of the conditions will necessitate chronic management.
Rural access – As healthcare access is expanded to the broader population one challenge will be serving the needs of rural populations. Providing adequate healthcare to rural populations, in particular in developing countries, can pose problems. Many of the respondents that technology would help to address these challenges. In particular wide access to broadband and mobile devices would make it easier to provide remote medical services.
Government support – Whether governments will support the expansion of healthcare and the adoption of new technology is still unclear. However, most respondents felt that regulators and government agencies were heading in the right direction in this regard. The general consensus is that policies supportive of new technology will be introduced. The demands placed by an aging population and the expansion of healthcare to a greater segment of the population should make this necessary.
Moving towards private healthcare
As has already been observed, rising levels of wealth are driving demand for greater access to health care and innovative treatments. While this will likely lead to an expansion of public funded health care, it will also mean a greater number of people opting for private health care as well.
In a You Gov poll in 2013 it was found that 53% of people in the UK would opt for private healthcare if they were able to afford it. In fact, the main reason that people said that they would stay with the publicly funded NHS, was the cost of choosing private healthcare. This is worth noting because the UK's NHS is generally regarded as being one of the world's best public health care systems. In countries with less well funded public health care, the demand for private health care is likely to be even greater.
Benefits of private clinics
There are a number of benefits that private clinics offer which will likely lead to a rise in demand. These include:
Access to new technologies and treatments. As this report has illustrated, one of the most significant changes to the global health care sector will be the impact of new treatments and technology. It is likely the governments may be slow to adopt new technologies or make available new treatments such as personalized medicine. This may mean that people who wish to take advantage of these new treatments and technologies will need to seek them through private clinics. Demand for private clinics is likely to be particularly strong, if it becomes clear that private health care offers more advanced treatments than is available through the public healthcare sector.
Better and more personalized service. One of the most often cited reasons for frustrations with public health care, such as NHS, is waiting time. A significant amount of advertising done by private health care clinics is focused on highlighting the fact that you can see a family doctor without having to wait. As the public health care system becomes more burdened, the benefits of faster service through private health clinics becomes more pronounced. Shorter wait times also mean faster diagnosis which can lead to superior outcomes for the patient. Combined with this is the more personalized levels of service than private clinics offer. Because private clinics generally have far fewer clients than public hospitals and clinics they can offer a better level of service than would otherwise be available. When a patient visits a private health clinic they will often deal with the same family doctor. In contrast, physicians are more likely to be rotated with public health care. This means that private health care patients can deal with a physician that is familiar with their medical history and that they have developed rapport with.
Higher level of support. Another frequent complaint about public health care is limited ongoing support. As public health institutions have to deal with an increasing number of patients providing readily available support is challenging. Support needs to be prioritised to those patients with the most urgent issues. Private health clinics in contrast often offer around the clock customer support. As already noted, they are also much more flexible in terms of arranging a family doctor appointment on short notice.
More privacy. While many public health care institutions are very well run, they usually cannot offer the same level of privacy that a private health care clinic can. Frequently you will have to share a room for overnight stays with other patients. In a private health clinic, you can usually have a room to yourself.
Investing in healthcare innovation and improved outcomes
Increased spending on private healthcare will not only increase demand, it also likely to lead to greater supply as well. This will be beneficial to customers who will have an increased range of choices available for them when seeking treatment. Technological trends like IoT and remote monitoring will make medical tourism more viable. This means that private health clinics will not only need to compete against domestic treatment facilities, but international ones as well.
In order for private health clinics to successful compete over the next five years, it is important that they are investing in healthcare technology and better patient services. A trend that has cut across many industries is the shift towards "on-demand" services. Examples of this include car services such as Uber and Food delivery services like Deliveroo. Customers want to be able to easily order services when they want them and have them delivered promptly. They also want to be able to order those services from their phones.
By 2025 it is estimated that there will be 5.9 billion unique mobile phone subscribers. This is approximately 71% of the world's population.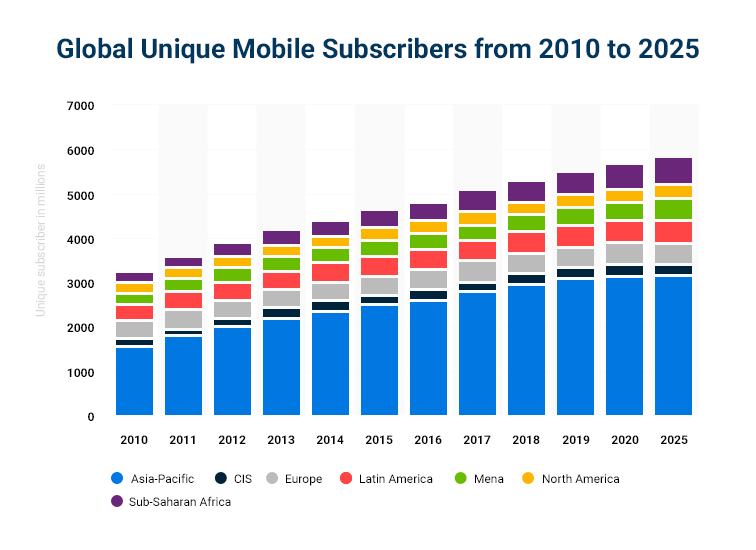 With many people choosing to use private health care clinics, there will almost certainly be a shift towards "on-demand" health care. This means being able to easily book a private healthcare appointment with an after hours doctor through a mobile phone, in much the same way as one currently books a ride with Uber.
Private health clinics that are able to private easier online booking, will almost certainly attract more affluent and technologically sophisticated consumers. Customers becoming used to being able to order almost any service "on-demand" will almost certainly expect to be able to book an after hours doctor in very much the same way.
Conclusion
Demographic and socio-economic trends clearly indicate that there will be strong demand for healthcare trends through to 2025. At the same time a range of innovative new technologies and treatments are being introduced which could significantly change the way many health conditions are treated. Robust demand for health care services should see new entrants into the market capitalizing on the opportunities that are available.
Private medical practices should do well over the next five years. In particular those clinics which are able to offer more convenient and advanced treatments for their clients. While the private health care market is likely to be increasingly competitive, the outlook is positive for innovative private health care clinics. Clients should likewise benefit from a better range of services delivered on demand.