According to statistics gotten from the AAA Foundation for traffic safety, bad weather, winter storms and sloppy road conditions are factors that contribute to nearly half a million crashes and over 2,000 road deaths every winter season. Also, research from the US Department of Transportation reveals that more than 1,300 people lose their lives and over 116,800 people are injured every year as a result of auto accidents that occur on snowy, slushy or icy roads.
Undoubtedly, driving during the harsh winter weather poses a lot more challenges than driving during the hot summer weather, as evidenced by the damning reports given above. Adverse weather conditions and longer nights experienced during the winter makes driving more dangerous.
The winter weather is so unpredictable that different weather conditions produce various hazards all through the winter and in different locations in the country at varying times. This means that a single journey or trip may take us through different weather, traffic and road conditions. Therefore, you must have adequate knowledge about the proper driving safety measures to apply in every situation that you may find yourself.
Driving safely during the winter requires a lot of caution, added to defensive driving techniques and ultra concentration behind the wheel. Everybody knows you should never use a phone while driving and also making use of your seatbelt. Still, you can go the extra mile by taking a course on driving safety during the winter and also get information on how you prepare and care for your vehicle during the colder months. Depending on your location and the type of roads you ply daily, driving during the winter may involve sweeping changes like different tires, different wiper blades and even changing fluids in your engine. Simple steps like this might be the difference that saves your life!
It is also essential to stock your car with a few speciality items or an emergency kit that can help you get on the road as quickly as possible or get you out of a hitch if you run into some trouble.
It is advisable to avoid driving if the weather condition is deplorable, but if you must drive, then try to take precautionary measures to put your vehicle in the best possible winter driving condition. Below are some useful winter driving tips to help you prepare your car for the harsh winter conditions.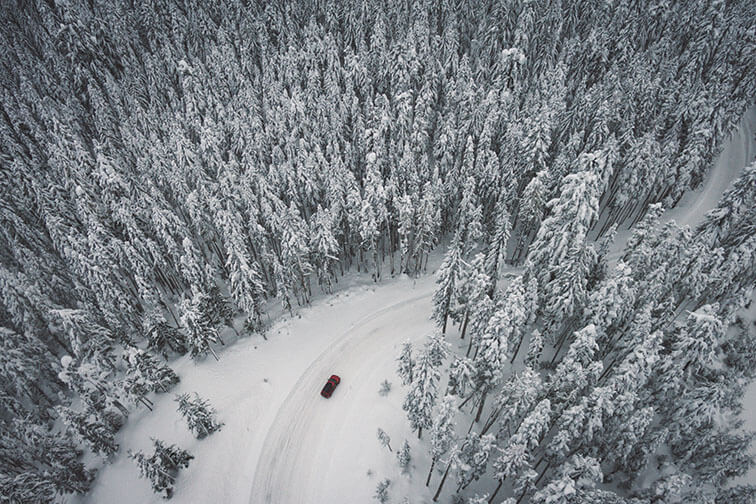 1. Check your battery
A drop in temperature usually leads to a loss in battery power. For diesel and gasoline engines, it takes a lot more battery power to get your car started during the cold weather. While for electric and hybrid-electric vehicles, the driving range is reduced when the battery gets cold. You must ensure that your mechanic checks your battery; it's charging system, belts and make sure repairs or replacements are made if necessary. If you have an hybrid-electric vehicle, you can keep some gasoline in the tank to support the gasoline engine.
2. Lights
With winter comes shorter days and longer nights, and so on a typical winter day, darkness falls on motorists from around 5 pm. Make sure you check your brake lights, headlights, turn signals, interior lights and emergency flashers to ensure they are functioning optimally. Be sure to double-check your trailer brake lights and also turn signals, if necessary.
3. Make sure you check your cooling system
You must ensure that you have enough coolant in your vehicle, and the coolant must meet the specifications of the manufacturer. The vehicle owner's manual should have specific recommendations about the type of coolant to be used, so make sure you read through the manual. You can check through your cooling system by yourself, but it is advisable to have a mechanic check it for leaks, test the coolant and also drain or replace old coolant as required.
4. Ensure your windshield wipers are in top condition
When preparing your vehicle for the winter weather, it is essential you check and replace your windshield wipers – both the front and rear. Also, check your defrosters and ensure that everything is in good shape and working. Replace any worn-out blades and if you live in an area that is heavily hit by snow and ice, consider installing heavy-duty winter wipes. Ideally, your wiper blades are to be replaced every six months, so pay attention to this always to ensure your safety at all times.
5. Check your Washer reservoir
It's quite easy to get through a lot of windshield wiper fluid very quickly during a massive snowstorm. Therefore, take precaution against whatever may come your way by ensuring that your car reservoir is full of high-grade "winter" fluid and de-icer before the winter weather gets into full swing.
6. Install your floor mats properly
An improperly installed floor mat exposes you to a higher risk of a crash because it may interfere with the operation of the brake pedal or accelerator. Once again, it cannot be overemphasized the importance of thoroughly reading through the manual of your vehicle.
Check through it for instructions on the proper installation of your floor mat, and you may also use retention clips to secure the mat, to prevent it from sliding forward, thereby causing interference to the use of your brake pedal or accelerator. Additionally, make sure you use mats that are the correct size and right fit for your vehicle to ensure proper driving safety.
7. Check your brakes
Your braking system is unarguably the most critical safety component of your car – never joke with it! Regardless of the season, always check that your brakes are working at 100%.
8. Check your exhaust system for carbon monoxide leaks
During the cold winter, most people drive with their windows closed as a way to keep the inside of the vehicle warm. Still, these could be especially dangerous if your exhaust has carbon monoxide leaks which can easily cause suffocation. Let your mechanic make a quick diagnosis of your exhaust system to ensure its safety for you and your family.
9. Diligently check your Oil, fuel, air and transmission filters
You must keep your fuel tank half full to prevent moisture from forming in the gas lines and possibly freezing. Also, avoid leaving dirty oil in your vehicle as it is especially dangerous during the winter. Make sure before you head out on the road that you have all fluids, including your oil and transmission fluids topped off or changed. Never embark on a long journey without changing topping your fluids or changing them outrightly.
10. Ensure your tires are in prime condition
The tires are another crucial safety component of your vehicle for all seasons, but you must pay special attention to the condition of your tires during the winter. Make sure your tires are filled to meet the vehicle manufacturer's recommended inflation pressure always because tire pressure fluctuates with temperature.
Here are some additional winter driving tips to consider specifically for your tires:
Inspect your tires at least once a month, regardless of the season and before any long road trips. This should only take you about five minutes.
Scrutinize your tire tread and replace tires with uneven wear or insufficient tread.
Make sure you check the age of each of your tires and replace tires every six years regardless of use.
If you plan on using snow tires during the winter, make sure you have them installed during the fall, so you are ready before it snows.
Always remember to check your spare tires.
Best Tires for Winter Driving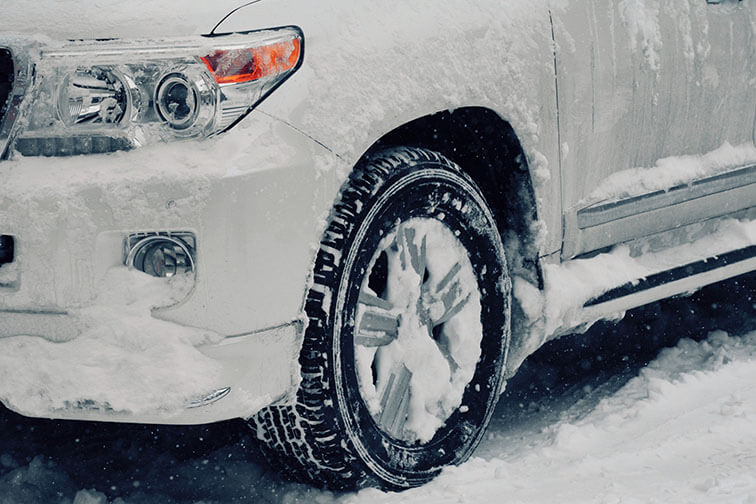 If you live in an area that is hit regularly with substantial amounts of ice and snow during the winter or you plan on taking a trip to a place that suffers from this kind of weather condition – then you should invest in a set of winter tires.
Winter tires are specially designed for harsh weather conditions. They are manufactured using specialized rubber compounds and tread designs that are suited to maximizing traction in cold, freezing temperatures and on icy roads.
Winter tires come in all shapes and sizes to fit all vehicles and even trucks. Below are our top pick tires for winter driving.
Bridgestone Blizzak WS80
Continental VikingContact 7
Dunlop Winter Maxx WM02
Nokian Hakkapeliita R3
Michelin X-Ice Xi3
Bridgestone Blizzak WS90
Pirelli Winter Sottozero 3
Cooper Discover True North
How much weight in truck for winter driving?
Once you have your tires sorted out, another vital factor you need to take note of before driving out during the winter is how much weight in truck for winter driving. Adding weight to generate more traction on slippery or icy surfaces is a technique that most people try, and it is only useful for vehicles with rear-wheel drive but not for those vehicles or trucks with front-wheel drive.
To get the best traction, you can add about 300 to 400 pounds, but this will depend on the type of vehicle in most cases. By adding weight to the back of your vehicle, you are adding pressure on the axle that provides power and support. When you apply weight on the axle and have tires that spin, it helps your truck grip better. In a car, applying weight to the rear means loading up the trunk, while in a truck it means loading up the bed.
You can make use of things like sandbags, bags of dirt and even boxes of kitty litter to load up the rear of your truck and provide extra traction for your vehicle on icy winter roads.
How Safe is winter Driving?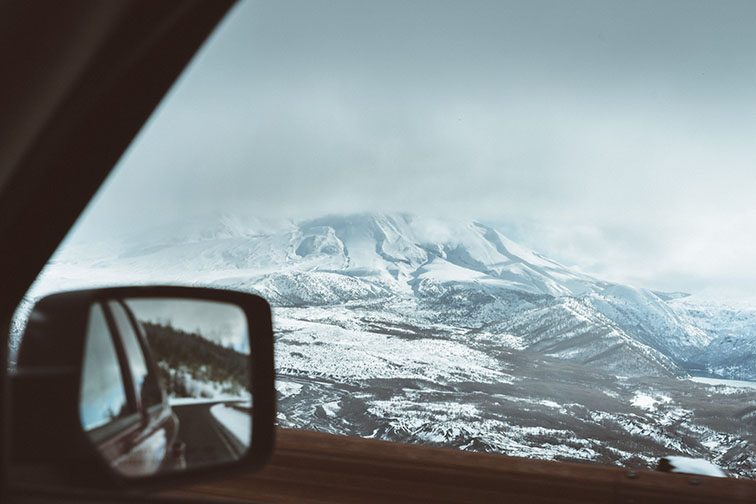 Driving during the winter can be a very daunting task, especially when the weather conditions are not so favourable. From icy, slippery surfaces to more extended periods of darkness, many challenges come with driving in the winter. The question you should always ask yourself before embarking on any journey in a region that is profoundly affected by snow should be "is winter driving safe?"
In most circumstances, winter driving is not safe and should be avoided unless you have to go somewhere really important. Statistics have shown that more accidents occur during the winter as a result of icy surfaces and vehicle malfunction caused by the coldness of the weather. As highlighted above, a freezing temperature not only affects the pressure in your tires but also influences your vehicle fluids, fuel, brakes and visibility.
You may not always have the option of staying at home during the winter, so it is imperative to be adequately prepared for driving under hazardous conditions. Below are some extra tips you must follow to ensure driving safety whenever you get behind the wheels during the winter.
Always make sure your vehicle is prepared for winter driving. Keep an emergency kit in your vehicle with items such as battery jumper cable, lightweight shovel, a flashlight and a snowbrush or scraper, flares, blanket, candles/matches, dry food snacks, bottled water and needed medication.
Drive carefully and slowly; don't make any sharp turns or stops when driving, as this will most likely cause your vehicle to skid out of control.
Avoid tailgating; stopping your vehicle on icy surfaces takes much longer than on dry pavement, so ensure you leave enough space between your vehicle and the one in front of you.
Make sure you apply your brake to reduce your speed before making a turn.
Remember to leave your lights on, to increase your visibility to other motorist plying the road.
When driving on icy, snowy or wet surfaces never use the cruise control as it may cause you to lose control of your car, if it hydroplanes.
Always wear your seatbelt, as this may save your life in case of an accident.
You must stay alert always. Do not get distracted by anything happening outside the road or your vehicle, but pay strict attention to your surroundings. Never use your phone or radio while driving on icy surfaces.
Check the weather, plan your route ahead of time and stay on course.
You must apply these winter driving tips to get your vehicle winterized and ensure your driving safety through this winter period. Drive gently and be safe!