Various tasks that are crucial to your business may take most of your time daily. You may even leave out a relevant activity. However, the internet can help you to smoothly run your business. It has improved communication and enables online users to stay connected. As a massage therapist, an online booking system can help grow your business. A scheduling system can be of immense help in handling certain tasks if you don't have employees. It can also simplify the duties of your workers.
You don't have to coerce customers to schedule an appointment through emails or over the phone. An appointment management system allows them to visit your online schedule and book a massage using their smartphones or other digital devices. Besides, you can use it to keep track of your appointments, send reminders to your customers or reschedule sessions with them.
How a massage therapist uses online booking system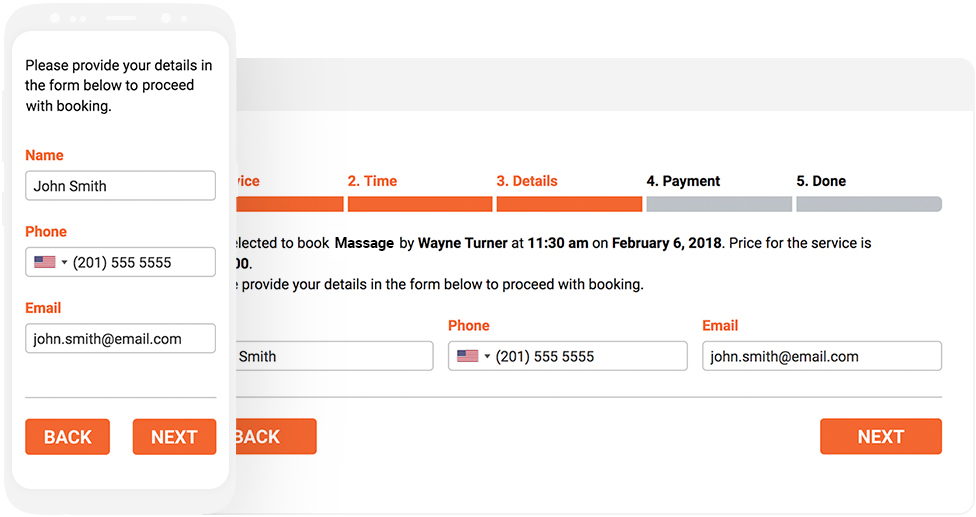 Certain functions of a reservation system will make it beneficial to your business. You need a scheduling system that can bring more clients and support the growth of your business. Here are some uses of an ideal appointment management system.
1. Keeps track of bookings
An online booking system with mobile access will allow your clients to schedule an appointment on the go from their smartphones. A mobile-friendly system will also enable you to check your appointment from anywhere and at any time.
2. Accepts booking from clients
A user-friendly booking system allows you to easily create your calendar. Besides, your customers can locate your schedule online with ease and book an appointment on your calendar. A system that doesn't require much technical support will be ideal for online massage booking. Instead of phone calls with your clients who need your services, the booking system completes the tasks and saves your time.
3. Storage of information
Automatic backups are available for your entire client's data captured on an online booking system. It also protects the stored information. Also, a cloud-based booking system undergoes automatic updates and allows you to check your schedule with any device.
4. Unrestricted booking hours
A scheduling system that allows clients to book appointments outside the business hours will be perfect for an online massage booking. It will allow your clients access to your schedule outside the working hours. Besides, it will help increase your client base as many people are likely to schedule an appointment during the weekends. Some may also do so early in the mornings or late in the evenings.
5. Appointment requests
A booking system gives your client access to book an appointment for a period convenient for them. It also allows you can accept, decline or reschedule the appointment. You can seamlessly run your business without creating another calendar to show times and dates when you will be available.
6. Reminders
A booking system can help you send reminders to customers that requested your services through email and SMS. You can send the reminder a day before the appointment. A scheduling system with this feature will help your customers to keep to their appointments.
7. Promotion of business
An online booking system can give you visibility and present your business to customers and your target audience. A marketplace is an excellent feature of a scheduling system that allows individuals that book for appointments with other service providers to also see your business. Besides, such customers will not need a separate login if they decide to schedule an appointment with you. An appointment bookings marketplace promotes your business and allows customers to easily locate your business.
An ideal online massage booking system can keep track of your events by pushing your appointments to your external calendar. By syncing your business schedule with your personal calendar, the system reduces your chances of missing appointments. It can also assist in scheduling recurring appointments and issuing invoices to your clients after the completion of their appointments. Choose a booking system that can help you get more appointments by integrating a booking widget on your website.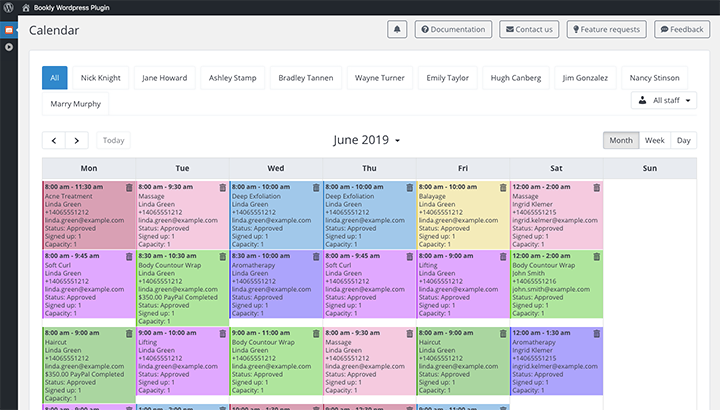 If you manage a service-based business such as a massage clinic, booking appointments is crucial to your firm. A website run on WordPress will help promote your business. Besides, integrating a WordPress booking plugin on your website will help you get more appointments and conversions.
The Bookly WordPress plugin is an automated online booking system. It frees the time you spend on live chats or calls with clients who need your services. This plugin offers free and pro versions with various features that can satisfy the demands of your business. Also, it has several Pro add-ons. You can opt for the free version which allows you to add only one employee and at most five services. However, the premium version will be preferable as your business grows.
The Pro version has more functions than the free version and allows you to install add-ons. With advanced features for automating your appointment management system, visitors to your site can make bookings with ease. The add-ons improve the scheduling system, giving your clients excellent online booking experience.
How the Bookly plugin works
The Bookly plugin allows customers and visitors to your site to make an online massage booking within a few seconds. Besides, it enables you to manage your client base, schedule, and services. Activate the plugin after downloading it on your WordPress website. The plugin will appear on the left sidebar of your site's dashboard. From the Bookly menu, add at least a service and an employee. Then link the staff member to the service. The Bookly plugin integrates seamlessly with WordPress website and doesn't require any technical experience to manage the scheduling system.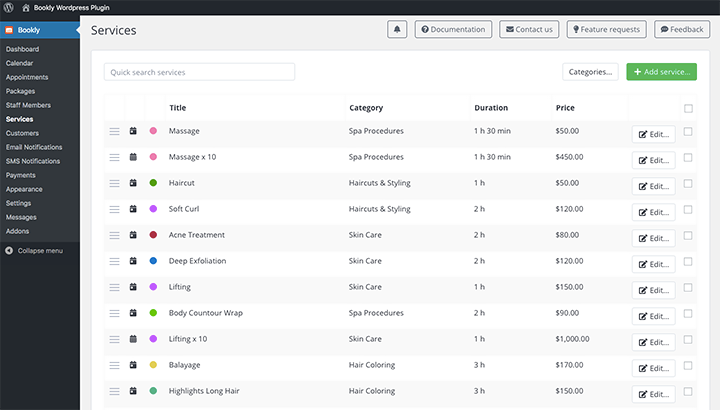 On arrival at the booking form page, clients can select their required service, preferred service provider, and suitable time and date for the appointment. You can access the booking form from any mobile device, laptops or desktops. The form provides various time slots, allowing the client to choose a time convenient for the appointment. It also requests the contact details of the clients. It will also send a personalized text message or email to the customer to confirm the appointment.
However, you may hide some of the steps in the form. The booking system may initiate the payment process or you can disable the option from the settings. Also, hide the time step on the form if you allow your clients to create unscheduled appointments. With the add-ons of the Pro version of the plugin, you can satisfy the multiple needs of your clients.
Bookly plugin provides an excellent appointment management system for massage therapists. Besides being mobile-friendly, it offers great customer experience.