Professional appointment scheduling management
#1 WP Service booking plugin trusted by 60 000+ clients.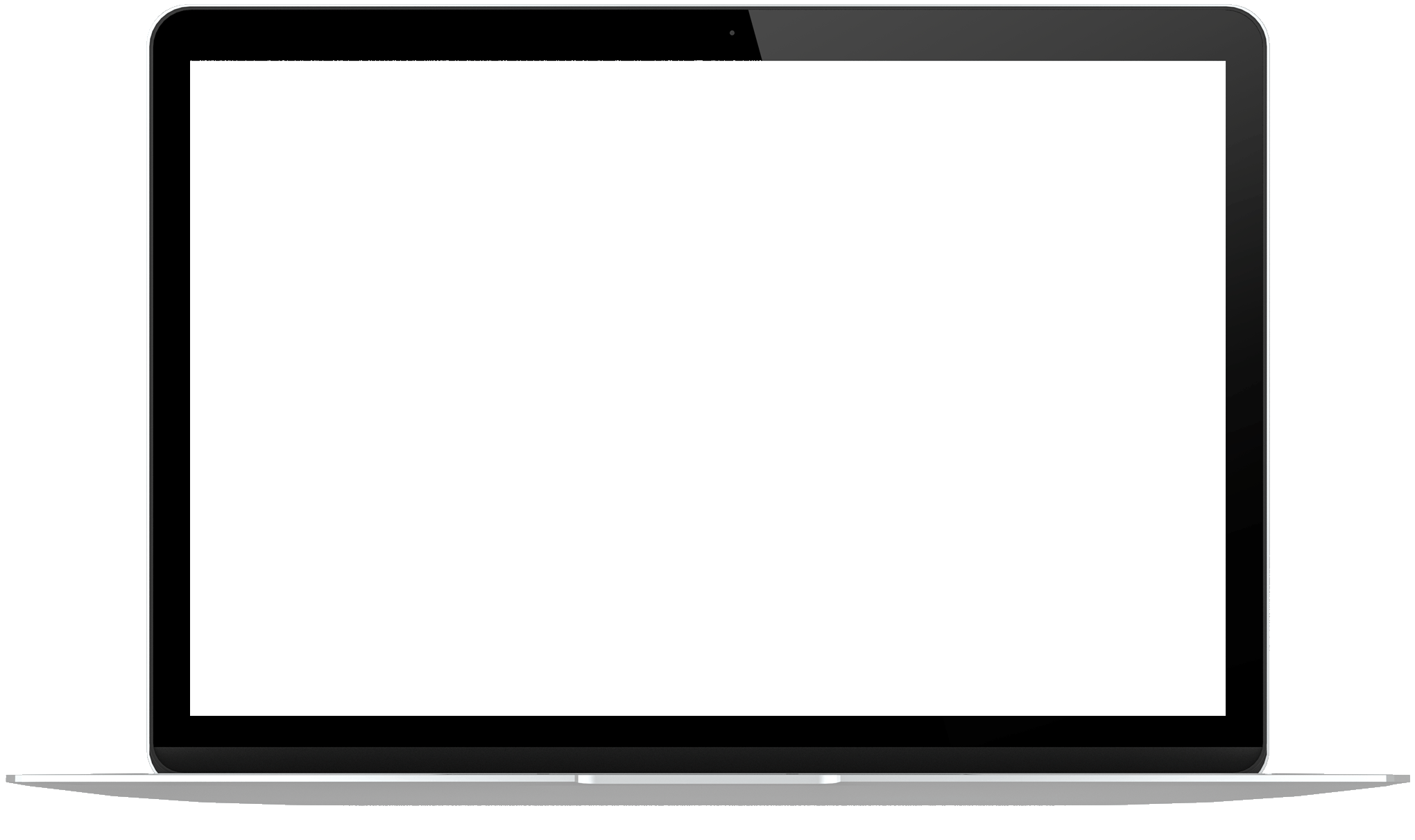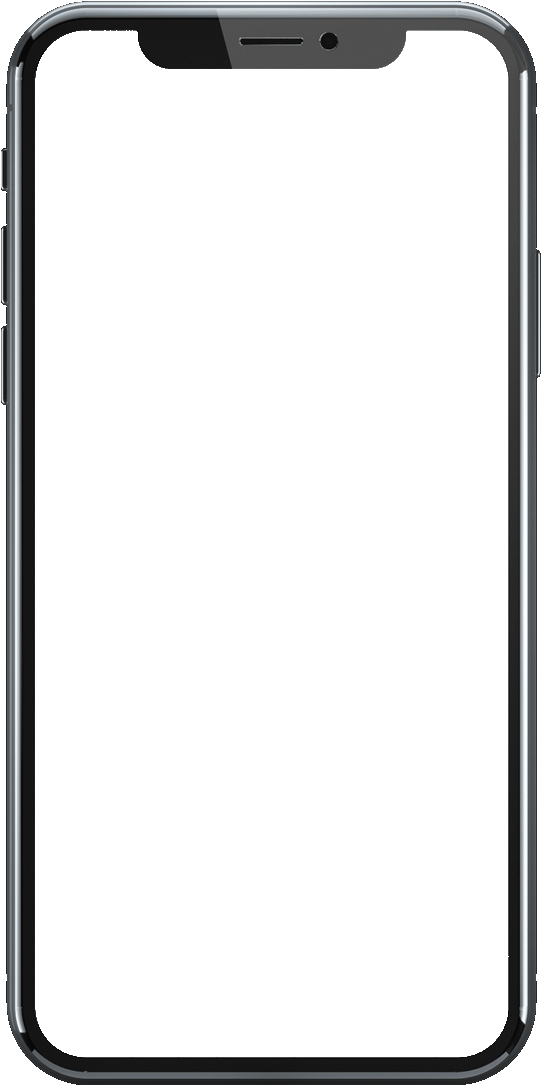 All Bookly add-ons are available exclusively on Codecanyon.
Click Buy to proceed to CodeСanyon for the secure checkout. Or add the item to the CodeСanyon cart and continue shopping.
Enable professional appointment scheduling software for WordPress with Bookly Pro (Add-on). This add-on unlocks the limitations of Bookly plugin, enables new features and allows you to buy and install dozens of add-ons to fulfill your specific business needs. All of the Bookly add-ons, including Bookly Pro online add-on, are sold exclusively on the biggest marketplace of digital assets – Codecanyon. We are proud to say, that nowadays Bookly Pro is considered as the best appointment scheduling app, which helps over 60 000 clients to automate and manage the online appointment scheduling process.
Pro add-on is a perfect fit for growing or small and medium business, and entrepreneurs, who sell services and want to automate the service booking process. Moreover, Bookly Pro appointment scheduling software can fit any industry and fulfill most of the business needs with the help of dozens of add-ons, which are available only for Bookly Pro. It helps to automate online appointment scheduling routine, gather leads, manage customer base, increase conversion rates and more.
Bookly Pro is an add-on for our opensource WordPress plugin. But don't worry if you don't have it. You can Purchase Bookly Pro, and it will automatically download and install Bookly plugin. After the installation, you will have Bookly plugin, and Pro add-on activated.
With Bookly Pro appointment scheduling software you get:
Customizable and responsive booking form that works on any device;
Booking list with a variety of filtering options that you can print or export to CSV;
Endless list of staff members with individual working schedules, prices, and more;
No limits for adding services. You can also set the color code for each service;
CRM features with unlimited clients list which displays payments stats and internal notes about the client;
Various templates for customizable Email, SMS, voice and WhatsApp notifications;
Google Calendar integration;
Zoom, Google Meet and Jitsi integration for scheduling online meetings;
In-built PayPal Express Checkout and Stripe options, the list of completed and pending payments;
Overview of the booking and payment statistics with built-in analytical reports;
WooCommerce compatibility;
Multi-language support – 12 languages included;
Six months of 24/7 online customer support.
To learn more about differences of Bookly Pro add-on, Bookly plugin and features of add-ons for Bookly Pro we recommend to check the live demos or to create the Sandbox website, where you can install Bookly plugin and any add-on for free and try their work in the live environment.
Key Features
Bookly is an ultimate appointment scheduling software, because of its rich features. Bookly Pro itself has dozens of features, which are essential for professional appointment scheduling management and automation. But you can also enhance Bookly Pro with different add-ons to fulfill your business needs and adjust Bookly for your industry and business processes. Let's check some of the Bookly Key features.
Appointment scheduling software with intuitive WordPress admin panel
With the help of constant improvements and feedback of more than 25 000 customers, we managed to build an easy to use appointment scheduling app, with a clean and user-friendly admin interface. You don't need any coding experience to set up and manage Bookly Pro.
Appointment scheduling app with sleek and simple design
The design of Bookly form is tested and loved by thousands of clients. It will guide your clients through the booking process and will help to schedule the appointment with ease. It is fully responsive and looks great on any screen, which provides your clients with an option to book your services when it's convenient for them using any device.
Customize Bookly Pro to suit any need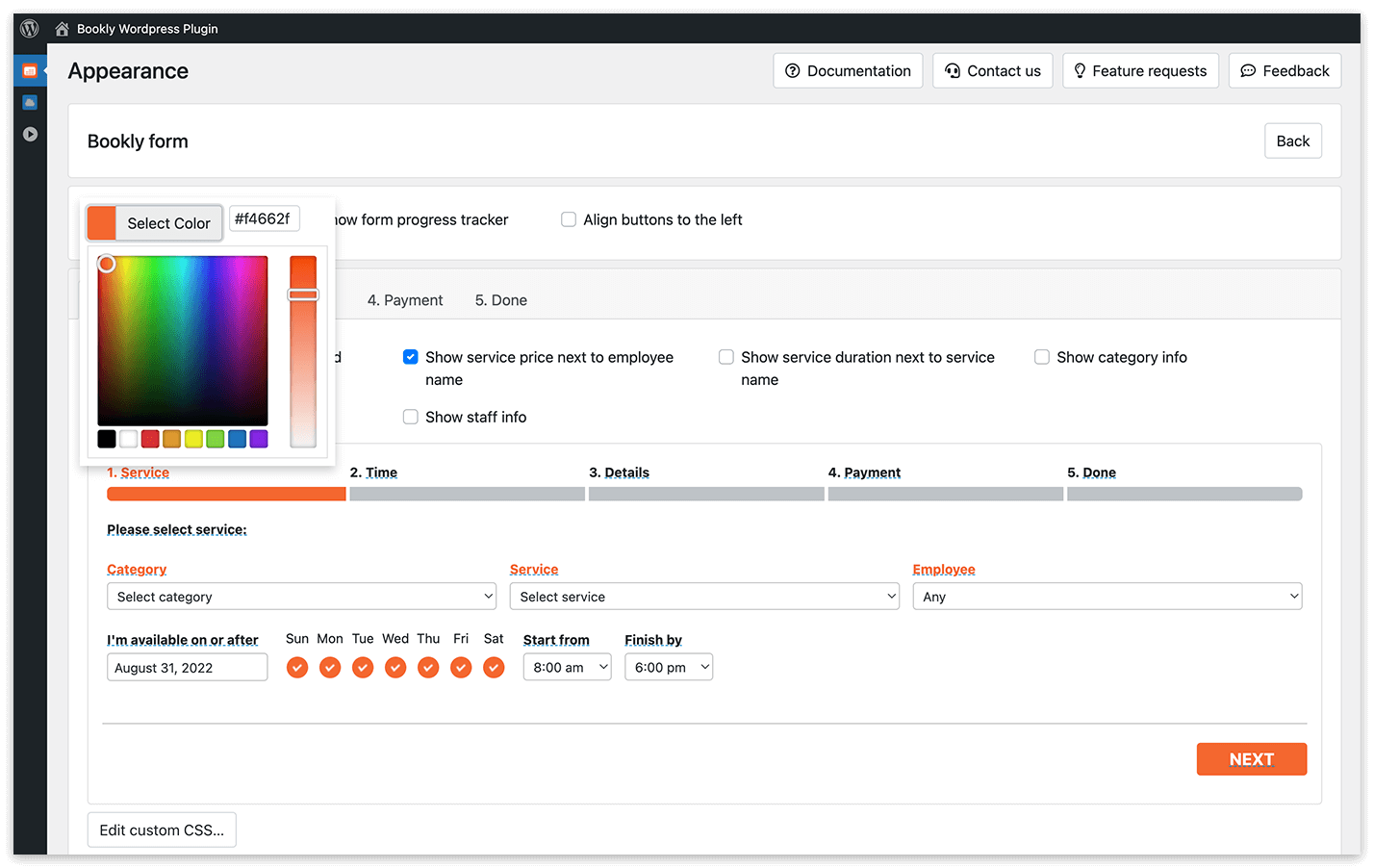 Bookly Pro is an appointment scheduling software with a variety of customization options. With this revolutionary booking plugin, you can:
Customize each step of the booking process;
Show or hide specific fields;
Add new fields to the process;
Change the colors to match your branding;
Reorder service provider list, categories list, and list of services;
Customize any of the text on the form.
Whatever your customization needs, Bookly's got you covered.
Add an unlimited number of booking forms on your site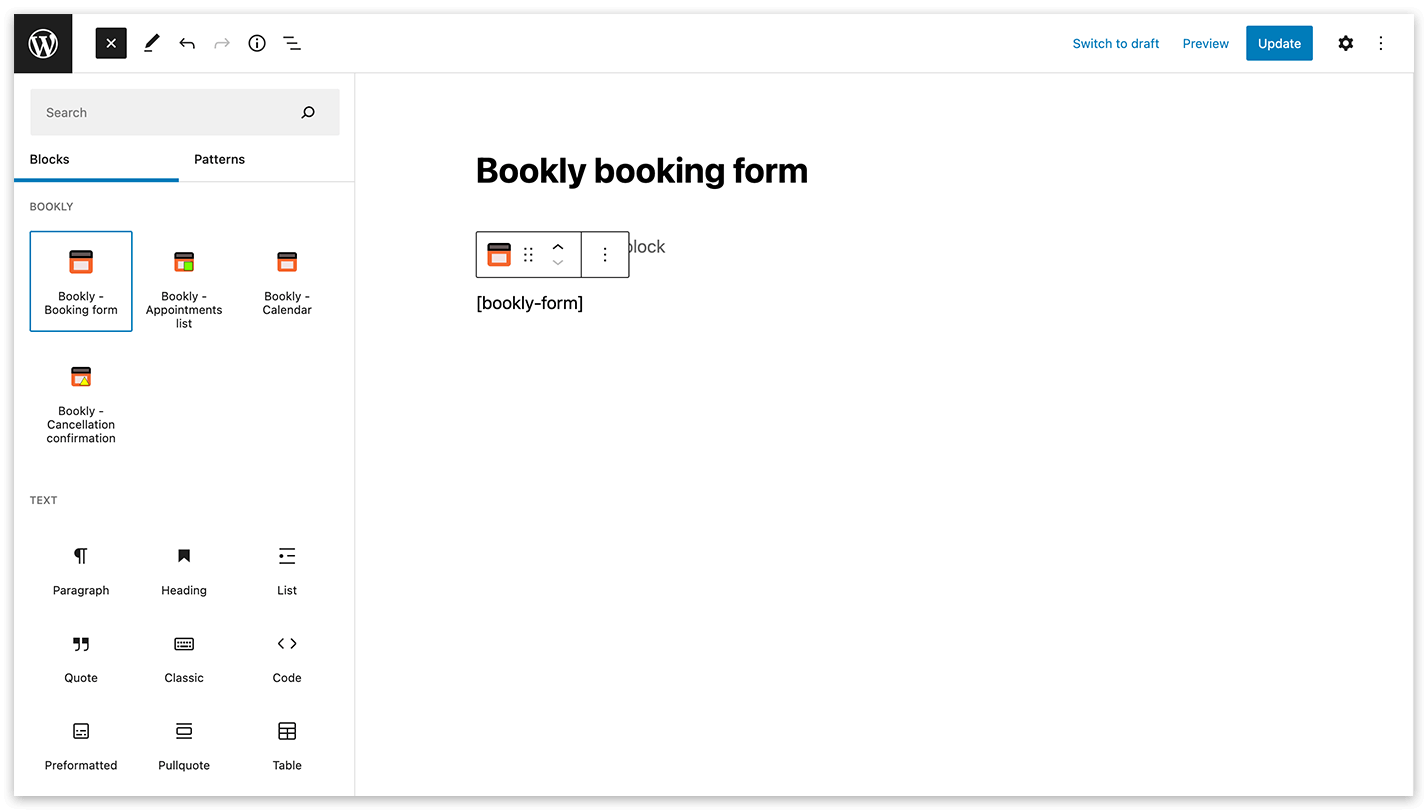 Bookly Pro online appointment scheduling add-on allows you to create and publish multiple booking forms within your WordPress website. No matter how many booking forms you add to your site. You'll manage to find all your bookings in a single calendar.
Send SMS and email notifications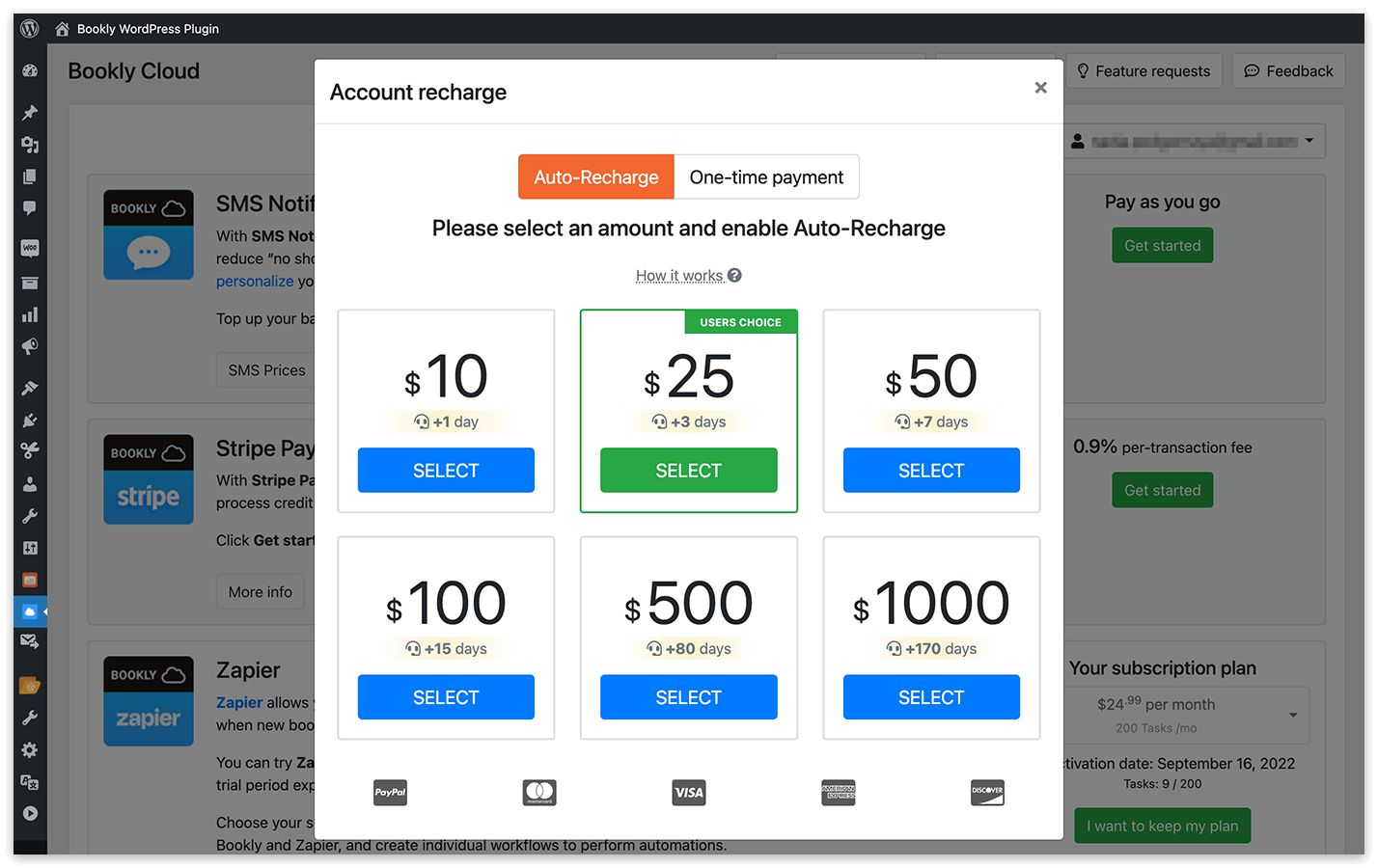 With our appointment scheduling app, you can reduce no-shows and inform your customers about significant changes using one of the most effective communication channels.
Switch calendar views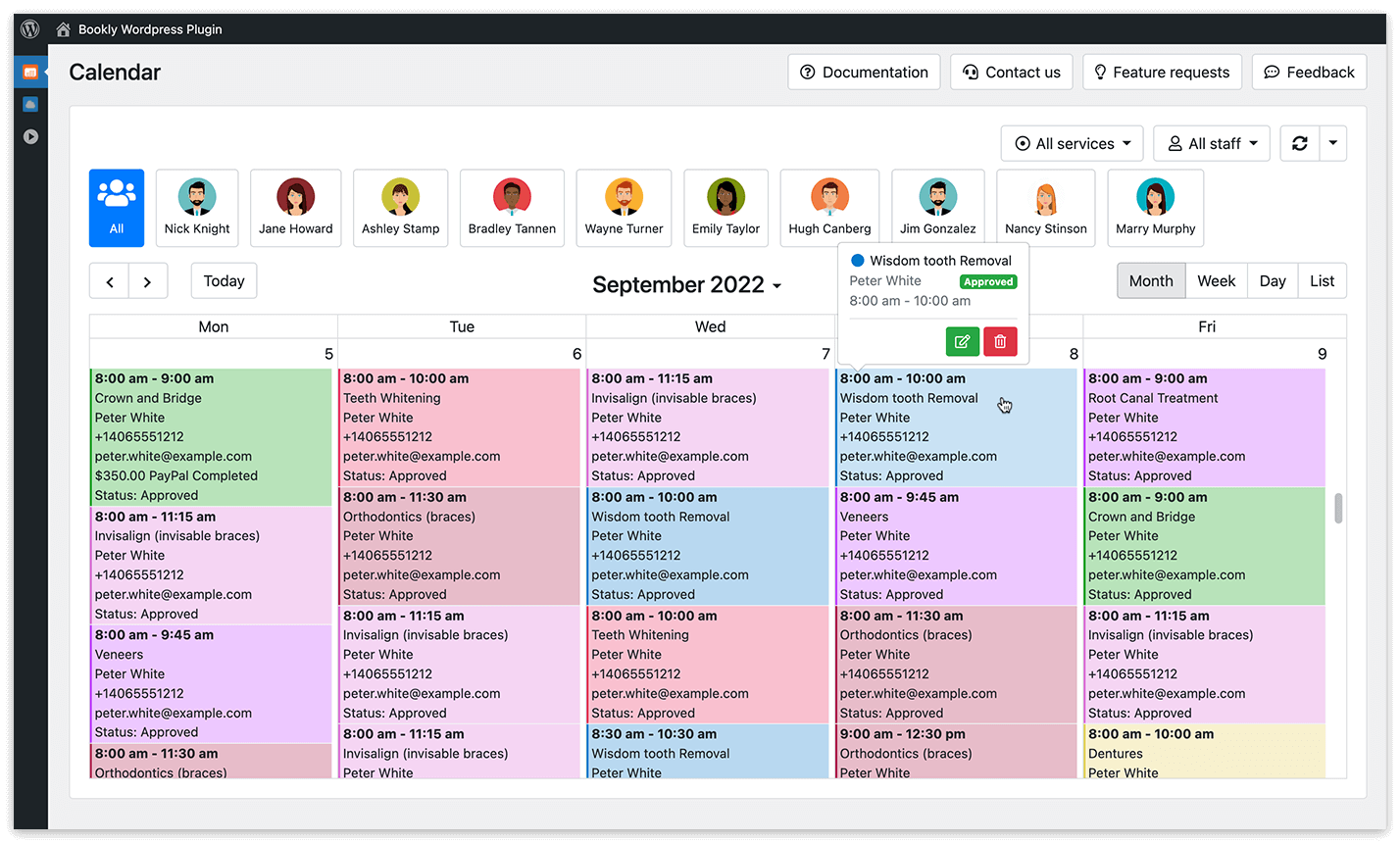 Choose between daily, weekly, and monthly modes to view your company workload in different ways.
Appointment scheduling software with full mobile integration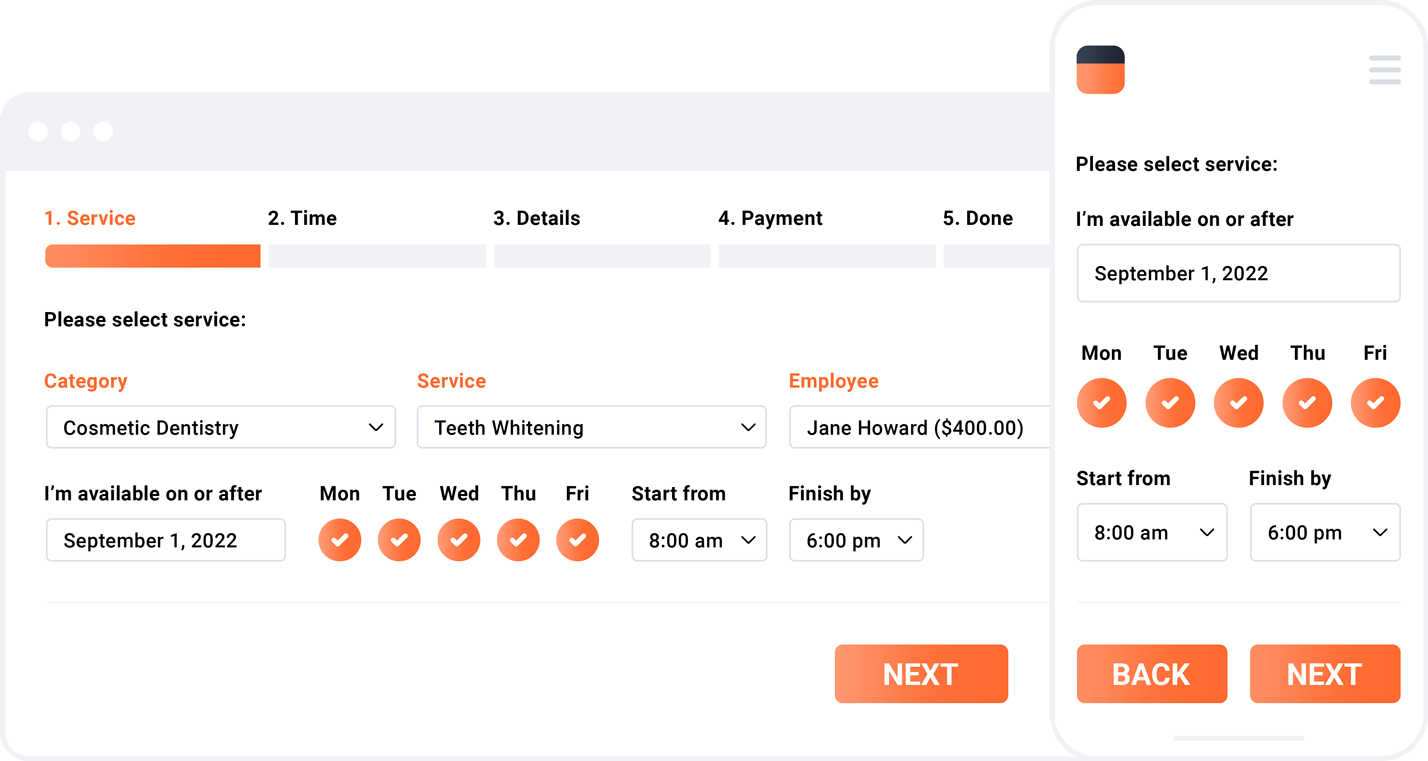 The bookly form is fully responsive and will automatically fit any screen or device. The backend also adapts to fit your mobile screen so that you could manage your bookings on the go, too. Take care of your clients, and we will take care of you.
Add unlimited number of services and staff members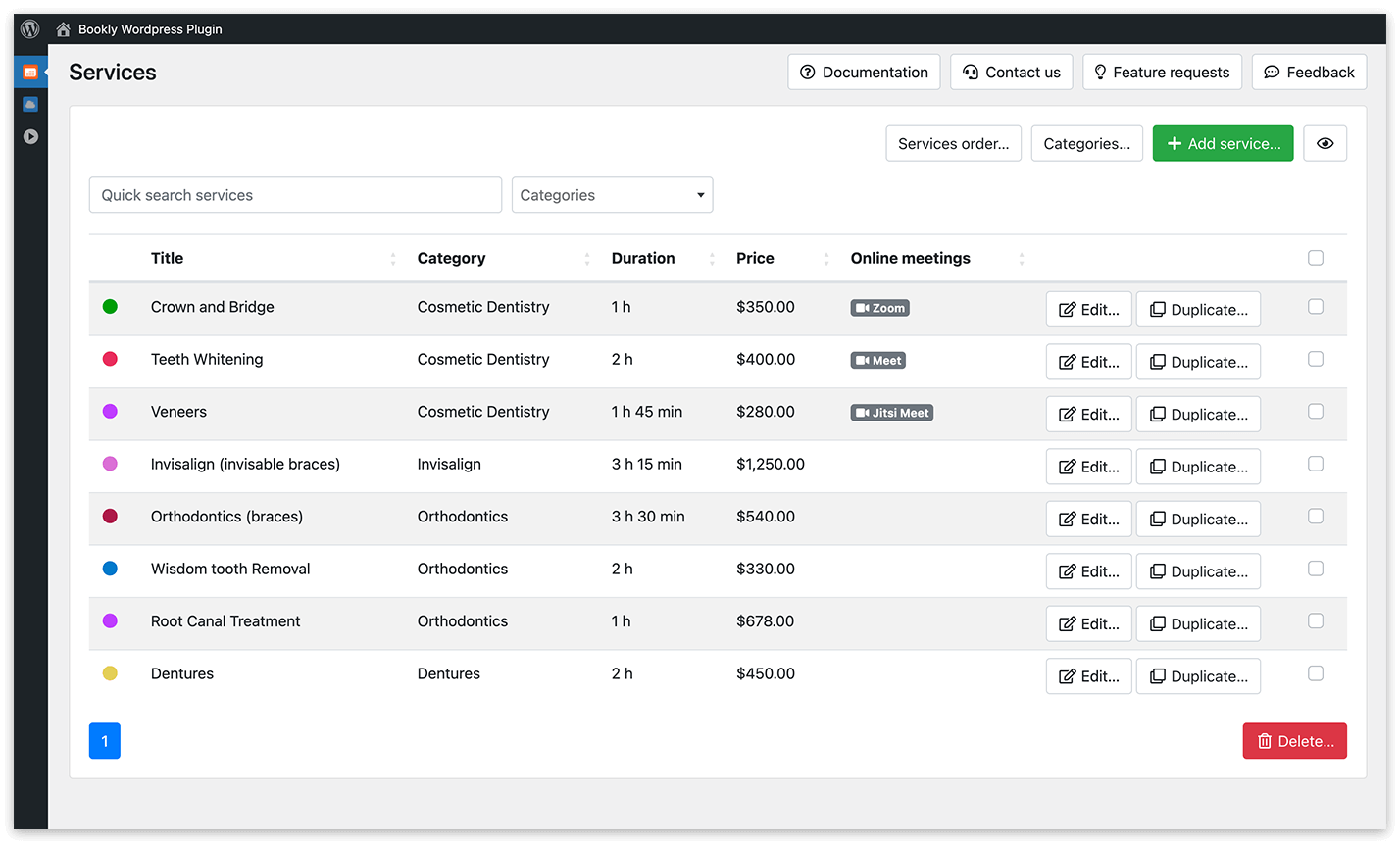 Bookly Pro online appointment scheduling add-on fits companies of different size and allows to add an unlimited number of staff members and services.
You can:
Add any number of services and staff members;
Connect staff members and their personal Google calendars with the services they provide.
Booking form with full translation support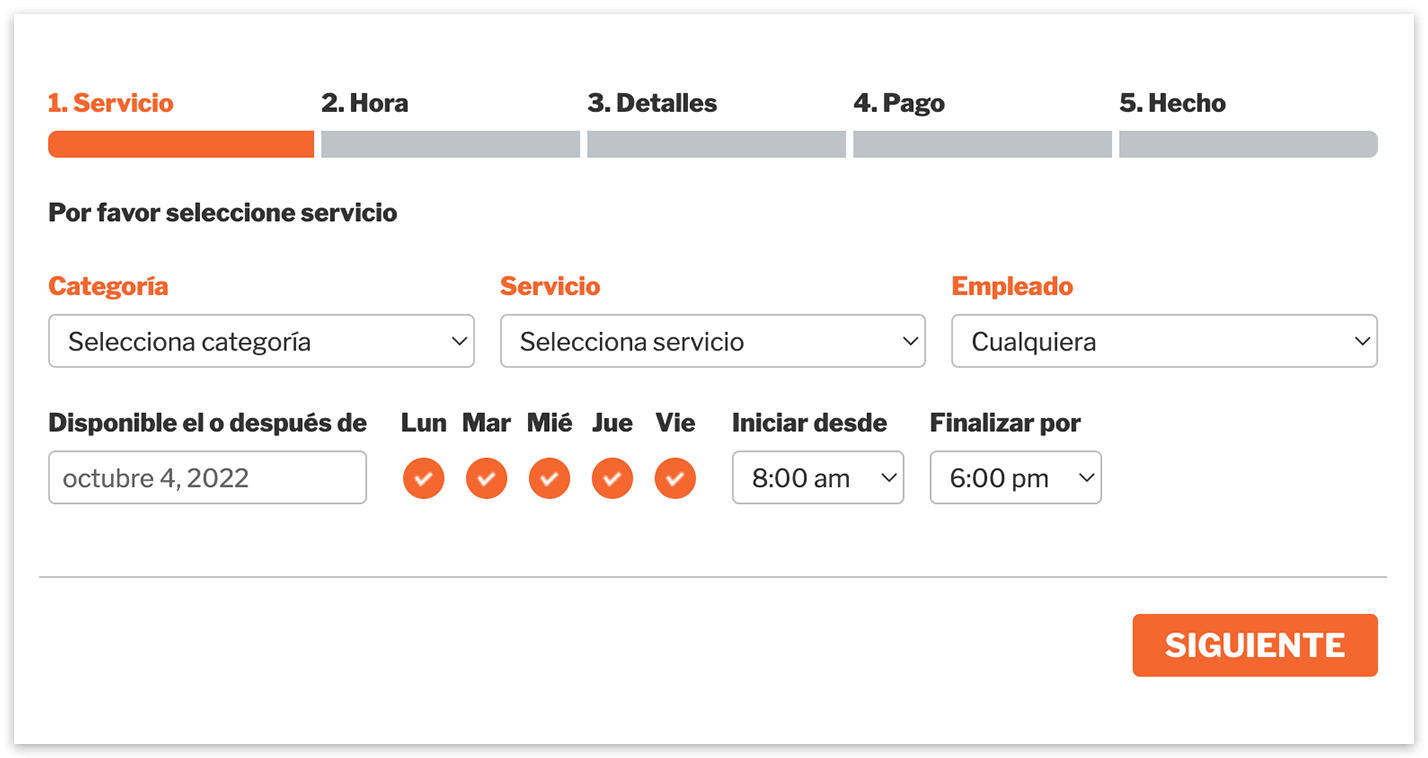 Bookly appointment scheduling software is compatible with WPML, supporting multi-language websites. You can translate Bookly Pro using the .po and .mo files. Appointment scheduling app comes with 12 built-in languages:
English
Russian
German
Spanish
French
Italian
Dutch
Portuguese
Romanian
Swedish
Chinese
Japanese
Integrate WooCommerce into your Bookly Pro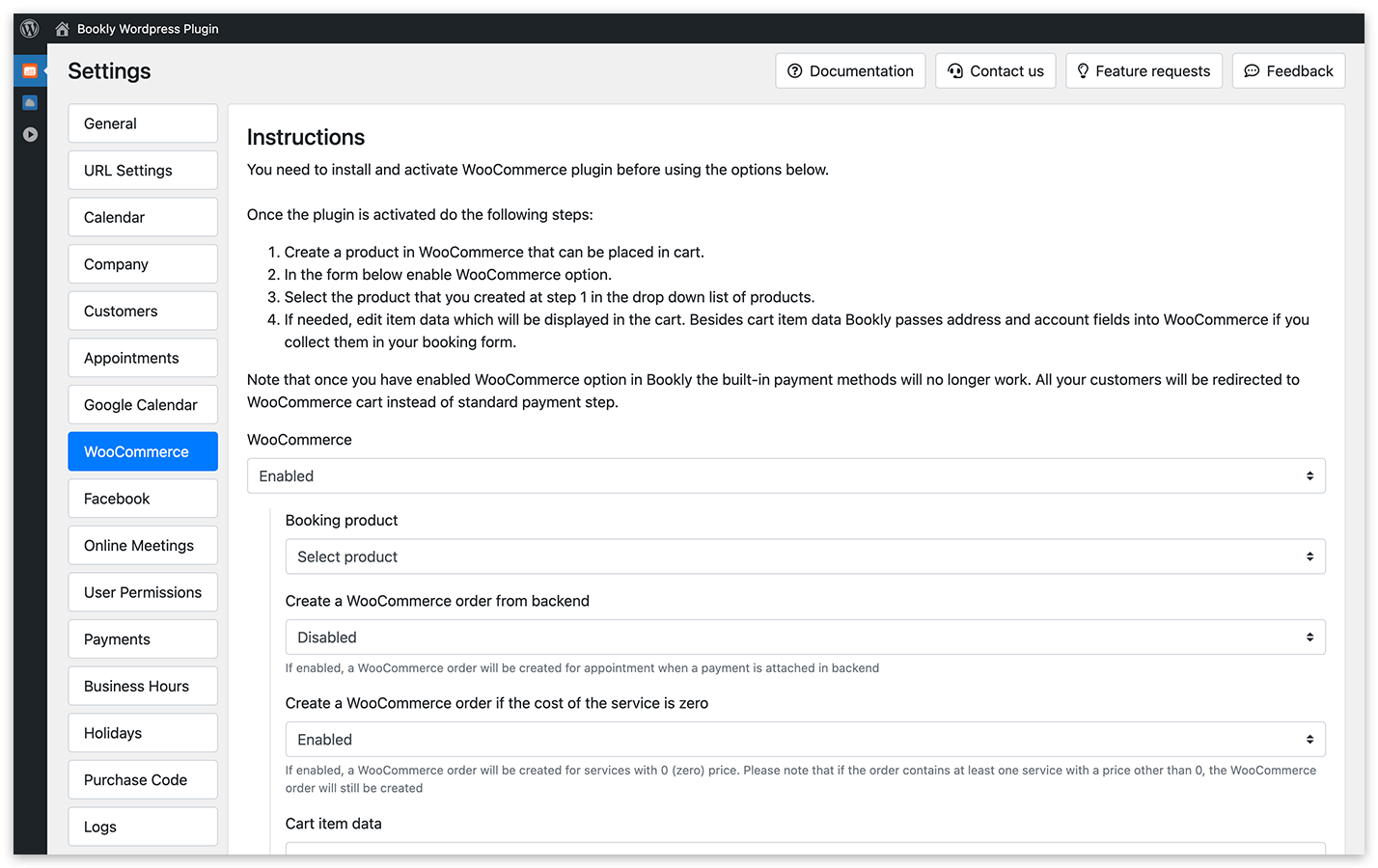 If you need an appointment scheduling software for your WordPress store page, we've got you covered yet again. You can use payment gateways, which come with Woocommerce integration.
Appointment scheduling software with CRM features
With Bookly Pro you get more than just an online appointment scheduling system. CRM features provide you with an unlimited, sortable and searchable customer list. But that's not all. You can also:
See booking and payment stats for each customer;
Store internal notes about a customer;
Add a new customer directly from the calendar;
Create and assign WordPress accounts to customers;
Delete associated WordPress account when deleting customers;
And import and export customer lists.
Adjust the service prices for different staff members
With Bookly Pro you get the best appointment scheduling app because it's developed based on the feedback of thousands of customers and has all the features you could potentially need. For example, you can adjust the price for the same service for different staff members, based on their qualification.
Add custom schedules for individual staff members
You can create a custom schedule for each team member. With the Bookly Pro add-on, you can discuss and set individual booking hours for each staff member. It's easy to add breaks and annual leave right from the backend. We do our best to go beyond your expectations because Bookly is more than just a plugin for appointment scheduling.
Receive secure and flexible payments
With Bookly Pro you can offer your clients secure online payments and cash on delivery payment options. By default, Bookly Pro includes Paypal Express Checkout and Stripe, and there are various payment gateway add-ons which can be integrated with Bookly Pro to help drive more customers from the booking plugin right to your door.
Payment reports will provide you the filterable and sortable list of pending and completed payments. And you can hide the payment step at all for free services. Customization is critical for a booking plugin (especially for WordPress), and Bookly Pro has tons of that.
Categorize your services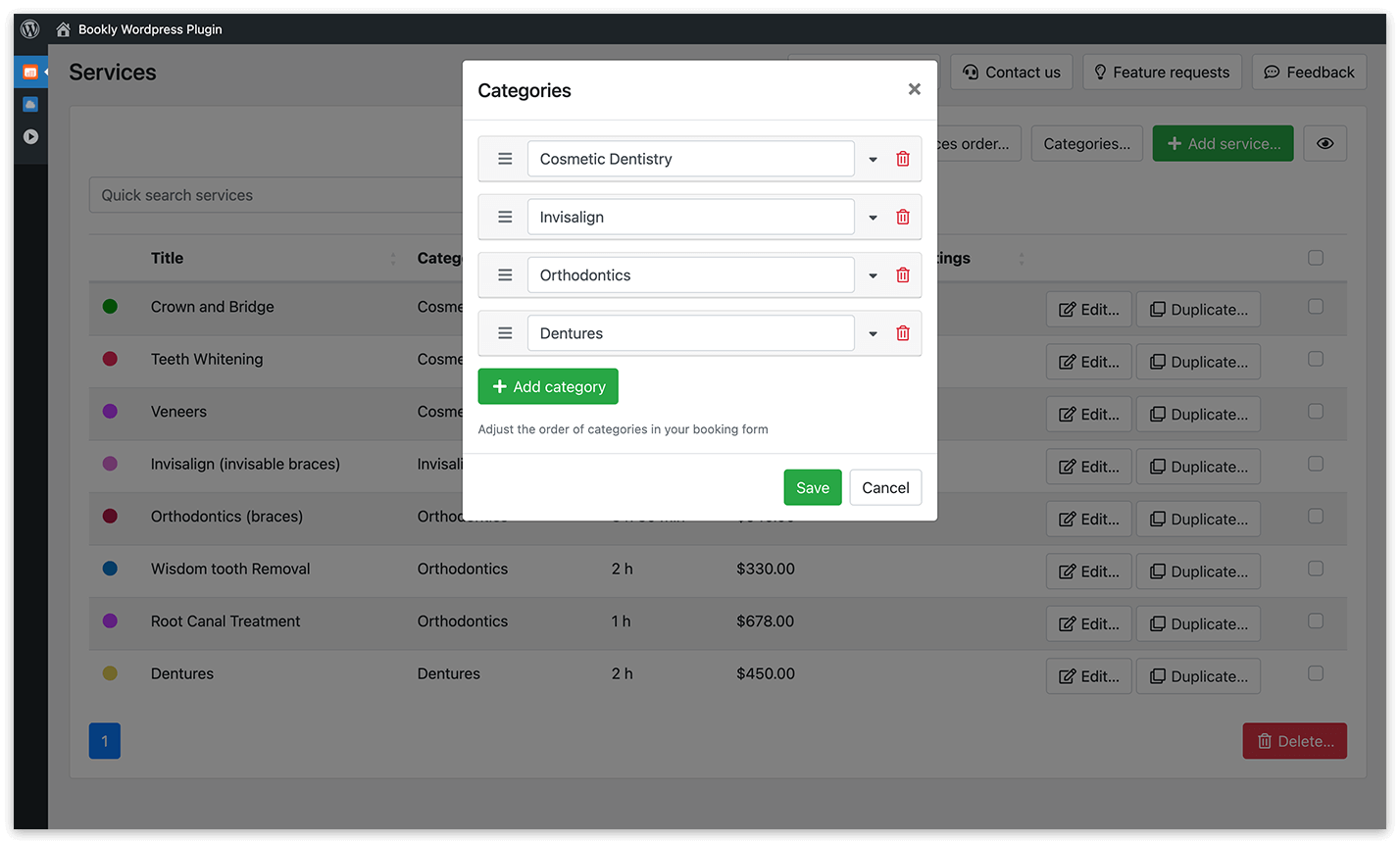 Bookly Pro offers a wide range of options for every service including:
Set the duration of each service separately;
Adjust minimum time slot lengths;
Create public or private services;
Set service category;
…and more!
Import or Export Data
With Bookly appointment scheduling software you can export such data as:
Appointments log;
Customer info;
List of customers.
As a top-selling WordPress service booking plugin, Bookly Pro strives to offer convenience to clients, business owners, and developers – and that's just what it does.
Confirm your bookings manually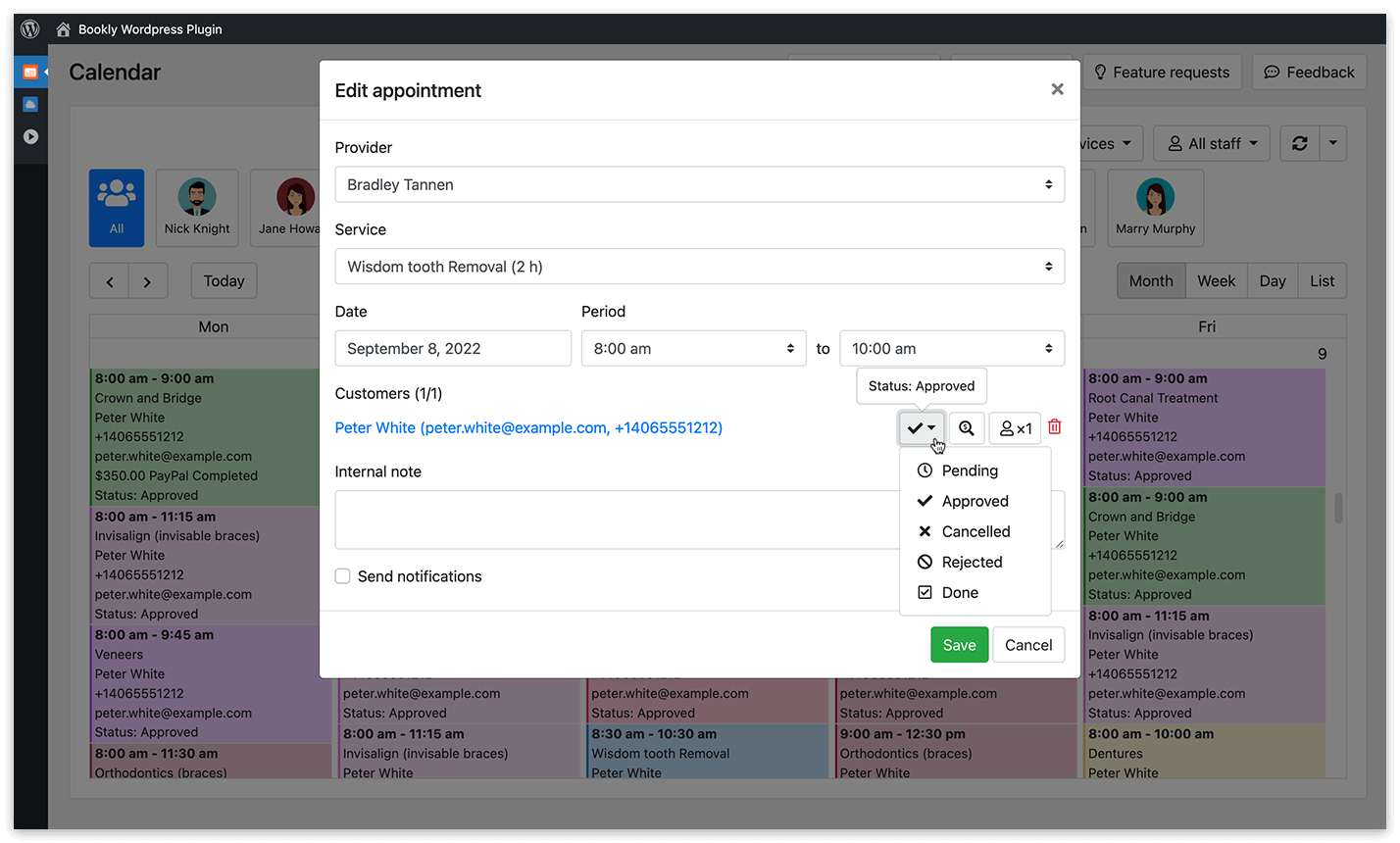 With Bookly Pro online appointment scheduling add-on you can adjust your process and confirm bookings manually. All new reservations will be created with pending status so that you could know that they are waiting for approval.
Add days off
Add weekends and holidays to your schedule with Bookly appointment scheduling software.
Set different appointment length and padding time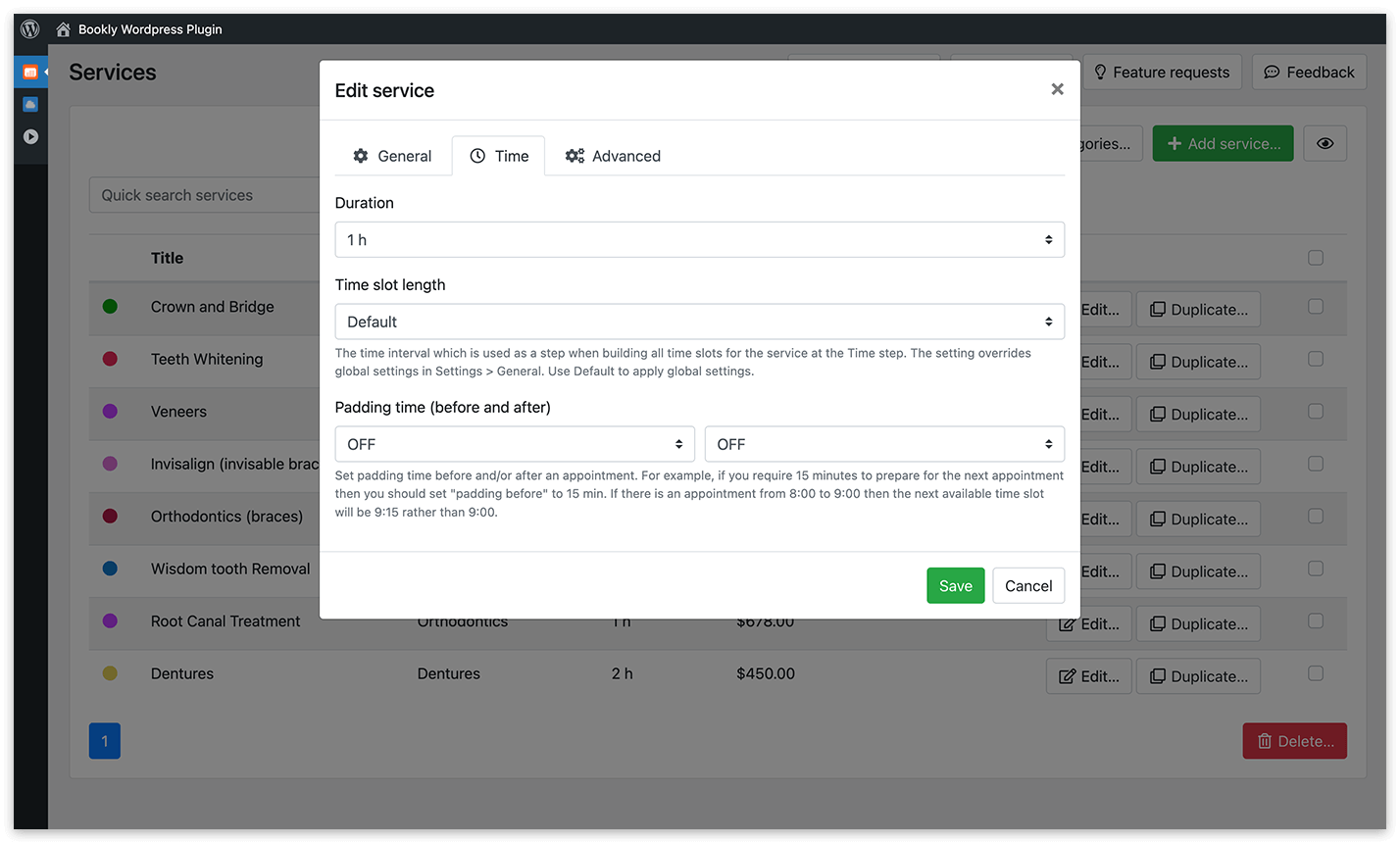 Some of the services may require preparation or maybe you need a break between services. Padding time helps you to prepare for the next client.
Let customers view and edit bookings online
With Bookly Pro appointment scheduling software you can add automatically updated booking list to your website. If your customer wishes to view their appointments, they can log in using their credentials, that are automatically sent to them by Bookly Pro if you choose to create WordPress accounts for all customers. Give your clients control over their bookings and let them view or cancel the appointment without back and force calls or emails.
Keep track of appointments by color-coding services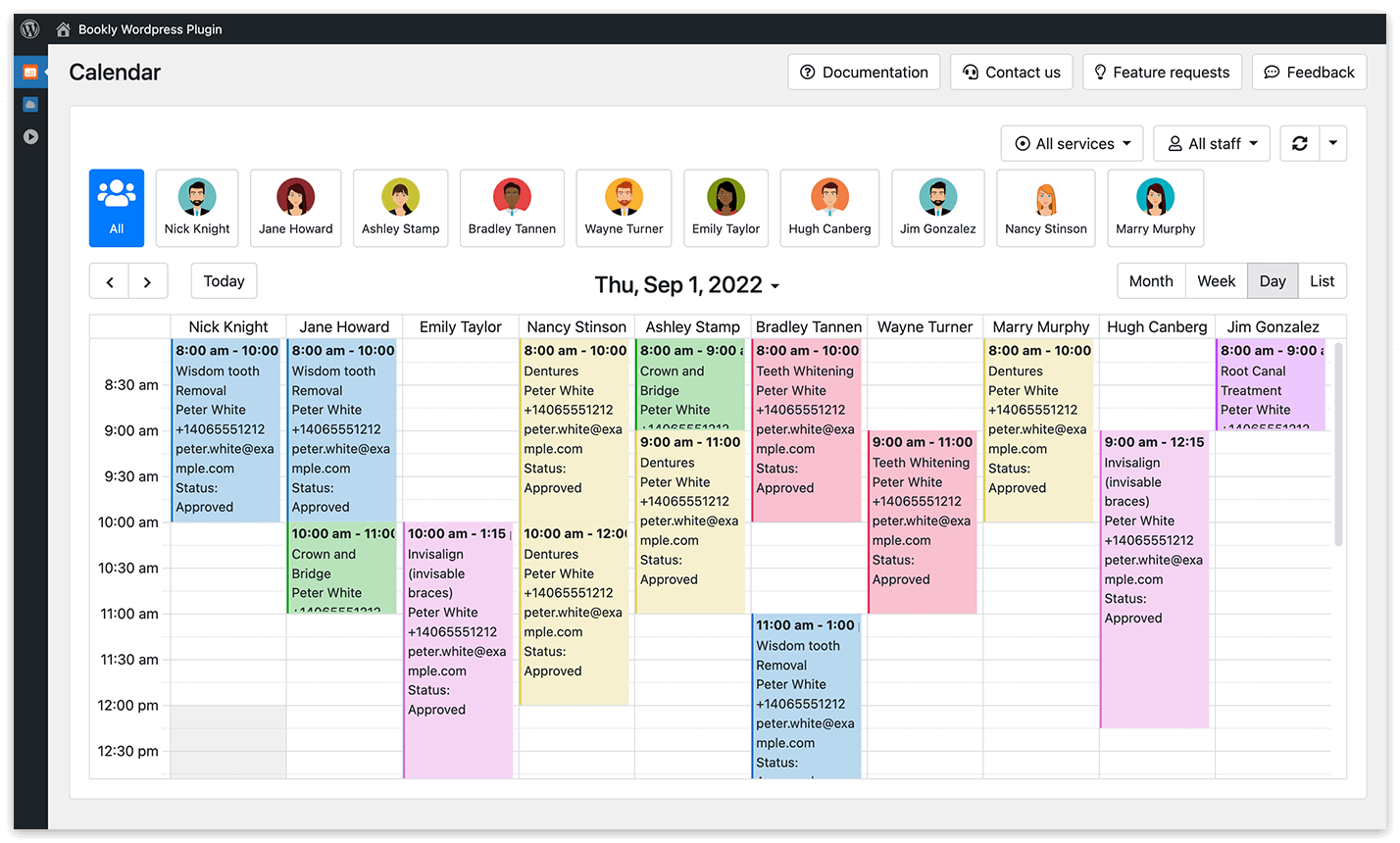 Set unique colors for each service in the WordPress backend. Keep track of appointments and manage them with ease.
Guided online appointment scheduling form
Booky form will help your clients schedule appointment or book your services with ease.
Set minimum notice periods for cancellations
Reduce no-shows with Bookly Pro online appointment scheduling add-on by setting minimum notice periods for cancellations.
Built-in analytics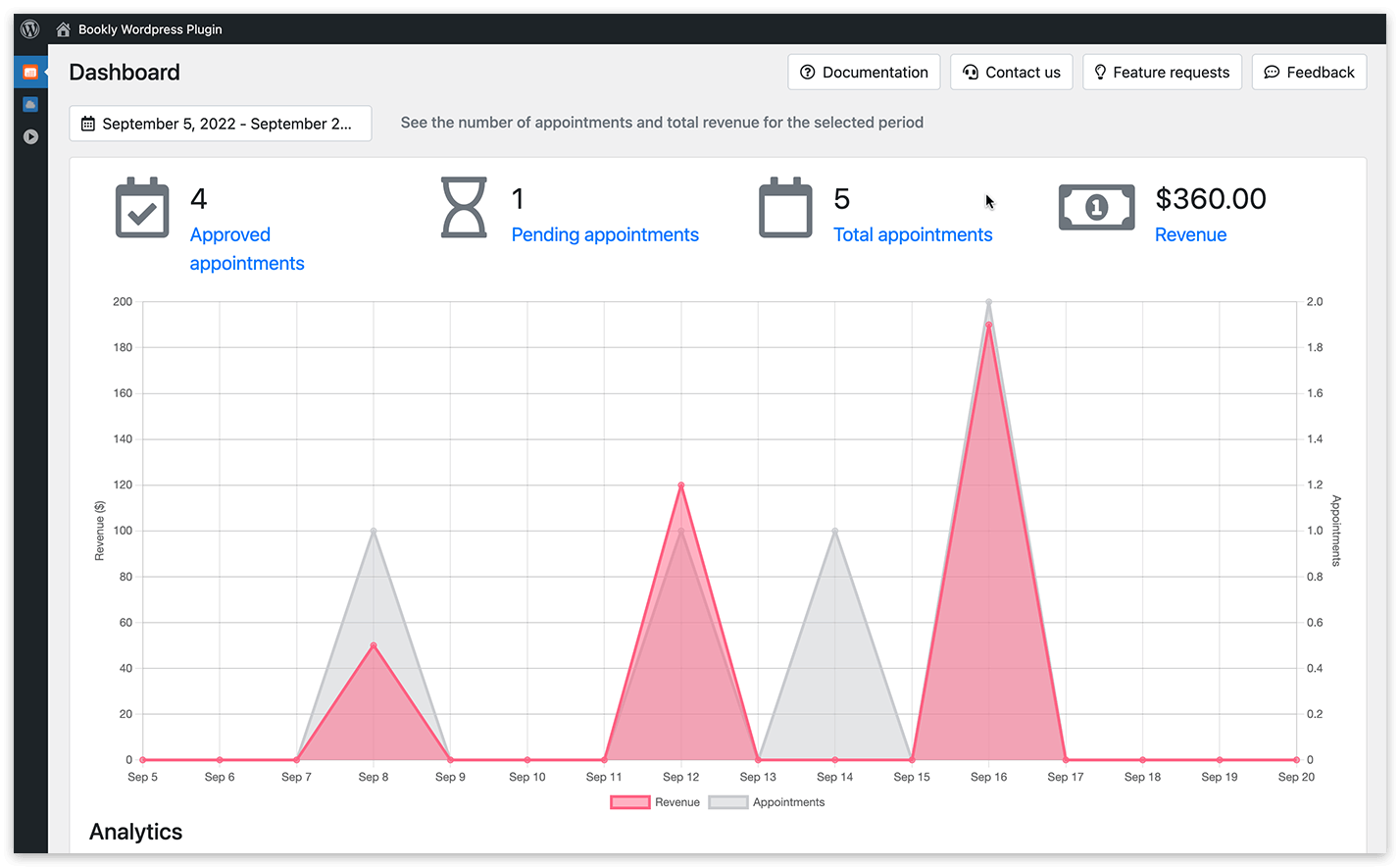 Bookly as one of the best appointment scheduling apps provides you with insights on how effectively your company works. View statistics for bookings, customers and payments received right in Bookly Pro admin area.
All Bookly add-ons are available exclusively on Codecanyon.
Click Buy to proceed to CodeСanyon for the secure checkout. Or add the item to the CodeСanyon cart and continue shopping.
To receive the support you need the valid support pack according to Codecanyon terms.
The appointment scheduling process was easy for my clients to understand. The ability to collect payment and integrate with my client's calendar was awesome! I purchased over a dozen addons. It was well worth the investment!
Excellent software that was very easy to configure and has proved to be a super success with our customers. Its flexibility in usage has proved to be extremely useful for our business.
Bookly is, by far, the best plugin for scheduling appointments I've found to date! The layout is simplistic, the work you'll do to get it put together is minimal, and the installation process is as easy as it comes.
Need a reliable solution?
Try Bookly now!
Still hesitate?
Create your sandbox website to test Bookly plugin and any add-on in a live environment for free.