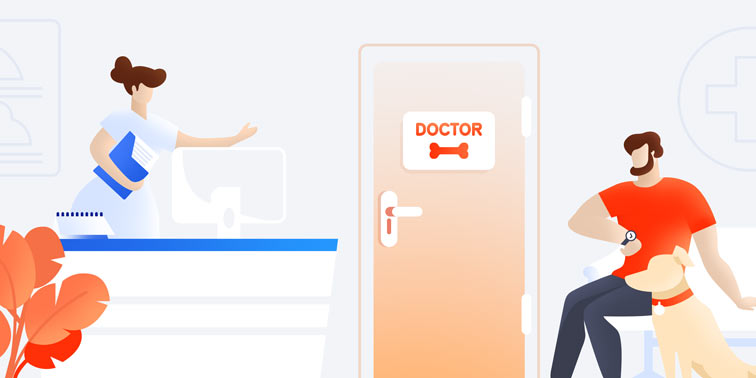 The State of the Pet Industry: Pet Market Statistics and Future Trends
68% of households in the United States now have at least one pet. That's the equivalent of the 85 million pet owning households. This is a huge increase on the 56% of households who owned pets in 1988. Perhaps not surprisingly dogs are by far the most popular pet in the United States. In fact, there just over 60 million households in the US who own a dog. Following this are cats with 47.1 million households. The remainder are fewer common pets such as freshwater fist with 12.5 million households and birds with 7.9 million households.
The cost of maintaining those pets isn't insignificant. This article identifies some of the newest trends in pet related spending. But, even the basic annual expenses of pet ownership are significant. On average food related costs for either a dog or a cat equated to $235 a year. The largest single expense however was surgical veterinary visits at $474 for dogs and $245 for cats per year. Routine vet visits accounted for $257 a year of dogs and $182 a year for cats. Another big annual expense for dog owners is kennel boarding. Here dog owners can expect to spend on average $322. For cat owners the figure was approximately half of this at $164. Grooming is another common cost for both dog and cat owners. For dog owners on average grooming costs came to $84 per year, for cat owners the future was just over a third of this at $30 per year.
Looking forward there are two major trends which are transforming the pet industry: the prevalence of "millennial pet owners" and a shift in the way pets are viewed. Pet ownership has proved extremely popular with younger people. Tech savvy millennial pet owners provide a ready market for technological innovation within the pet product industry. With many people choosing to delay children or to have smaller families, pets are now occupying a more central role in family life. It is common to hear of a pet as being referred to as a "child" and pet owners as "parents". While of course, this is not unique to millennial pet owners, it is a view which is more widespread amongst this generation.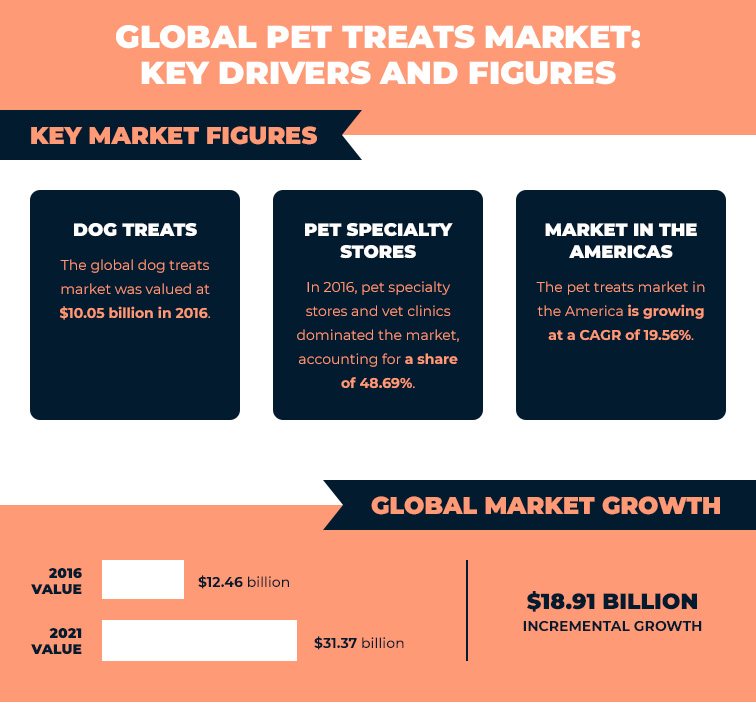 This shift in the way pets are viewed means that pet owners are being more selective about the products and services that they buy for their pets and they are willing to spend on them. We can see the impact of this shift in consumer perception in everything from organic pet foods to luxury pet hotel experiences. Finally, while pet owners may be willing to spend more on their pets, they are also in the position of having less time available to spend on them. This is driving demand for pet services such as dog walking or pet sitting and for smart pet products which help connect owner with pet. Lastly, it also means that pet owners increasingly demand the same level of convenience when purchasing products and booking services that they get from other on-demand apps.
The rise of millennial pet owners
As detailed in the introduction, the increase in pet ownership over the past two decades has in large part been driven by the younger generations. Three in every four millennials in the United States owns either a dog or a cat. One of the primary reasons experts ascribe to the popularity of pet ownership among millennials, is due to a trend towards delaying other major life decisions such as getting married and having children. Some experts view the pet ownership, as a replacement for children. Many millennials would in part agree with this assumption. In one study it was shown that 88% of millennials thought that pet ownership was a good way to prepare for parenthood.
The role of pets in the household has also shifted as a result pets are now widely viewed as an integral member of the family. Consequently, pet owners are willing to spend an increasing amount on those pets. This has had an impact on the consumption choices made by pet owners. In the past standard pet fare from the supermarket was deemed sufficient by most pet owners. Modern pet owners are increasingly opting for higher quality, and more expensive, pet food supplies. The shift towards better quality pet food fare has meant a decline in the amount of sold of some traditional pet food brands.
Food spending is not the only thing that differentiates millennials pet owners from their older counterparts. Millennials are also more willing to spend money on clothing. Double the number of millennials purchase pet clothing, compared to baby boomers. Millennials have also been quick to adopt a wide range of new pet care innovations including pet strollers and tech products.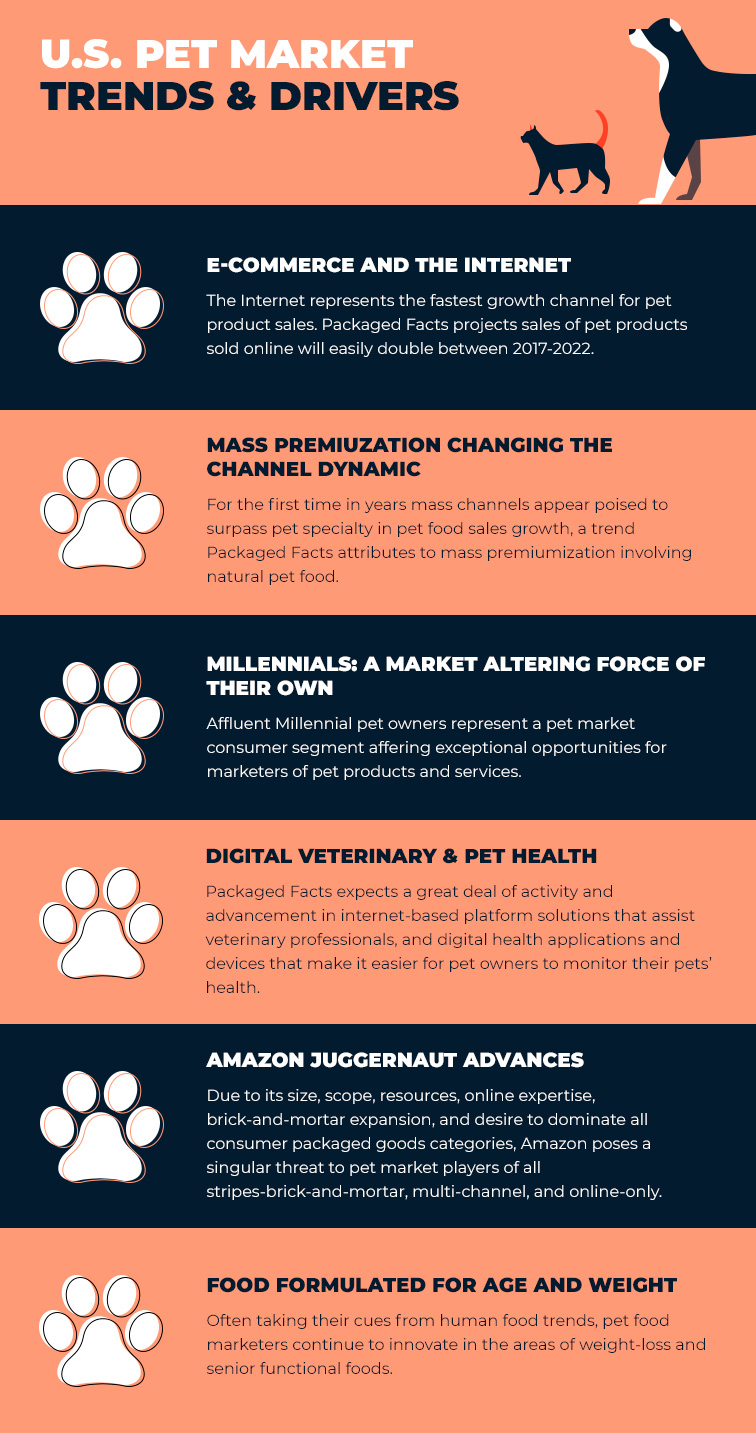 The shift to online pet product sales
In 2018 research from Nielsen showed that 21% of all pet food sales took place online. This was up from 12% the year before. Quarter of Americans stated that they would now prefer to buy pet food online, compared to in a store. Among the key beneficiaries of this trend has been Amazon. In one study it was shown that in the first half of 2018, consumers spend $800 million on pet products on the online giant's marketplace. That was up 30% from the previous year. Other online retailers may struggle to match Amazon's speed of delivery and range. As a consequence, they may need to differentiate in other ways, which we detail below.
In 2017 PetSmart acquired the pet food and product website Chewy.com for $3.35 billion. This was the single biggest e-Commerce acquisition in history. The reason for the record purchase price was obvious. PetSmart is one of the fastest growing e-Commerce websites on the internet. In the year leading up to its acquisition, it posted $900 million in revenue. This was only five years after being launched.
Chewy.com expanded so quickly on the back of a reputation for delivering outstanding customer service, fast delivery and an extensive array of pet foods and products. To fund the growth, it raised $236 million from venture capitalists. The acquisition of Chewy.com shows the appetite from established pet brands for faster growing online start-ups. We can see more of the bigger pet food and product players trying to gain a share of this market by buying up newer nimble rivals.
Large brick and mortar retailers in the pet food space may still have some competitive advantages moving forward. One such potential edge is the ability to offer in-store collection for products and food ordered online. The reach of big box retailers is something that will be difficult for newer start-ups to easily replicate. Another way that bigger players with physical locations may try to differentiate is through offering add-on services. Pet care services such as grooming provide additional benefits to the consumer, as well as a source of added revenue for the company.
Pet owners embrace smart pet products
Over the past few smart devices for humans have become ubiquitous. This is a trend which is extending into the world of pet care as well. In 2018 smart pet products sales reached $565 million. This is still a relatively small segment of the overall $4.9 billion market for pet products. However, it is an increase of 11% from the year before. If this trend was to continue, then we could expect smart pet products to be worth more than $1 billion within the next four years.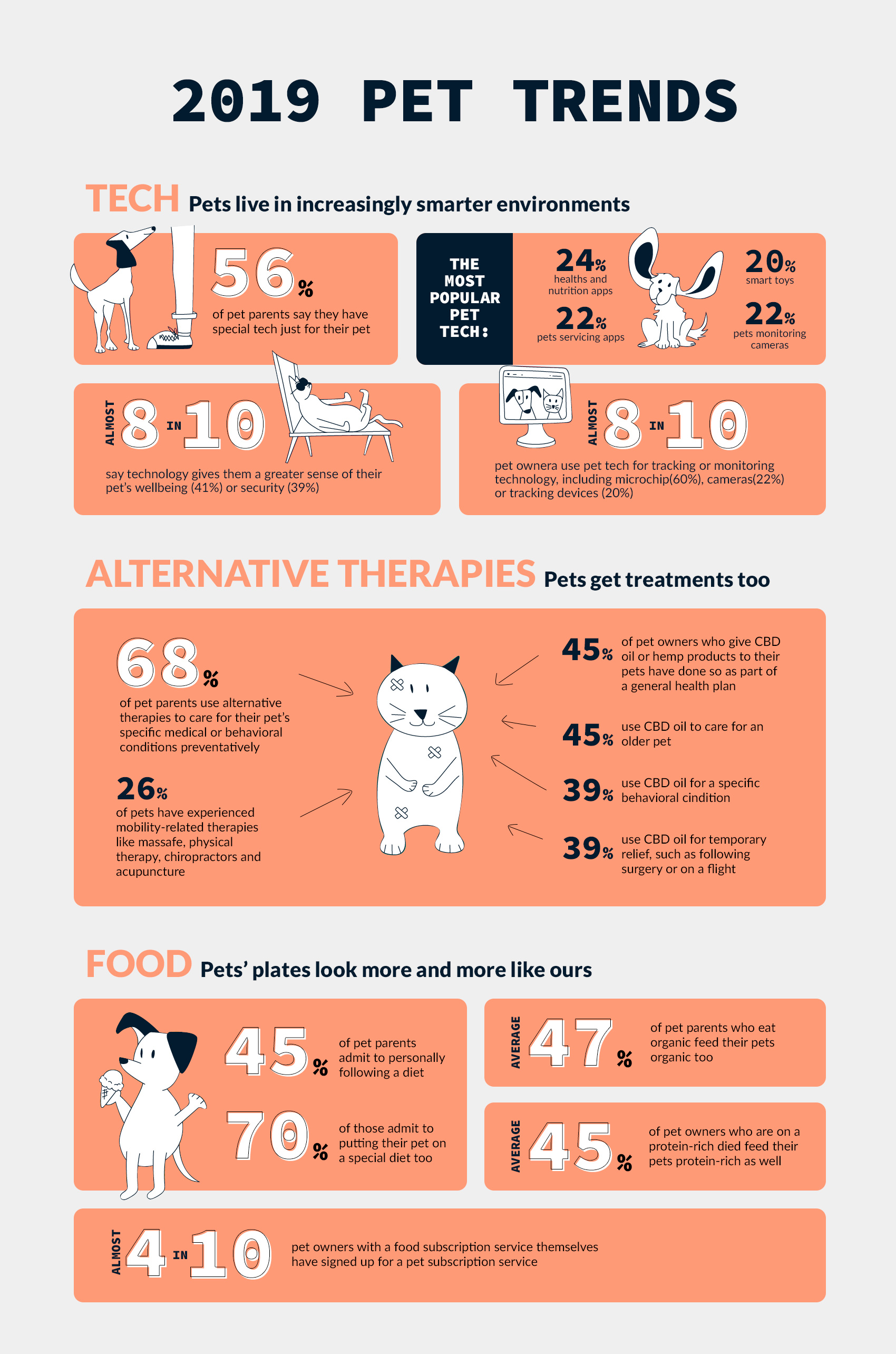 Because most pet owners already understand the benefit of devices such as smart watches, the decision to invest in similar devices for their pets is relatively straight forward. One "Fitbit" like product is the FitBark. The FitBark offers much the same functionality as smart fitness devices for humans. This FitBark device measures the amount of activity that the pet has undertaken, including the number of steps travelled and the hours the pet has slept. All of the data produced is delivered to the pet owners smartphone app. That data can then be analysed by the pet owner or shared with the veterinarian. As well as improving the overall health of the pet, the data can be used to provide early warning of any health issues.
Access to and from the property can be controlled via smart pet doors such as Streetcar. This pet door can be controlled remotely by the pet owner. The owner can choose at which times of the day the pet can access outdoor areas. The pet can also be fitted with a RFID or microchip tag. The pet door will only open when the pet wants to enter or exit. Other animals will be barred from either entering or exiting the property.
One of the biggest concerns that pet owners have is leaving their pet alone during their day. The vast majority of pet owning households have both owners working full time. This can lead to anxiety for both the pet and their owner. One way that this is being overcome is through audio and visual platforms which allow the pet owner and their pet to communicate during the day. This provides comfort for the animal, that their owner is still present. For the owner it is allows them to check up on the condition of their pet and ensure that they are ok.
The ability to interact with pets remotely is being extended beyond communication. Ensuring that a pet is active through-out the day is important for their health. One smart pet product seeking to address this need is Pebby Smart Ball. This is a ball which can be controlled via a smartphone. The toy has a camera which allows the pet owner to monitor the action and control the ball. This allows the owner to play with their pet, even when they are not physically present. Smart pet products are extending into offering the full set of creature comforts. These include luxury experiences such as warm tubs with mister jets. Other high-end devices include music playlists specifically designed for pets and motion detected fan cooling.
One overarching trend will be the move towards having these different devices talk with one another in order to improve the overall health and quality of life of the pet. For example, data produced by smart collars, can then be shared with veterinarians and other pet service providers. Devices will also communicate with one another. Smart monitoring might determine that the pet requires more exercise, this may signal a pet door to release the pet into the outdoors or encourage them to play with one of the smart pet devices. If the pet appears to be stressed, then the pet owner could receive an alert, so that they know it is time to communicate with their pet.
There are already tech start-ups looking to facilitate data sharing between owners and those that care for their pets. BabelBark links together the entire ecosystem of veterinary specialist services and syncs together the data that is collected. Included amongst the data collected and shared is the pet's activity levels and their medical records. The app also aims to simplify finding appropriate veterinarian. Rather than having to consult offline resources or a veterinarian network website, pet owners can use the app to identify and connect with veterinary specialist services in their community. They can relatively quickly have access to a complete veterinary services list.
Not all pet products require the use of cutting-edge technology to find enthusiastic buyers. As with providing luxury hotel experiences and organic pet food treats, often it is simply the case of offering to pets the same type of products currently available to humans. A business who has successfully leveraged this concept is Doggles. Doggles provides sunglasses for dogs. The customised sports goggles are designed to be comfortable for dogs too wear, while protecting sensitive eyes from the sun. The googles come with an elastic pad and padded frames and can even be fitted for prescription lenses.
Pet Insurance is on the rise
According to the North American Pet Health Insurance Association (NAPHIA) between 2016 and 2017 the number of premiums increased by 23%. This equated to $1.2 billion in combined gross premiums for $1.2 billion. In total 2.1 million pets in North America were insured by the end of 2017. Looking forward growth in the pet insurance market looks equally strong. According to forecasts by OrbisResearch.com the pet insurance market is expected to grow by 13.5% through to 2025, reaching a total market size of $8.84 billion a year. Overall coverage of pets is currently relatively low with between 1-2% of pets in the United States currently insured. In some European markets pet insurance is considerably better established. In the United Kingdom for example, it is estimated that currently just under a third of all pets are covered by insurance. This is largely because pet insurance has been offered in Europe for longer than in the US. In some European countries liability insurance for pets is required by law. This has meant that pet insurance has become a natural outgrowth. These relatively low penetration figures for the North America market mean that there is still plenty of scope for growth amongst existing pet owners.
As with many growth trends in the pet market one of the biggest drivers is shifting perceptions of the role of pets. Pets are now widely viewed as an integral member of the family. As a consequence, it makes sense to ensure that they are properly covered for medical issues. In the past owners may have chosen to forgo on expensive medical treatments for their pets. This is becoming less and less palatable for pet owners. Another factor driving pet insurance is companies choosing to offer coverage for their employees. In North America it is estimated that 6500 companies currently provide pet insurance coverage.
There are some key differences between pet insurance and human health insurance is managed. Pet insurance is actually a form of property insurance rather than health insurance. This is because pets are viewed as property. Secondly, pet insurance won't cover pre-existing conditions. This is necessary to avoid pet owners from insuring animals with expensive, existing health conditions. Pet insurance is generally designed to cover accidents and illness. However, pet insurance is taking on more "human=like" properties and starting to offer routine pet treatments are part of the insurance coverage. We can expect this trend to continue as demand for pet insurance and the number insurers offering it increases. Studies have also found that pet owners are more likely to purchase pet insurance when there is a wellness component to the plan.
Increasing coverage of pet insurance can be widely viewed as a positive trend for pet welfare. Most experts agree that pet owners are more likely to take their pet to receive medical when faced with a serious illness or accident if they are covered by insurance. Owners without insurance may choose to opt for euthanizing their pets, when faced with medical bills that can easily equate to thousands of dollars.
Busy millennial pet owners drive online pet service bookings
Millennials, who now constitute the majority of pet owners, were recently described by Harvard Business Review as "workaholics". In a study, it was found that 43% of people with "work martyr" attributes were millennials. This despite the fact that they were only 39% of the total number of respondents to the survey. Millennials were more likely to not fully use vacation days than both baby boomers and Gen Xers. One of the results of millennial pet owners working longer hours is that they demand convenience in the pet services that they use. Everything from booking the appointment, to paying for the service to dropping off their pet needs to be convenient. Pet brands that cater to this need for convenience and on-demand services will flourish, those that don't will struggle.
One clear opportunity for pet brands is making it easier to book an appointment online. 93% of millennials own a smartphone, higher than any other demographic. They are also more likely to use that smartphone to book services. In a recent study almost a third of millennials used their smartphone to book even high cost services like travel. Despite the fact that millennials clearly favour being able to book online appointments using their phone, many pet services still fail to cater to this. Many pet services online booking forms are still poorly optimised for mobile experience. This can make it very difficult for clients to book pet services using their phone. Fewer bookings have a direct impact on revenue and yet it is a relatively easy issue to resolve.
Bookly – WordPress booking plugin is specially designed to provide an optimal mobile experience for online pet service booking forms. It is fully responsive, meaning that when it detects that a website is being accessed using a smartphone and it will display the mobile version of the form. Bookly easily integrates with any WordPress website and can be setup in only a few minutes. Adding mobile optimised form is a quick fix for providing a superior user experience.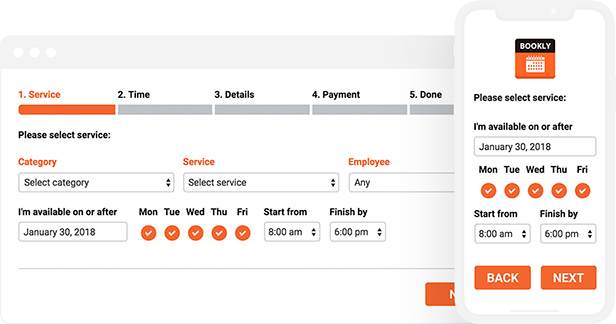 Having a user friendly and intuitive online booking form also addresses a more fundamental need for busy pet owners: the ability to book an appointment at any time of the day. Many pet services still require their clients to call or send an email to make a booking. Service will usually only be available during working hours, something that is incredibly inconvenient for busy pet owners. Even when an online form is available it often fails to provide the level of customisation required for specific services. When designing a marketing for pet business strategy being able to book 24/7 should be considered essential. As a pet service software, Bookly was designed to address these needs. Because of the level of customisation that is available, Bookly forms can closely replicate the experience of being able to deal directly with a front desk staff member. Unique Bookly forms can be setup for each pet service that a business offers. This means that the form obtains all of the necessary information – but no more.
Hard working pet owners are often over scheduled and juggling multiple priorities. They want to be able to easily access the details of their pet appointment and ensure that they don't miss it. Bookly accomplishes this in two different ways. Pet owners can be provided with their own unique website account login details. Using these login details, they can access all of the details of their pet service appointment, including the date, time and provider. They can even request a modification to the time of their appointment. This provides a convenient way for pet owners make changes to their schedule, with requiring the interaction of an employee from the pet service company.
The second way that Bookly ensures that clients have all of the information they require and don't miss their appointment is through notifications. Bookly allows the pet service company to setup automated notification delivered by SMS and/or email. These are completely customisable, so that they reflect the branding of the pet company that is sending them. The notification will include all of the details of the pet service appointment. They can be set to be delivered at useful intervals leading up to the appointment such as the day or hour before the appointment. This means that the pet owner doesn't have to struggle to find the details of their appointment. The pet service company can even opt to let the client cancel their appointment directly from the email notification.
On demand apps such as Uber and Deliveroo have proved incredibly popular with consumers. One of the reasons that these apps are so popular is because the payment process is extremely seamless. For example, rather than having to pay for a taxi ride at the end of the journey, they can make payment when they book the service. Bookly allows pet service companies to offer a similar level of convenience. The Bookly plugin integrates with more than a dozen of the most popular payment gateways. The pet service company can then designate whether they want to take payment in part, or in full, when the client is making the booking. This creates a streamlined process for the pet owner, where they can drop off their pet without having to stop to make payment. From the pet service companies perspective all of the payments can be easily filtered through the dashboard.
Personalization is another major trend for marketing pet business services. People want to know who will be delivering the service that they are purchasing. This is particularly true for pet services where there is a high degree of emotional attachment involved. Owners want to be confident that their pet will be in safe hands when they are booking a pet service. Bookly addresses this need by allowing clients to book appointments with specific employees within the organisation. Each of these employees can have their own unique profile, which can be set to be publicly visible by customers.
Pet services, such as dog walking, physiotherapy and grooming, are not typically one-offs. People want to be able to book these pet services to be delivered on a recurring basis and at a convenient time. Bookly allows clients to setup recurring appointments for pet services. The customer chooses the initial date and time of their appointment. They then select the interval which they would like that appointment to reoccur. Bookly will automatically find an appointment slot which most closely matches the clients preferred time. As noted, the relationship between the pet service provider and the owner is often key, so the system will aim to make the recurring appointment with the same employee where possible.
Popular pet care services can become overbooked. Making clients constantly recheck in for an available slot is inconvenient and leaves a poor customer experience. At the same time when a client fails to show up for an appointment, that is lost revenue for the business that cannot be regained. Bookly solves both of these by providing waiting list. If a particular appointment time is unavailable, the client can opt to be added to a waiting list. If the client who currently has that appointment slot chooses to cancel, then they will automatically be added into the slot. This is a great way of improving customer service, while also ensuring that the pet care companies schedule stays fully booked.
Growth in luxury pet services
According to research by IbisWorld revenues from pet grooming and boarding have grown by 6.8% in the United States to reach $8 billion in 2018. The demand for pet services has been steadily increasing driven in large part by the busy schedules of pet owners. Pet owners are often unable to walk their pets on a regular basis thanks to long workdays and inconsistent hours. At the same time leisure travel is on the rise, meaning that there is additional need for pet care. This trend shows no sign of abating, so we can expect the market for traditional pet care services such as dog walking and pet sitting to continue. One segment of the pet service industry that is likely to see even more pronounced growth rates is luxury pet care services. As has been noted through-out this article, pets are now thought of as "one of the family." This means many pet owners are more than willing to spend money on ensuring that their pets are able to enjoy luxury experiences.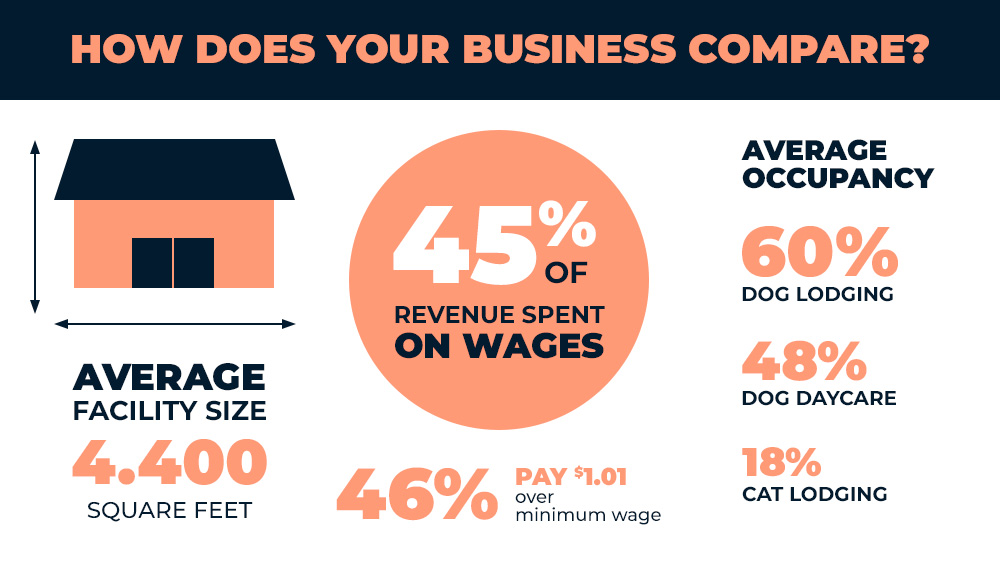 One such area in the pet service industry is the rise of luxury pet hotels. These five start pet establishments feature none of the metal gates or concrete of old school kennels. Instead they aim to provide a "home-like" experience for the pet. Luxury pet hotels include features such as individualised suites, mood lighting, under floor heating and even full-sized beds for the four-legged friend. These luxury hotel experiences are clearly aimed at the affluent end of the pet owning market. However, given the widespread ownership of pets, there are plenty of pet owners with the means and willingness to ensure that their animal is treated to a high-quality pet treatment experience when they are away.
California based Barkingham Palace is a prime example of the trend towards luxury pet boarding facilities. Opening its doors to cats, dogs and birds in 2011, Barkingham Palace aims to deliver the same luxury experience for animals as their human owners are used to. Included among the amnesties are a jacuzzi, treadmills, salon, mud baths, facials, warm water therapy and a jacuzzi. Owners are able to keep on their pets as they enjoy their five-star pet treatment through a web cam. The success of the luxury boarding facility reflects the size of the market for this type of accommodation. Each month approximately 1500 guests stay at Barkingham Palace. Revenues have also grown from approximately $220,000 in the first year of business to between $1 – 1.5 million a year.
Pet owners want to capture the image of their pet both through paint and photography. According to research published in Thumbtack the average cost of pet photography in the United States is between $100 – $230. However, for higher end pet photography the costs can be considerably higher. Pet photographers will usually meet the pet and owner either at their own home or at a pet photography studio. What a pet photographer offers are the ability to capture both the personality of the pet and the relationship between the pet and their owner. The pet photographer will provide the owner with both digital photographs and prints.
For pet owners who are willing to invest even more money in creating a last memory there is pet portraiture. Pet portraiture ranges from highly realistic to more expressionistic depictions of the pet. Pet portraits are typically based on either an image of the pet or from a live sitting. Pet portraits are often used to create a lasting memory of a pet that may have passed away. They are also a popular present for pet owners. Because of the time involved in producing a portrait this tends to be a higher end service, with typical costs exceeding a $1000 for a portrait.
Organic and high-end pet food booms
By 2022 it is expected that the pet food market will reach $30 billion. This compares to $17 billion in 2017. This equates to an annual growth rate of approximately 5%. In comparison the market for packaged food for humans is only expected to grow by 1.2% annually over the same time period.
As noted above modern pet owners are much more likely to think of their pets as part of the family. Because of this shifting perspective towards pets, the type of foods being offered are becoming more "human like". Pet owners want to provide their pets with food items that they would themselves enjoy. As a consequence, the market for pet food products that replicate soups, sausages, steaks etc is increasing. Some pet food producers have taken this to the next step by including exotic food ingredients which would appeal to the most discerning human "foodie".
Another trend in pet food is rising demand for wellness orientated food products. In a study of 350,000 UK dogs it was found that demand for hypoallergenic foods had increased by 75% over a period of two years. It is unlikely that the key driver behind this switch to hypoallergenic food products, is a matched increase in allergies suffered by pets. Instead it is much more likely to be a case of pet owners becoming more concerned about the impact that the ingredients their pets are consuming is having on those pet's health. Hypoallergenic pet foods don't actually have a strict definition. They are loosely defined as pet foods that don't contain additives, processing and other chemicals which pets may be sensitive towards.
Three Dog Bakery is one business which has capitalised on this trend. Started in 1989 Three Dog Bakery makes nutritious and all-natural dog treats. The owners of the business were dog owners themselves who were concerned by the artificial additives contained in pet food available at the time. The company has grown to forty locations across the United States, Canada and Hong Kong. The company has revenues of between $10 and $15 million annually.
Purchase of organic pet food is also predicted to increase significantly. In an Organic Pet Food Industry 2018 Global Market research report it was predicted that the organic pet food market will increase by on average 9.08% between 2018 and 2025. The report observed that the incidence of health issues such as arthritis and skin allergies was rising among pets. Many pet owners link the rise in these problems to the type of pet food that their pets are consuming. Organic pet food is by no means a uniform product type. Organic pet foods can differ significantly between different types of pets. This is because the type of nutrition required for animals differs. There have been a number of new pet food companies catering to the organic market. In addition, existing pet food brands are increasingly offering organic, typically higher priced, offerings in additional to their standard pet food lines.
Conclusion: A bright future for pet brands that embrace convenience and personalisation
The key takeaway about the future of the pet industry is that pet owners are looking for better, more customised products and services for their pets. The future of the pet business market is not with mass produced and standardised products and services. Pet owners want their beloved four-legged family members to enjoy the same quality of products and services that they would treat themselves with.
Lack of time means that pet owners are not always able to interact with their pets in the way that they would like. This will increase demand for smart devices that can deliver monitoring and interaction. It also means that online booking for pet and veterinary services needs to be easy enough to accommodate owners' busy schedules. Pet product and services companies that are able to deliver on convenience, personalisation, and quality will thrive. Those companies which are yet to respond to these pet market trends will need to rethink their strategy or lose out to more innovative competitors.