The right theme for your WordPress website is not enough to draw traffic to your fitness studio. You need plugins that can improve your site and add valuable features to it. Such plugins can make it easy to manage your website and enhance the management of your business. By offering more value to your existing clients, plugins can help convert visitors to your fitness website.
There are several plugins you can integrate into your WordPress website. However, a WordPress booking plugin will be useful for your fitness studio. This web scheduler allows your clients to book appointments from your website. They can request your services by filing an online booking form. The request form can save the bookings in a calendar app or your site's database. Besides, you can customize the booking form to satisfy the demands of your business.
Booking plugin for your fitness studio
Your WordPress booking system should have features that can offer value to your customers and visitors to your site. It should be mobile-friendly. Since most online users access the internet from their mobile devices, your customers can easily schedule an appointment from their smartphones. Still, they can visit your website using computers.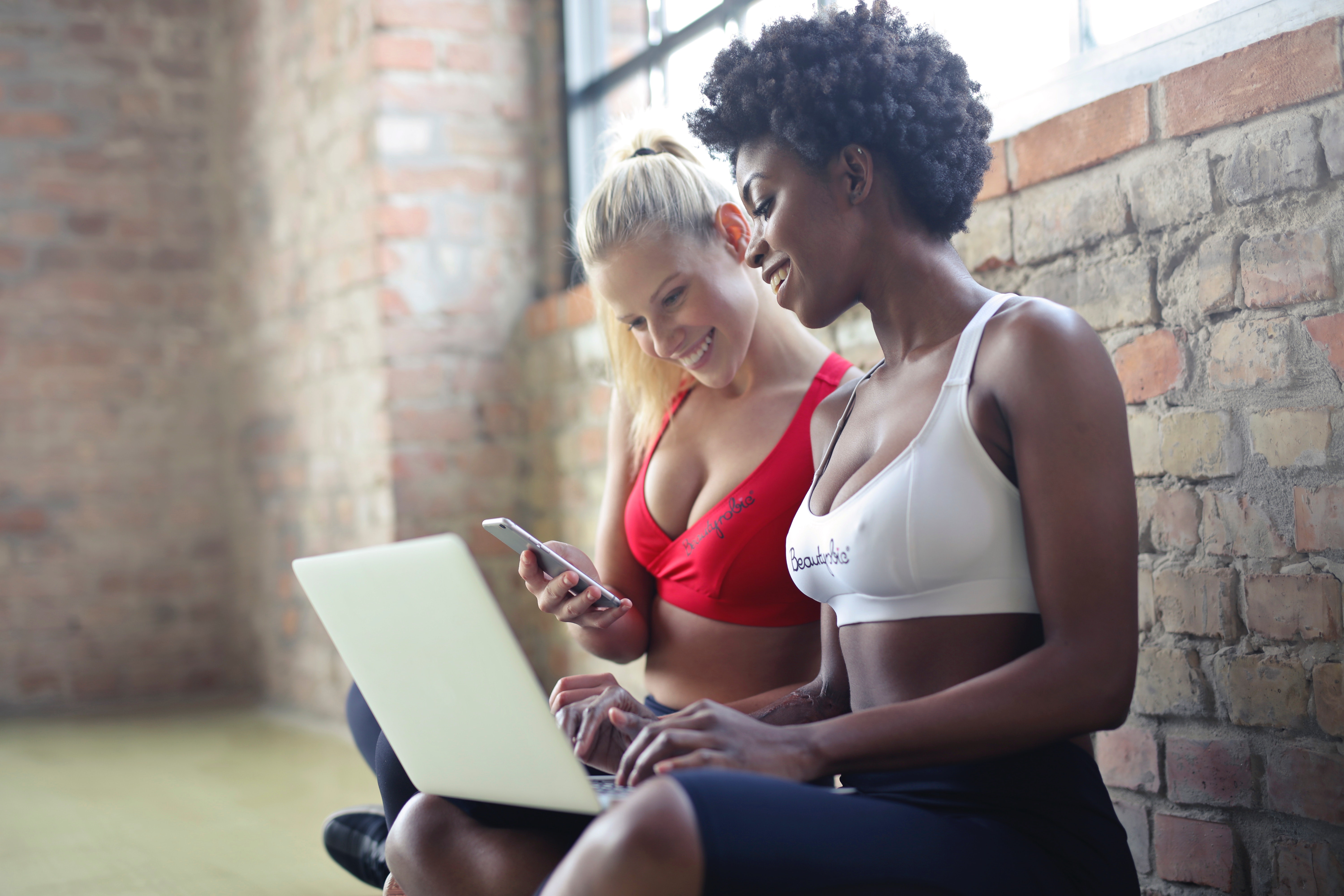 Use a scheduling system that can accept customers' bookings for time slots available on your customized booking form. It will enable you to complete the appointments during business hours and minimize the rescheduling of appointments. Your booking system can also send automatic messages to your clients when you accept their bookings.
Bookly plugin is an excellent WordPress booking plugin that can improve the booking system of your fitness studio. This plugin simplifies service book online, allowing customers to make appointments with ease. You can opt for the free or paid version to manage your scheduling routine, client base, and services.
The free option of this appointment plugin will be useful if you are on a tight budget. However, it allows the addition of one employee and a maximum of five services. The paid version allows you to install add-ons which can satisfy the specific needs of your business. With the paid option, you can add more services and staff members.
Benefits of WordPress plugin for booking
WordPress booking plugin is useful for service providers such as fitness studios and gyms. Through the appointment plugin, customers can schedule and reserve services. However, you can customize the booking form to enhance the appointment process for your clients. You can also change its appearance to match that of your website.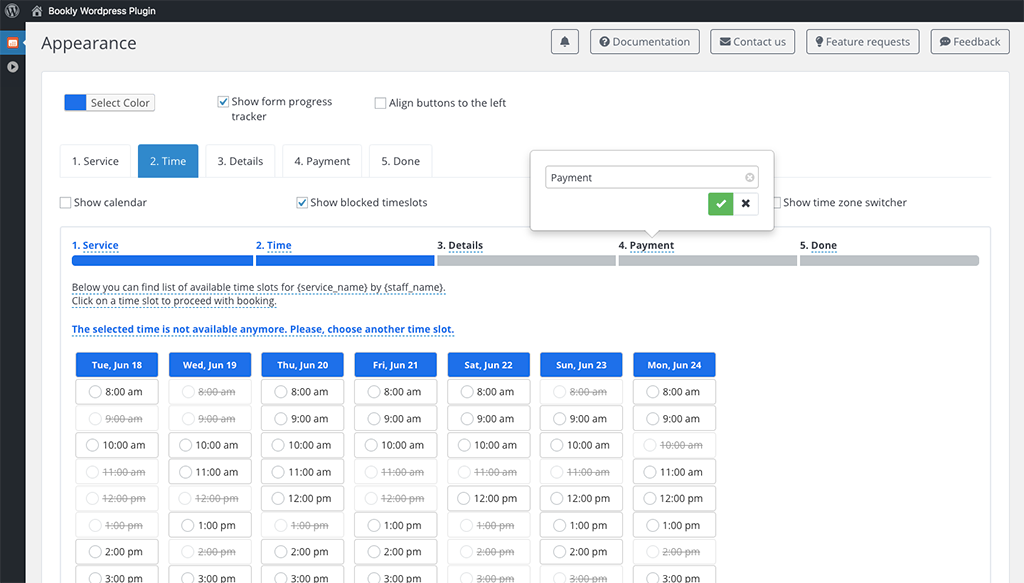 Here are the reasons why fitness studios need a WordPress plugin for booking.
1. Easy to use
The installation and use of the WordPress booking plugin don't require coding experience. You can easily set up the appointment plugin on your WordPress website. Besides, your customers and visitors to your site can conveniently schedule an appointment via the WordPress booking system. Once you accept a booking, the system automatically adds it to your Appointment Booking Calendar.
2. Scalability
The WordPress plugin for booking can smoothly manage your schedule as your business grows. An increase in your client base won't affect the efficiency of the scheduling system.
3. Ease of scheduling appointments
The WordPress plugin for booking improves service book online. Clients can easily book an appointment without directly contacting you or any of your staff members. They can access the booking system throughout each day of the week. Consequently, clients can book an appointment at a convenient time. The responsiveness of the booking plugin on digital devices enables the clients to fill the request form with ease.
They only have to fill the required personal details, the desired service, and preferred time and date. They can also choose the staff member who will perform the service. The clients will receive notifications (SMS or Email) once their bookings have been accepted or reschedule. Besides a notification confirming the online reservation, clients also receive reminders before the appointment date.
4. Satisfy specific business needs
An upgrade to the paid version of the appointment plugin unlocks more values. With the extra features provided by the Pro add-on, you can enhance your appointment management system. Besides, you can purchase additional add-ons for the booking plugin to help you provide solutions to your business needs.
5. Automated notifications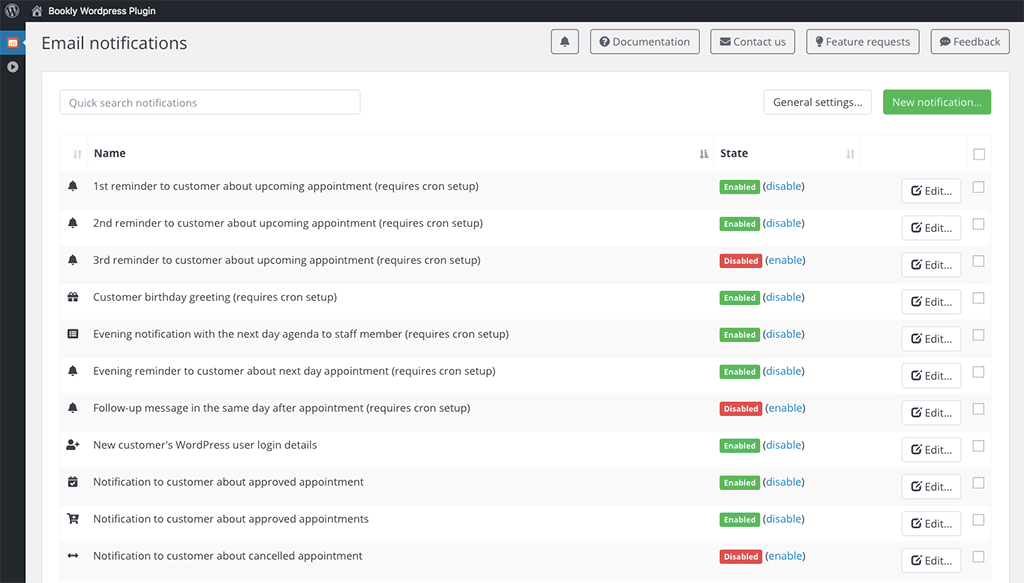 The booking plugin sends email and text messages to your clients immediately you accept their requests. You can also send them reminders and inform them about rescheduled or canceled appointments. The automated messages save you the time you would have spent on those tasks. Also, you can customize the notification settings to suit your needs.
6. Frees time for completion of other relevant tasks
A web scheduler with a user-friendly Admin Panel enables you to accept or reschedule appointments. A WordPress plugin for booking can take up tasks associated with scheduling appointment. It also eliminates phone calls between the service provider and clients concerning bookings. Consequently, it gives you more time to concentrate on tasks that will boost your sales and grow your business.
7. Increases your client base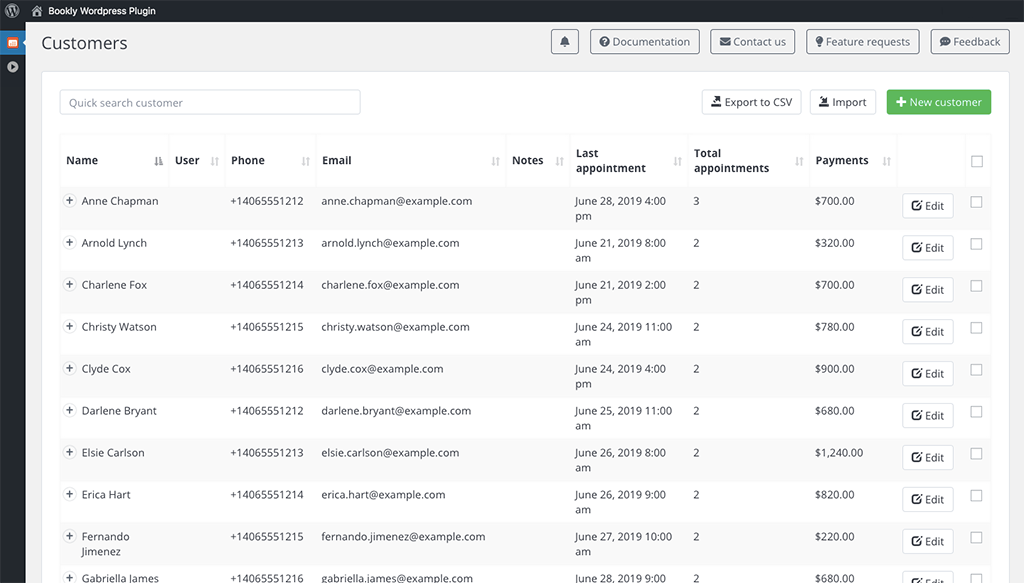 The appointment scheduler can convert visitors to your website to customers. With the user- and mobile friendly booking system, online users can easily request for your services. The web scheduler adds new clients directly from your schedule.
A WordPress website will help promote your services online. However, installing a WordPress booking plugin will increase the traffic to your site and your customer base. It can take over a front desk employee's duties of scheduling appointments. The WordPress booking system is available 24/7. It presents the service provider's current schedule to clients, books appointment for them, and sends out reminders to them.
You can save money and time by automating your booking system. Besides managing your appointments, a WordPress plugin for booking can boost your online sales. It can simplify your tasks if you have few or no employee. You can start with the free version and upgrade to the paid option later.
Here are some of the features offered by the Pro version:
Allows online payments;
Addition of multiple services;
Addition of an unlimited number of employees with their separate profiles. The booking system can also manage their individual online booking calendar and working schedule;
Advanced functions for the customization of the booking form;
Extra templates for Email notifications such as follow-up messages and reminders.
Besides other features of the paid version of the booking plugin, you can use paid add-ons with it to improve your scheduling system. These add-ons can provide solutions to tasks such as group bookings, recurring appointments, coupons, and others. Install and activate a WordPress plugin for booking on your website to simplify your tasks and boost your business.