Why exactly would a legal practice need to make use of an online booking system? Well, it is a fact that the livelihood of service-based businesses is appointments and meetings. It is either meetings with clients, colleagues, opposing counsels, panels, committees, etc. Appointments are the lifeblood of legal practices. Navigating through appointments and jumping from one meeting to another is a very tedious task. That is exactly why a legal practice needs to incorporate the use of a booking plugin.
Many businesses take total advantage in using the booking plugin. This is likewise the case with different legal services as well as legal consultant firms. These legal services can use the booking plugin to provide legal help online, render services for small businesses, as well as handle legal services insurance, etc.
A booking plugin will not only manage the affairs of your legal practice, it will give your clients the opportunity to choose what suits them most, including the time and date they would like to meet or to get legal services online. Such options are available to you as well, and you can further reveal the attorney who would be available at their convenient time of meet. Still, these are just a few reasons. To make the most of their business landscape, here are three reasons why legal services need to use booking plugin.
This article discusses a WordPress booking plugin that offers amazing functions. How to create a WordPress website and comfortably install the necessary plugin is something you would like to know to get your legal online service running at optimal speed.
Importance of WordPress booking plugin for Legal services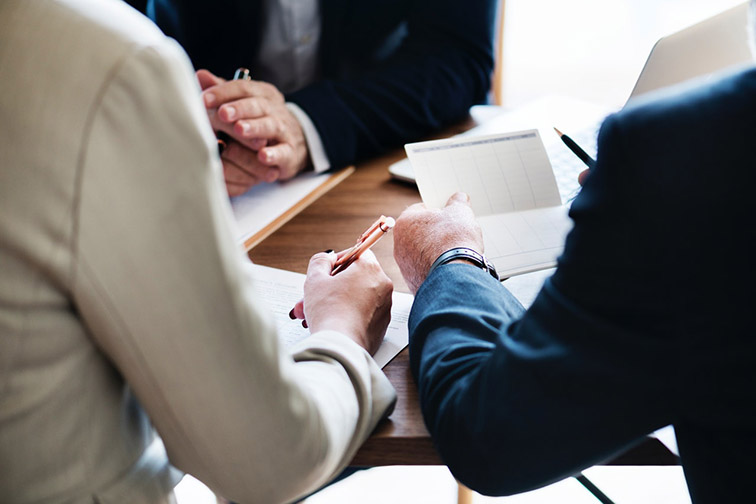 There are many reasons why legal services around the world need to integrate the booking plugins available on the Internet. Before delving into the main points, it is noteworthy that scheduling appointments, responding to emails and answering phone calls consume a lot of time. In fact, if not managed properly, much time is lost embarking on these tasks. Apart from the time consumption, these administrative tasks are unproductive as expected as well as laborious. These are the exact reasons why your legal practice must incorporate a booking plugin on its WordPress website.
1. Eliminates Manual processes
The booking plugin on WordPress is fully automated. The process has eliminated the manual handling of a number of administrative tasks by employees. It is a fact that an automated system tend to increase the administrative productivity, to cap it all up, it offers more convenience to clients. Bookings, meetings, reservations and appointments are done at any time during the day, and on any devices on the hand of the site user. The opposite is the case with manual entry systems when bookings are done during working hours only.
2. Automating Employee Schedule
The booking system handles a lot of functions. In fact, a number of employees are delegated to handle the bulk of work incorporated into the system, while others employ personnel to handle these tasks on a full time basis. Often times, an employee is assigned to a particular booking for much ease. The booking plugin eliminates the allocation of employees to specific tasks. A general calendar for the legal service, integrated on the website can reveal the time an employee is available to be scheduled for a meeting. It further notifies the staff of the new booking, further adding an appointment to their schedules.
Employees in a legal firm can benefit greatly from the use of the plugin as they can use the system in tracking delivery time. This is so important to legal firms with many departments and personnel. Each department now have a better chance to follow up with appointments.
3. Obtaining important information
There are many important information offered by clients in service-based businesses. This is also essential in the legal service setup where many forms and documents are usually exchanged with clients and the legal consultant firms. The error margins are increased in manual system as employees get to input the information from clients. This is the opposite case with automated booking plugin as it allows clients to fill out their own details. Including filling documents, questionnaires and filing them for ease of access. The booking plugin promotes consistency.
Creating a WordPress website and installing the plugins
The legal practice in question must determine how the form is filled. In spite of that, there are common things to search for in a booking plugin for your WordPress site. These include:
The plugin has to be mobile-friendly to give access through multiple devices;
Appointment booking forms have to accept client requests on different time slots during the business hours;
Integration of payments options;
Automatically notifying clients on the status of their booking, i.e. the acceptance or rejection of their booking application;
A customizable calendar that will fit any part of the site;
Customizable fields, including drop-downs to allow clients search, preview and edit their bookings.
Having these points in mind, you have to move further. WordPress is very flexible, offering its users the option of adding multiple functionalities. There are numerous plugins available for use on your legal website. To access amazing booking features on WordPress websites, this is what you must know in creating your site.
Make Research
Before introducing a plugin on your website, make extensive research on the market. This is essential as plugin can lead to the improvement of a site, break it or make it vulnerable to security threats. Other plugins will simply fall short of your expectations. In addition, know your hosting company well and find out if it allows the addition of plugins you want to install.
Go to your WordPress dashboard
Log into WordPress dashboard on the site, click the "plugins" tab found on the menu on the left part of the screen.
Upload and install your plugin
To install, click the "add new" tab found on top of the page. You can do that in two ways. One way is by uploading the archive if the file's .zip copy is downloaded. Or, the search tab can give access to the plugin from the site's repository.
Bookly
Bookly offers remarkable benefits to clients, employees and the entire business. It is a modern plugin that suits legal practices in any country, health and wellness, fitness and Gyms, salon and beauty, including other professional services.
Its frontend and backend is sleekly designed, which keeps it at the top with a few number of booking plugins. It is very easy to customize and use, even for non-programmers and persons without coding skills. Apart from its responsive and customizable attributes, clients and admins can access multiple views. It is armed with a unique interface that enables every personnel in legal service department to open different pricing and availability modes.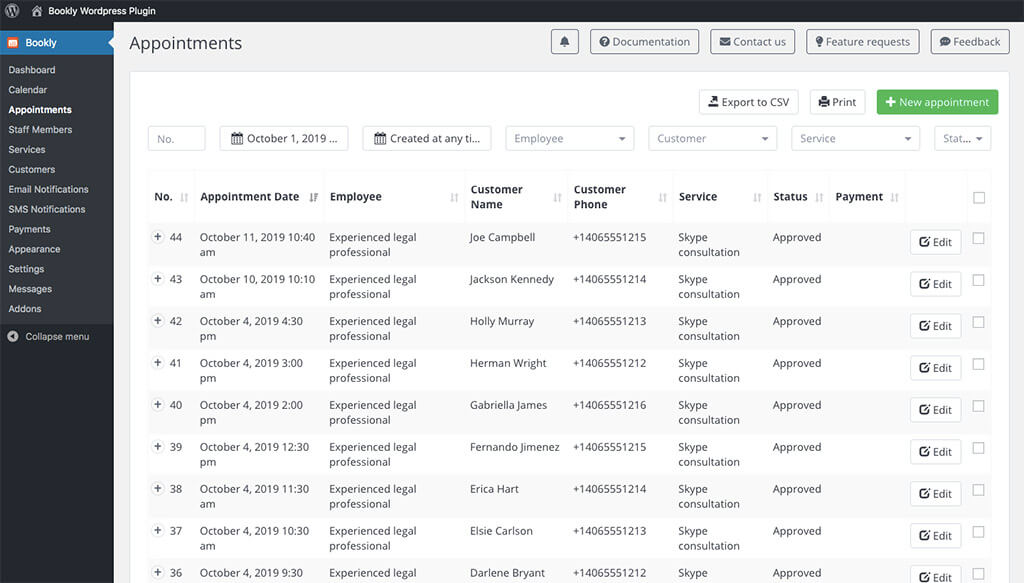 Why you should use Bookly plugin
Bookly is more than a scheduling plugin software. It offers both free and paid versions. There are numerous advantages available using the paid version. The paid version allows installation of more add-ons which allows using extra features. With this appointment and scheduling business software, setting up your website is even easier as you do not need to be knowledgeable with programming codes. The booking form appearance on your website can be edited to match the design of your website and your branding. There is a single interface for the management of client lists, services offered as well as sending emails and sms.
Apart from the legal practice and its clientele, Bookly provides numerous benefits to employees including:
Time management
Automation helps in managing the time spent in the workplace. This is the case as simpler and smaller task can be automated while the major work process can be handled by the employed legal personnel. This goes a long way in increasing productivity, and the reduction of burnout in the workplace.
Eliminating workflow disruption
The time required to return to a work routine after being distracted is underestimated by a lot of people around the world. A study from the University of Irvine showed that it takes around 23 minutes on the average to get back to an interrupted task by an employee. This is a good picture of the effect of answering calls, booking appointments as well as responding to emails. Constant distraction reduces the productivity levels of any personnel in the legal service who has tasks to carry out. As a matter of fact, replying to an average of 6 emails during a working day results in two and half hours loss of productivity. In addition, the employee is deprived from deep work, which is a state of attaining full engagement with the process at hand. In general, a Legal service company or firm will gain increased productive time when they adopt the online booking system.
Stress reduction
Disruption in workflow increases stress levels of the individual carrying out administrative tasks and other work-related operations. Interrupting the workflow lowers productivity, increases stress, exerts more pressure on staffs who have to input more efforts to see to the completion of tasks, which finally ends in higher frustration. Dialoguing with clients may eventually take a hit, the booking and appointment that should be done with ease becomes a longer and tasking process.
Taking off additional duties
Legal services for small businesses need to track their appointments. The company's receptionist, secretary or other staff assigned to schedule bookings will be expected to manually undertake such tasks as well as deliver booking notifications.
However, with the use of Bookly, this procedure is fully automated by the creation of templates that notify clients of the status of their scheduled booking via email or sms. Thus, the manual procedure of reaching out to customers is completely eliminated, making work life easier for employees since they can pay more attention to other tasks.
With online booking software, your clients are encouraged to look for the information pertaining their appointments to get legal help online and make the needed preparations as well as changes if there is a need to. With a WordPress booking plugin like Bookly, you can give them a personalized login for your website. With the use of their personal login details, they can view the list of their scheduled appointment. This includes the service name, employee or contractor who will handle the appointment, the cost and of course time.
Legal consultant firm can automate the process of applying for legal service insurance with the use of such great booking plugins. This extends to a wide range of consultant firms rendering legal help online. Regardless of the legal practice, scheduling appointments have never been made this easy to get legal advice online.