In 2019 the graphic design industry produced estimated revenues of $15 billion a year, according to research from IBISWorld. Over the past five years the industry has grown annually at a rate 3.5%. This is due to favorable economic conditions that many businesses have been spending in advertising services including graphic design. The industry now employs 58,457 people at 16,823 businesses.
The graphic design industry is highly fragmented with many solo, small and medium sized businesses. The industry includes everything from an independent software design consultant working on interface design to agencies employing hundreds of graphic designers. Low barriers to entry mean that it can be highly competitive, and companies need to differentiate themselves. For design consultant services one of the ways to provide that differentiation is through superior customer service. And as this article illustrates that begins with the booking process. A user friendly and efficient booking process is an integral element of any creative designer website. Whether it's purchasing logo design or website design, clients want an easy way to book and pay for those services.
Working as an online design consultant has opened up whole new markets. A graphic designer can now offer their services to customers from across the globe and work from wherever they want. At the same time this puts more emphasis on delivering a superior online customer service experience. Where a good impression may have once been made from having the right office or delivering a great in person presentation, that same experience now needs to be provided by the website.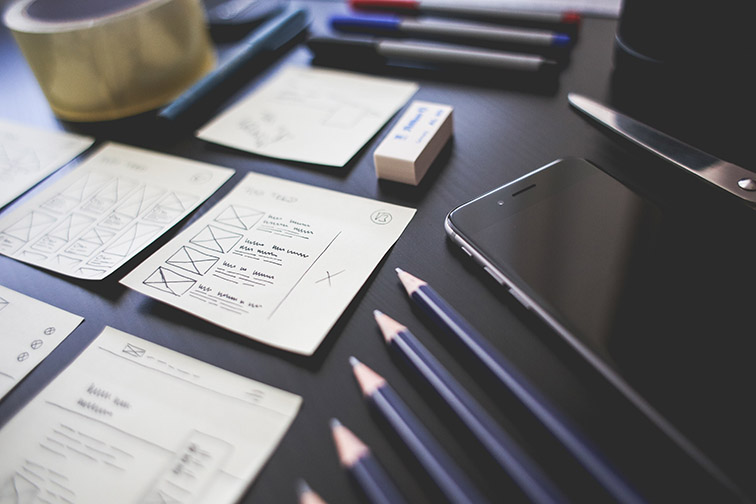 Here we'll look at how you can use Bookly to optimise your users booking process and grow your business.
Provide a website optimised for mobile
Providing a fantastic user experience is critical to the success of any creative designer website. One area that is often overlooked is mobile optimisation. This can be a cortical mistake because many, if not most, clients will be viewing and booking services from their mobile phones. In one study it was shown that mobile users were 5 times more likely to abandon a website if it isn't properly optimised for mobile. Anyone who has tried booking a service using forms that aren't mobile optimised can understand why.
Mobile unfriendly booking forms are a huge missed opportunity for any online design consultant. Clients who are unable to easily book design services using the website's forms, are more than likely going to use another graphic design website where booking is easier. Using Bookly for your booking service is the easiest way of avoiding these issues. Bookly forms displayed a mobile optimised form when the plugin detects that a mobile device is being used to access the website.
Create unique forms for each design service
Typically design consultants will offer a range of different services for their clients. These could be everything from working a website to logo design to helping to prepare an annual report. With such a diverse range of services on offer, it makes sense to create unique forms for each. Different services may have significantly different information that needs to be gathered from the client. Have a "one-size" fits all approach means that the client may provide either too little or non-useful details about their project.
Bookly addresses this need by allowing design consultants to create a unique form for each of the services that they offer. These forms can hide or present particular fields on the form. The forms can also have predefined values which are specific to that service. All of the forms which are completed can be managed through the same admin dashboard and calendar.
Manage and track your customers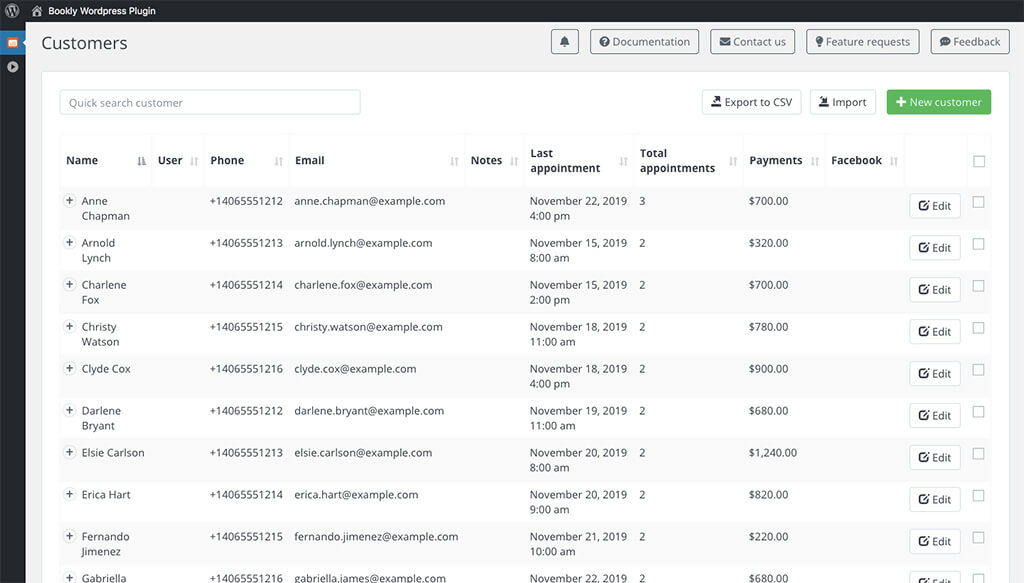 Understanding your clients' needs and delivering a personalised service will allow you to exceed their expectations. But when you have a long list of customers and multiple staff members delivering those services, how do you retain that information? Bookly enables this through customer lists. With a customer list you have an easily searchable and filterable list of all of your customers. By looking at a customer in more detail you can identify what services they have purchased in the past. Staff members can also include notes about a client. This allows you to provide access to information gained through the booking process, which are then accessible to your entire team.
Most design consultancies will already have a pre-existing list of clients that they have worked with in the past. Bookly allows these lists to be imported into the system. When a client rebooks a service, all of the previous details about that client will be available. Clients can also be added directly to the customer list through the Bookly calendar function. This is useful when a client is helped through the booking process by a member of your staff.
All clients can be provided with their own unique WordPress account logins. Once they login they will be able to access the full details of their bookings, including requesting modifications to the date and time. If a client is no longer purchasing your services, then these accounts can be deleted.
Use SMS notifications for both employees and clients
It is estimated that Americans check their phones every 12 minutes on average. Consequently, if you want to keep in touch with your clients or employees, using SMS notifications is a great way to do it. SMS notifications can be used to provide clients about the key details of their appointments. From the Bookly dashboard, administrators can setup automated notifications. Once setup, automated notifications will be sent out to the client at predetermined intervals leading up to their appointment. By using notification, the number of clients that fail to turn up for appointments can be minimised.
Notifications can also be used to alert employees if they need to manually approve a requested appointment time. As with client notifications, SMS messages help employees to keep on top of a busy schedule, reminding them when they have an upcoming appointment. With Bookly appointments are charged on a per text basis. This means that the design consultancy never has to pay for more messages than they actual use.
Create booking forms which reflect the design of the website
As an online design consultant, the importance of brand consistency is obvious. Therefore, when embedding a booking form onto a creative designer website it is critical that it maintains the same aesthetic as the rest of the site. Booking forms which don't fit in naturally with the surrounding layout can look jarring and undermine the value of the services that are being offered.
Bookly makes maintaining this design consistency easy. Bookly forms are completely customisable so that they can be modified to fit in seamlessly with the overall look of the website. This includes being able to match the colours of the form using a colour picker. Even the text content and labels of the form can be modified to reflect the style of your website's copy.
Provide custom appointments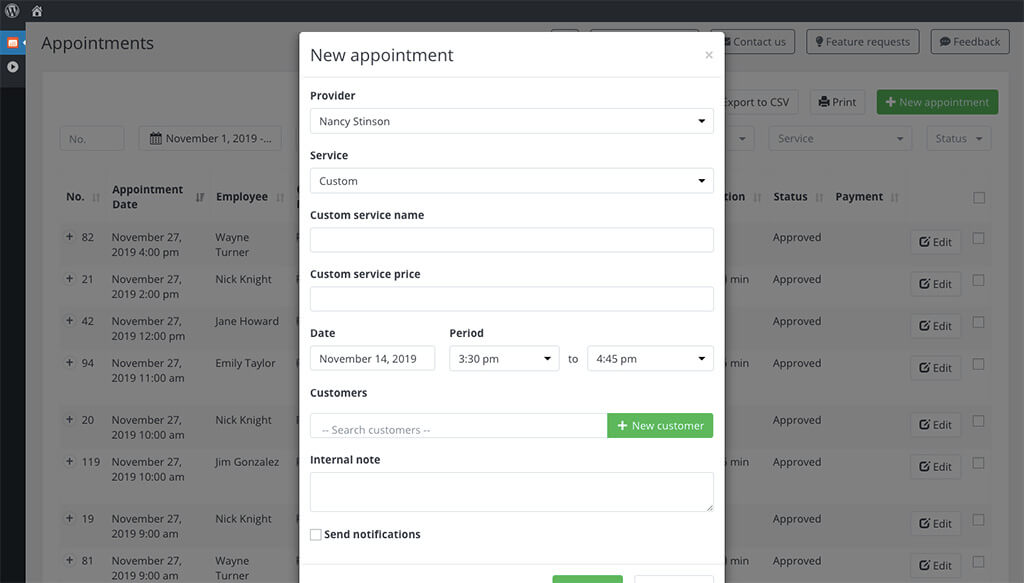 Bookly aims to be a flexible solution which can meet the needs of a full range of design consultant services. Typically, most Bookly users will create unique booking forms for each of the services that they offer. However, there may be times that customers require unique or one-off services which don't fall neatly into the categories provided. This is where custom appointments can be used. From the Bookly backend the employee can create a custom booking for that appointment. This could be a particular type of design service or consultancy which doesn't fit into any of the existing categories your agency uses. Additionally this ensures that clients appointments are always properly titled, making it much easier to reference them later on.
Make use of an unlimited number of contractors or employees
It is estimated that approximately just over a quarter (27%) of all designers are freelancers. Most design consultancy make use of at least some freelance contractors to deliver services. Using freelance designers is often a cost-effective way for agencies to offer a wider range of services without taking on all of the on-going costs associated with a full-time employee.
Bookly allows you to add an unlimited number of contractors or employees into the system. Each of these can have their own unique information, photo and contact details. These profile details can either be made public or kept private. An employee or contractor can be connected with one or more services offered by the design consultancy. Each of these contractors or employees can have their own schedule entered into the system, including any days they need to schedule off. This is a convenient way of managing appointments, because it means clients will only be able to book a particular service, if there is an employee or contractor available to provide it.
Just as importantly each contractor can have their own pricing structure. This means that if a particular contractor charges more to deliver a type of service, the price can be adjusted upward accordingly. This allows the agency to maintain their profit margins, if a contractor wants to charge more for their services. From the contractor or employee's perspective managing their appointments is simple. The Bookly calendar syncs with Google calendar. This means that when an appointment is made the details will automatically sync to a Google calendar. The direction of sync can be adjusted, so that the contractor can also choose to edit their appointments in the Bookly calendar via their Google calendar.
Adding upsells and additional products to a service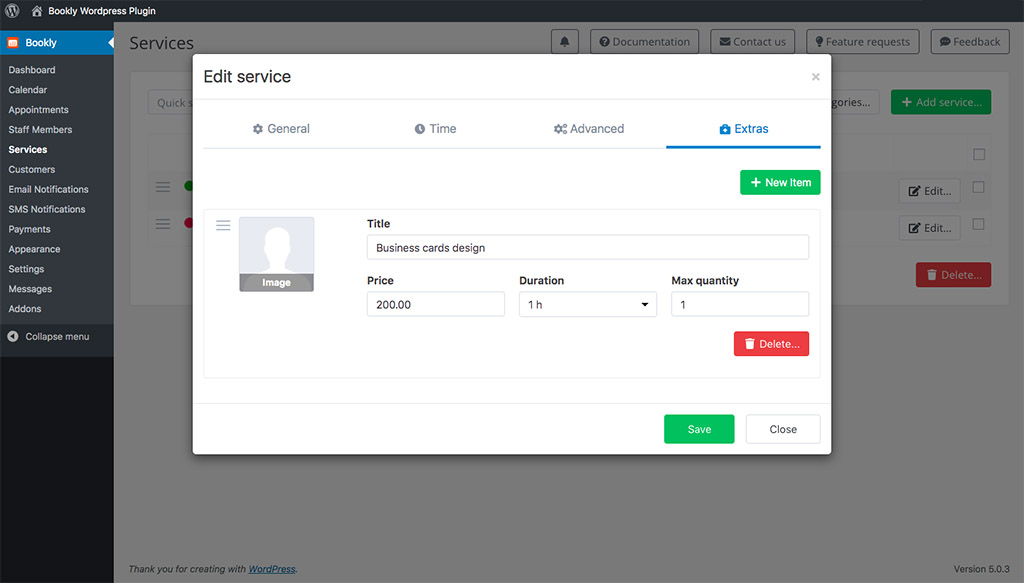 Encouraging customers to spend more money is one of the most effective ways of increasing overall revenue. The acquisition costs of obtaining a new customer are typically the same whether they spend a $500, $2000 or $10000. What's more, it is generally easier to entice someone who is already spending money with you to increase their purchase, than it is to find a completely new customer.
Provided that you are using Bookly Pro and Bookly Service Extras add-on you will be able to create an additional step to the booking process to include upsells. These upsells can be additional products or services that complement the primary service. They could also be an option to increase the duration of the booking. For example, if you were offering brochure service, you may want to include an add-on for the physical production of those items. Another use case could be where you are providing design consultancy and you want to give your clients the option to extend the time of your consultation. Or you may want to offer an additional service, such as if you are doing a web design, also offering the option for logo, business cards or other marketing collateral.
You first choose at which stage in the booking process you want to offer add-on services. You can then customise the design and details of those add-on services. This can include the price and quantity that are available for purchase. If you are offering a service, you can choose to modify the time period which is available. Finally, you can use a thumbnail graphic to represent the product or service you are offering. If you are using the shopping cart Bookly add-on then any extra item purchased will show up in the order list. The customer can then pay for the items when they complete their booking order.
Conclusion
Thriving as an online design consultant means delivering a superior customer experience. The booking process is one of the most critical stages in any sales funnel. It is a point where a client has decided that they are ready to purchase a service. Losing that client because a booking form is difficult to use will directly impact the business's bottom line. Not only has the opportunity for a sale been lost, but the marketing costs of acquiring that customer have now been wasted. Using Bookly ensures that booking a service is a user friendly and intuitive experience. This allows you to focus on delivering high quality design services that surpass your client's expectations.