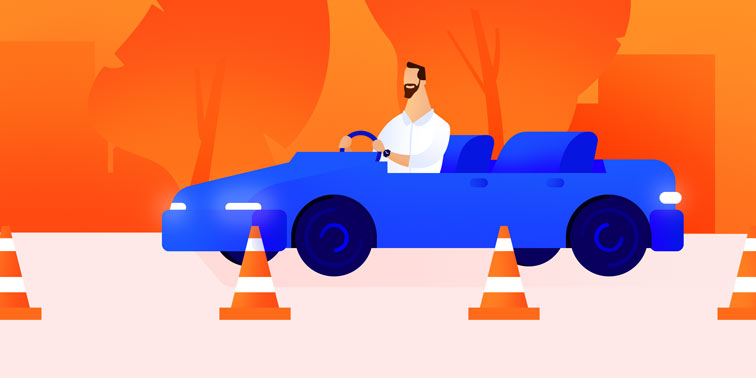 Driving schools booking software is used to improve the quality of services
In an increasingly competitive market, the right driving school booking system can be the difference between success and failure. Over the past two decades the number of companies offering driving instruction has expanded. At the same time the number of people attempting their driving license test has sharply decreased.
Between the 1984 and 2014 the number of young adults with driving licenses declined by 16.4%. There are numerous reasons why the number of young adults seeking to obtain their driving license has declined. These reasons include the proliferation of on-demand car services like Uber and the comparative expense of owning a personal vehicle.
However, of interest is that the top reason, cited by 37% of respondents, was that they were "too busy or not enough time to get a driver's license". What this demonstrates is that if driving schools want to attract new students, they need to make the driving class booking process as seamless as possible. Young people are used to these eases of quickly booking an Uber with a few clicks of their phone. Driving school booking software needs to be equally easy.
Many driving schools online have failed to keep on track with these trends. Many schools require prospective students to call to schedule appointments during working hours. Those that do offer an online appointment, provide user unfriendly forms that are poorly designed for mobile.
Driving schools that fail to offer easy driving class booking options will almost certainly lose out to those that do. For driving schools online not providing booking forms also increases administration headaches. Front end office staff are required to take those calls, take payments and schedule instructors.
Here we'll look at how any driving school can set up an efficient and user-friendly booking and scheduling solution using Bookly.
Getting started with your driving schools booking system
In order to setup Bookly as your driving schools booking system you will first need to be using a WordPress website. WordPress is flexible, user-friendly platform that doesn't require and coding ability to edit and manage. It's the world's most popular content management system powering approximately one third of all websites on the internet. There is a good chance that your website will already be running on WordPress. If not, you may want to consider switching to WordPress so that you can take advantage of plugins like Bookly.

Once you have setup and installed your WordPress you will be ready to add the Bookly plugin. To do this simply follow the steps below.
Bookly comes both in a free and paid version (Bookly Pro). The free version has a more limited number of features than Bookly Pro, but it is a great way to get started with Bookly. You can easily upgrade to the paid version at a later date.
Installing the free version of Bookly
Step #1: Login into your WordPress admin panel
Step #2: Select the Plugins menu from the sidebar
Step #3: In the search field enter "Bookly". Then click on the Search Plugin button.
Step #4: Once you have located the Bookly plugin click on Install Now. Installing Bookly will only take a few seconds.
Setting up Bookly Pro
Step #1: You will first need to buy the Bookly Pro plugin. You can do that by visiting order page.
Step #2: Download the bookly zip archive file.
Step #3: Login into your WordPress dashboard.
Step #4: Navigate to the Plugin menu from the sidebar. Then click on the Add New button and choose "Upload".
Step #5: Select the Bookly Pro zip file from your computer.
Step #6: Once the upload has completed choose to activate the plugin.
Ensure driving class booking forms are mobile optimized
In the United States 96% of people aged 18 – 29 have a smartphone. For younger people, mobile is now the predominate way that they access the internet.
For driving schools online, it is particularly imperative the driving schools booking system is mobile friendly. If a form is poorly designed for the mobile, then the number of users who complete that form will drop dramatically.
Bookly is designed to be fully responsive for mobile devices. When Bookly detects that the website is being accessed using a smartphone, it will automatically readjust to display the mobile friendly form.
Customize forms to fit website branding
Research has shown that 38% of people will stop engaging with a website if either the content or layout is unattractive. This can create potential when adding a new booking form to the website. If a booking form doesn't reflect the colours and branding of the website it can damage the user experience.
Bookly forms are completely customizable. Both the colours and text can be adjusted to exactly match that of the website. The forms themselves can be modified to meet the needs of the driving school website. This includes removing any unneeded fields or steps in driving lessons online booking process.
You can add as many forms to your website as you need. Each of these forms can have unique fields and steps, so that they can be customized to that particular service.
Offer differential pricing for services
There will be certain times of the day when you have an empty schedule. At other times you might find you are consistently being overbooked. In order to both maximize your revenue and fill out your instructor's schedule, you can offer differential pricing.
This means that you vary pricing depending on the time or day that service is being booked. If for example, Saturday is a popular day for lessons, you may want to increase weekend pricing. During the workday you may have less demand. To encourage more people to book during this time you could offer lower pricing. Bookly makes it easy to offer differential pricing depending on what time of the day clients which to book lessons.
Book recurring driving lessons online
Students will of course need to book multiple appointments. Unfortunately, many online booking forms don't make it easy for customer to book in recurring appointments.
With Bookly clients can choose to book multiple appointments weeks or months into the future. Once a client has made a booking, they will be provided with the option to repeat that appointment at regular intervals. They can then choose to schedule, and pay for, the whole series of appointments at the same time.
As an administrator you can choose what they payment terms for recurring appointments will be. You can also choose which services offering a recurring option and which don't.
Take payments during driving class booking
People increasingly prefer to make payments for services, such as driving lessons, online. Make it easy for customers to purchase lessons is an easy win for increasing revenue. This also reduces that amount of administration required for both processing payments and chasing up on unpaid accounts.
Bookly Pro comes with PayPal Express checkout included, on top of this Bookly integrates with a wide range of payment gateways. This allows you to add the option for customers to pay for lessons during the booking process. Determining who has paid – and who hasn't – is equally easy. Through the Bookly dashboard you can quickly sort, and filter pending and completed payments.
You can also choose to take a deposit for the driving lesson instead. Through the administration panel you can select to take either a percentage or fixed price deposit. In order for the booking to be completed this deposit must first be received. You can quickly see in the payments report how much that client has paid and amount that is still due. Once full payment is made, the account be marked as fully paid.
Use coupons to encourage bookings
Competition for potential students be fierce. One way to incentivize new students to sign-up is to offer coupons. These promotional coupons can tie in with certain times of the year, such as thanksgiving or spring break. They can also be used to offer special promotional pricing for the first lesson.
Bookly makes it easy to offer promotional codes for students. Clients can enter the promotional code that they have been provided with during the booking form process. This code will then be applied towards the price the student pays or the lesson.
Use SMS notifications
Students failing to turn up for lessons is a waste of an instructor's schedule. Missed appointments also mean that the student is less likely to achieve the outcome of obtaining their driving lesson. One of the best ways of reducing the number of students who fail to turn up for a lesson is to use SMS notifications. This notification includes the details of the lesson include the date, time and location.
Providing a notification will remind the student of their appointment and significantly increase the likelihood of them attending that booking. With Bookly you can setup up automated notifications. These SMS notifications will be delivered at pre-determined time(s) before the appointment. In addition to SMS, email notifications can also be setup. These email antifictions can be customized to reflect the branding of your driving school.
Avoid last minute cancellations
Last minute cancellations can be an administrative headache. As noted already SMS and email notifications are a great way of reducing the number of students who fail to show up.
Bookly enables you to choose a minimum period of time where a booking can be either made or cancelled. This avoids the issue of students making a booking for a lesson at the last possible moment. At the same time if a client wants to cancel or modify their appointment before the cancellation period, they will be able to do so.
Remove your administrative burden
The cost in time and employee resources managing student's driving lessons can be extensive. For many driving schools online, if a student wants to cancel or amend an appointment, they will need to call the school and request the change. An employee will then need to manually input that reschedule or cancellation. The whole process can be frustrating for clients and uses up staff time that could be better allocated elsewhere.
With Bookly you can empower your clients to manage their own appointments. If you choose, you can provide every client with their own unique website login details. Using these the details the client will be able to access the full details of their appointment. These login details will be automatically sent to the client when they first make a booking.
In addition, clients can choose to either cancel or reschedule their own appointments from their account. These changes can be set to be approved either manually or automatically. Overall, it's a more convenient solution for clients while reducing administrative costs for the school.
Add in an unlimited number of instructors
Students want to know who will be providing them with their driving instruction. With Bookly you can add in an unlimited number of driving instructors each with their own customized profiles. This includes the ability to add in personal info, a photo and contact details for that instructor. You can then connect that driving instructor with one or more different services.
Once a profile is set up you can add in that instructors' schedules with their availability. This can include days off and regular breaks. When a client wants to make a booking, they will only be able to choose a time slot where an instructor is available. If an appointment is approved, it will automatically be added to the matching instructors schedule.
If you want to you make this information visible to students. This can be useful if you want to let students choose specific instructors. The instructors Bookly schedule can be synced with the popular Google calendar. The whole process can be set to be completely hands off eliminating the need for office staff to manage the booking schedule.
Keep track of lesson bookings
Bookly makes it easy to track clients lesson bookings through the Bookly admin dashboard. Administrators can use filters to quickly identify any past or future lesson bookings. Once a booking is found, any changes can be made immediately. As well as these notes can be added to the booking. This can be useful if a student has any specific requests or needs. The note will be attached to that booking so that it can be viewed by the instructor.
In addition, all of an instructor's bookings can be printed or exported as a CSV file. This allows you to provide physical copies of a schedule to your school's instructors.
Conclusion
The market for driving school students will only become more competitive as the market size shrinks. Improving the driving lessons online onboarding process is one of the most effective ways of increasing sign-ups. With a driving schools booking system like Bookly in place you can improve the clients experience while reducing your schools' own administrative costs.