In a recent eConsultancy survey of financial service companies 28% of respondents said that optimising the customer experience was their single most important opportunity. The fact is that businesses selling financial services online understand the critical importance of customer experience even more than other businesses. The same eConsultancy survey showed that 81% of financial services customers said that optimising the customer journey was very important. This compared to 69% for companies in other sectors.
There is arguably no more important stage when purchasing financial services online than the appointment booking process. When a prospect has chosen to make a booking for financial products there is high likelihood that they will convert into a paying client. If they fail to complete that appointment booking because of a poor user experience, then that is a lost opportunity for revenue. Financial service firms have clearly identified the importance of maximizing return on investment.
A good booking experience will make the process of arranging the appointment for the customer as seamless as possible. From the financial service firms' point of view, it will ensure that all of the necessary information required to deliver the service has been obtained.
Bookly is a WordPress booking plugin designed to fulfil both of these criteria. Tested on thousands of users it is designed to work perfectly across all devices. Bookly provides a highly flexible and customisable solution able to work with all range of financial services. Here we will look at any website for financial services can get started with using Bookly.
Adding Bookly to a website for financial services
As already mentioned, Bookly is a WordPress plugin. In order to add Bookly to a website for financial services it will need to be running on the WordPress CMS. Currently about a third of the top 10 million websites are built on WordPress, so there is high likelihood that your firms' website will be able to use Bookly.

There are two options for adding Bookly to a financial services website. You can opt for the free version of Bookly or the premium Bookly Pro. The free version of Bookly, includes many of the plugins core features. It can be a good way to see if Bookly is the right solution for your financial services website. Bookly Pro is cost-effective premium plugin which gives you access to the full range of core feature. These can be further extended through additional add-ons.
Getting started with the free version of Bookly
If you want to use the free version of Bookly you have two choices. The first method is to download Bookly from the plugin directory. This involves the following steps:
If you want to use the free version of Bookly you have two choices. The first method is to download Bookly from the plugin directory. This involves the following steps:
Step 1: Visit the WordPress plugin directory. Then in the search field enter Bookly.
Step 2: Click on the link for Bookly and then press the blue "download" button.
Step 4: Go to the dashboard of your website. Then under the Plugins menu click on "add new".
Step 5: Next to Add New will be a button to "upload plugin".
Step 6: Choose the Bookly Zip file from your computer and upload.
Step 7: Install the Bookly plugin and then activate.
Alternatively, you can search for the Bookly plugin directly from the dashboard of your website on the plugin panel. Once you have located the plugin, do step 6 and 7 above to install and activate the plugin.
Option 2: Install Bookly Pro
If you want access to the full range of core Bookly functionality you can purchase Bookly Pro. To install Bookly Pro follow these steps:
Step 1: Visit the CodeCanyon marketplace here.
Step 2: Once your payment has been processed you will be provided with a zip file for Bookly Pro.
Step 3: Login into the dashboard of your website. Navigate to the plugin section and select "add new".
Step 4: Upload the Bookly Pro plugin and activate.
Improving the booking process using Bookly
Once you have installed either Bookly or Bookly Pro you can start to improve the process by which financial services appointments are made. Here we will look at the key benefits of using Bookly for booking financial products.
Enable clients to upload documentation
Bookly makes it easy for clients to upload important documentation such as financial records or identification. Using the plugin you can allow clients to submit attachments during the booking process. From the clients perspective this streamlines the onboarding process. From the financial advisor's side, it means that they have available all of the relevant documentation to provide the best quality service. All of this documentation can be securely organized with that clients account. This avoids the problem of documentation going missing.
Receive detailed analytics about your clients
In a recent PWC study it was found that the "customer intelligence" would be the most important predictor of both profitability and revenue growth in the future. The same study found that many of the financial service providers they survey relied on very simple heuristics to derive this intelligence. This include surveys or focus groups. Financial service and product firms have a huge opportunity to take access much richer data about their customer through their website.
Bookly helps to unlock this data through detailed integrated analytics. Bookly analytics is viewable through the dashboard of your website. Bookly analytics produce a range of actionable information, including viewing all of the customer who made a booking during a specific period, the number of appointments your firm performed during a period and the estimated cost of those appointments. Furthermore these can be filtered by a specific service, employee or time frame. All of this data can be exported for further analysis and review.
Customise forms for different financial services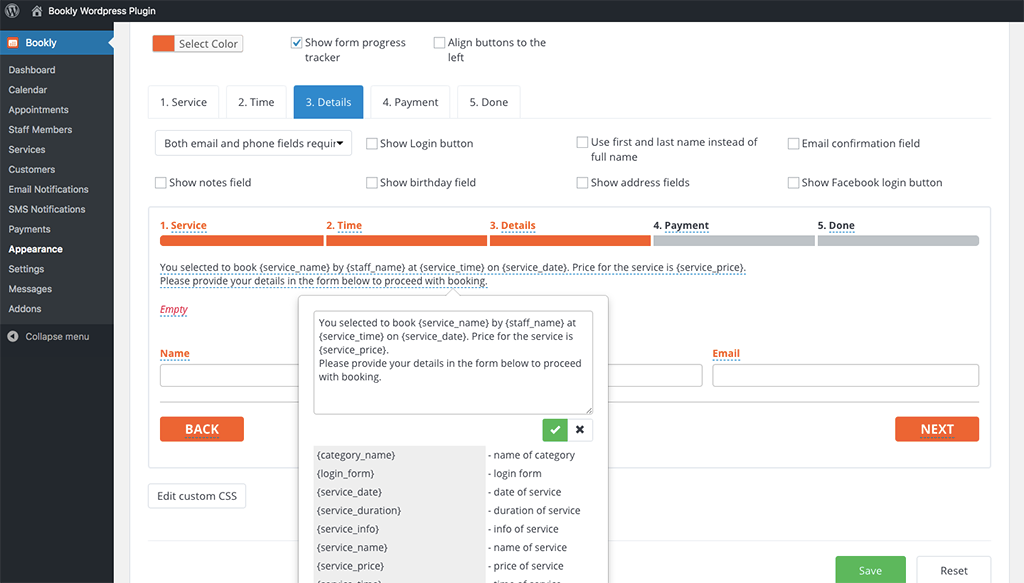 The financial services that your firm offers may vary widely in terms of the information you require prior to an appointment. Bookly allows you to create unique appointment forms for each of these financial services. This allows you to customise the information you ask for and the fields the client needs to complete. Unnecessary steps in the booking process can be removed and additional steps added in as required. This ensures that you obtain exactly the information you need from your client – and no more.
In addition, you can customise each of the settings for your services. This includes being able to assign more than one employee to deliver a particular service. This is useful where multiple team members may be required for the client appointment. You can also choose to alter the duration of a particular appointment. If your employees need time between or after appointments, either to prepare or to collate notes, you can choose to allocate padding either side of a booking slot. Clients will not be able to book an appointment during this time either side of a booking slot. You can also choose to limit the number of bookings that are available for a particular client. You might want to use this option if you offer a free or discounted consultation service.
Let advisors create their own profile
There is an oft remarked saying that "people buy from people". The team members at your firm are in all likelihood your greatest asset. Therefore, it makes sense to put them at the forefront during the booking process. With Bookly you can create individual profiles for each of your advisors. When booking financial analyst time the client can choose an advisor based on their profiles. As an administrator for the account you can choose to give employees the right to edit their own profile and manage their appointments.
Remind your clients of their appointment with notifications
In order to remind your client of their upcoming appointments Bookly offers automated SMS and email notifications. Once a booking has been made these notifications will be set to send out at the predetermined intervals. This helps to avoid the problem of no-show clients wasting the time of your team. From the client's perspective these notifications provide all of the details of their appointment. This means that they don't need to search through their inbox to find the time or location of their appointment. Notifications are customisable so they can be designed to match the branding of your company.
Allow your client to book recurring appointments
For some of the financial services that you offer appointments may occur on a recurring basis. Bookly allows clients to book these recurring appointments through a single booking process. When the client makes their initial appointment, they can choose the date and time of their first appointment. They can then choose the interval and which they would like subsequent appointments to occur. These could be a weekly or monthly basis. The Bookly system will aim to match the appointment time with the same financial advisor as they chose for the first appointment. If this advisor is not available, then they will be allocated to another advisor at an appointment slot that closely matches their requested time.
Let clients pay in advance for services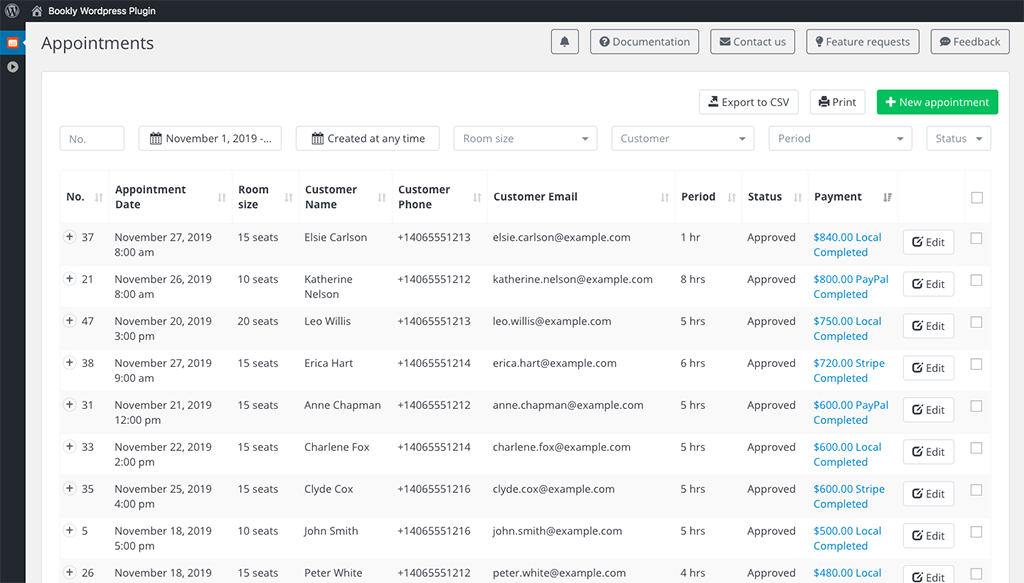 Clients are used to paying for services through their smartphone. Despite this, many financial service providers have been slow to allow clients to pay for appointment online. This can be a missed opportunity because not only is paying during the booking process often more convenient, it also locks in that revenue for the firm. Bookly integrates with dozens of different payment gateways. You can choose to charge customers for services either in part or in full during booking. The amount that has been paid for a particular service will a how on their client record. IF there is any outstanding payment owing this can be taken when the client arrives for their appointment.
Make it easy to work with your appointment list
Clients of financial services expect to have their booking requests dealt with promptly and efficiently. With Bookly working with your client booking list is easy. Bookly allows for an unlimited number of booking reservations. A specific client booking can be found by any member of staff with administration access. Clients list can be sorted, filtered and searched. Notes can be added to a booking so that it can be referenced later, and appointments can be amended.
In some circumstances you may prefer to manually approve appointments rather than automate this process. This can be useful when you first want to assess whether the client making the booking is appropriate for the type of service they are booking. If you set bookings to manual approval, then all of the appointments will show as "pending" until they are manually approved by an administrator.
Eliminate wasted staff time with minimum notice periods
The time of your financial advisors is valuable. An appointment slot that is cancelled at the last moment may mean be wasted. Bookly helps to prevent this by requiring that appointments with minimum notice periods. Administrators can choose to set a minimum notice period for bookings & cancellations. This could be for example 24 or 48 hours before time of the appointment. If the client wants to cancel before this minimum notice period, then they are free to do so. Once the minimum notice period is reached, they will no longer be able to cancel the appointment. This provides flexibility for clients while ensuring that a financial advisor maximises their schedule.
Create custom appointments for unique financial services
Not all of the financial services you offer may neatly fit into a designated category. High net worth individuals in particular may require more tailored services. Bookly makes it possible to create a custom appointment with requirements specific to that client. This custom service will then be listed in that financial advisors' calendar alongside their regular appointments.
Online financial services and their future
Embracing technology will be critical for financial service providers that want to thrive over the coming decade. In the PwC survey detailed earlier, financial service firms said that a quarter of their business over the next five years was under threat due to FinTech companies. For financial service providers that embrace the benefits that such technology the future is bright. Tools like Bookly can deliver a superior customer service for clients and streamline business operations. At the same time, it provides the customer intelligence to make informed business decisions that will help ensure success.