The job of a chiropractor is not an easy one. As a chiropractor your schedule is always full and you are trying to help as many patients as possible to alleviate pain and solve other neuromuscular problems. With the many chiropractic treatment types available the work does not get easier. The truth is that your patients are aware of the countless benefits attached to the service you offer them and this makes the work all the more stressful.
The question however in the 21st century is how can you reduce stress, save time and money and also satisfy your patients. The answer is simple: the use of technology. With the appropriate chiropractic software you will be able to save time, money and also make sure your patients are satisfied.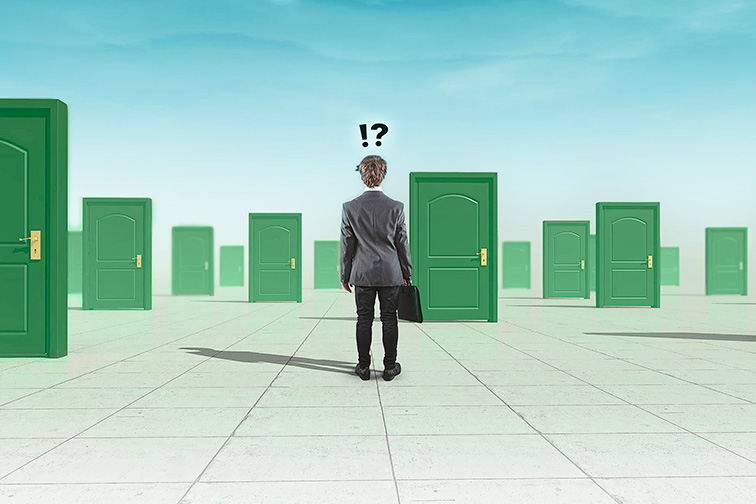 In the field of medicine, there are so many technological options available and that can be used to make life easier for medical professionals. For chiropractors, there is a software that helps to accept appointments online and also handle their patients remotely. Every business has a business plan and we believe that your chiropractic clinic has it too. This is the key to a successful company which helps you to use the resources available in order to get the best for your business.
One major tool that you must employ for your chiropractic practice is a website. If you do not have a website for your practice you will not be able to reap the full dividend of that practice. Having a website is just the first step towards reaching your patients and giving them the best. On the other hand if you have a website and do not utilize it, then the website is useless to you.
How do you use your website appropriately?
You maximize your website by using the appropriate tools and one of those tools is what we call a Chiropractic Therapy Assistant.
Chiropractic Therapy Assistant
Traditionally, chiropractors hire assistants to help manage their patients and schedule time for therapy sessions but that is not really advisable in the 21st century because of the recurring cost of paying the person a monthly salary and also dealing with human temperaments which can be erratic at times. However, to avoid these problems, technological solutions have been made available.
Bookly can be your chiropractic therapy assistant in schedule planning process and patient management. Bookly makes the work easier for your human assistant and reduces stress.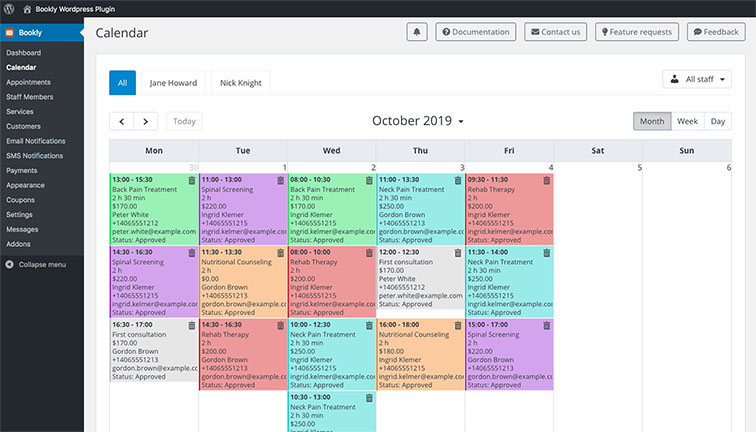 Bookly is a WordPress plugin that allows the chiropractor to schedule appointments with patients through their website. There are many scheduling softwares in the market but Bookly is the best because of its unique features and advantages.
Why WordPress plugin for booking is important for Chiropractors
Most Doctors in a Chiropractic clinic may laugh off the idea of using a WordPress plugin like Bookly for booking purposes. This attitude is because of their ignorance. So the question is why is a WordPress plugin for booking important and how can it be your ultimate Chiropractic Clinic Manager?
Benefits to Clients
Life in general is already stressful, people work full-time jobs and are looking for any opportunity to make life easier for themselves. Online scheduling with Bookly makes life easier for your clients. The first thing about the Bookly plugin is the fact that it is responsive on any device and all the client is just required to do is to pick the chiropractic therapy type they want and the time they want to come in for it.
That makes life a whole lot better for them. Once the booking is done, the client will receive an email or SMS notification ahead of the appointment and the appointment will be added to the Booking calendar of the chiropractor.
Apart from that, there are other features that come with Bookly for your website. When you install Bookly on your website your clients will have access to a lot of additional features including:
Quick Scheduling and appointment booking without having to call the doctor or your employees at the chiropractic clinic
Ability to make a booking on any device at all. It doesn't matter if it is a laptop, tablet or mobile phone. The Bookly plugin is responsive on any device as long as it can access your website.
Ability to choose the particular chiropractic therapy type they want. Furthermore, they can also choose the employee they prefer to perform this service if you have more than one doctor in your chiropractic clinic.
Freedom to choose the exact date and time that they would like to come in for the therapy session. However, they would have to choose from the dates and times that have not been booked before.
A section to fill in their contact details, so you can contact them in the case of any eventuality so as to avoid disappointment.
An SMS reminder about the upcoming therapy session. This will help them not to forget in the midst of their busy schedule.
Overall, these are the benefits that your clients will enjoy when you use the Bookly plugin on your website. Isn't it amazing how much life can be made easier for your clients and for you too. At this point you may be asking, are there no benefits for you the chiropractor. Well there are tonnes of benefits for you.
Benefits for the Chiropractor
One of the benefits of Bookly is the fact that you do not require any coding experience at all to set it up. You do not need to be a software engineer or website designer to install Bookly. It is for coding dummies.
Bookly was designed in such a way that it is easy and quick to install with minimal fuss. Once installation is complete, you can start using the software for your WordPress Website. Furthermore, the Bookly Admin Panel is very easy to navigate. It gives you the freedom to adjust appointments if they do not sync well with your calendar.
Also you can configure your online scheduling to focus on the most important chiropractic therapy types your practice is focused on. This helps to serve your customers better and increase income for your practice. Also Bookly helps to make life easier for your employees and reduces the workload on them and makes them to deliver faster for your chiropractic practice.
In addition to that, you can change the layout of the booking form and also modify the appearance. This way you can make the form match with your website or the brand of your practice.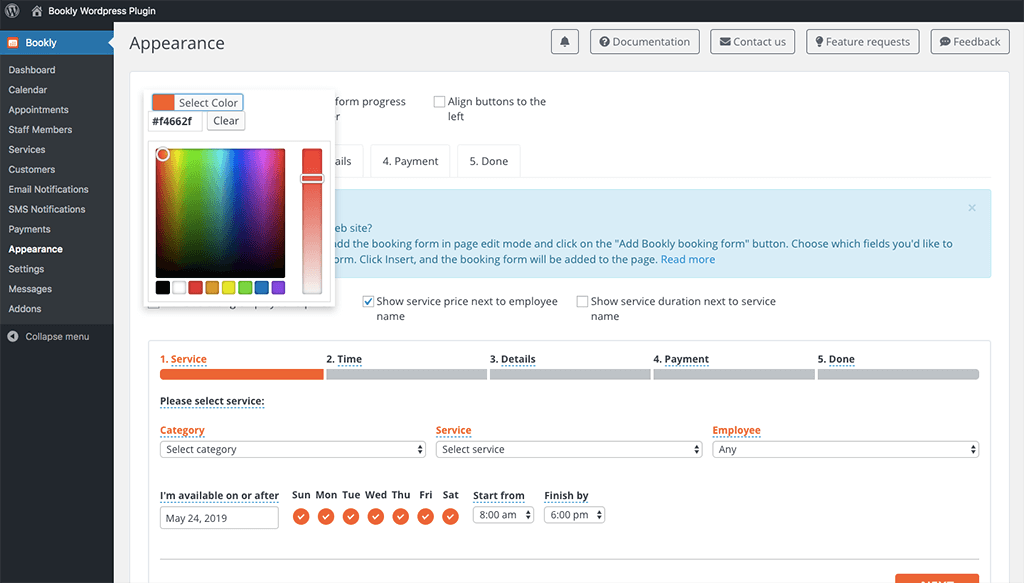 These are some of the benefits of Bookly but there are loads of other features that would benefit your chiropractic clinic and they include:
You can easily manage your client list and appointment calendar online through your Admin Panel. You do not need to start writing down the names of your clients or ticking the calendar that is hanging on the wall at your office. All that can be done online.
You can add unlimited number of clients on your client list. This way you will have a comprehensive list of your client base which you can easily search for when the need arises.
You can add a new client directly from your calendar. This means that if a new client books a session with you, you can directly add that client from the appointment calendar to your client list.
You can setup and customize the type of SMS you want to be sent out to your clients from the Bookly backend. You do not need to be a coder in order to do this. It is very easy to do.
You can notify your clients about approved, pending or canceled appointments through SMS and Emails. This means you can give them a heads up about the state of their appointment.
You can set up Bookly to automatically approve or decline an appointment.
These are some of the amazing features that you enjoy when you install Bookly on your website. You get the opportunity to dazzle your clients with the level of efficiency you provide them with. It is an amazing feeling. Apart from the features listed above, you can also configure your booking form to suit your specific needs. There is a lot you can do to the booking form including:
Customizing every step of the booking process to match the need of your chiropractic practice. There are editable headings, texts, and buttons. You can tweak these to make your booking form more exciting.
Translating all the user interface and website notifications into 40+ languages using the WPML PlugIn. This way your practice can have an international reach and not just local clientele. Also this will show people from other countries that you appreciate them.
Adding many booking forms on your website as you want. There is no limit to the number of booking forms you can add to your website. It is your choice, you can add as many as you want.
Showing or hiding some specific fields in your form. You can hide some specific fields in the form if you do not want your clients to see it for one reason or the other. This is strictly your choice.
Using Pre-defined default values for the different chiropractic therapy types that you offer on your booking form. This helps to save you stress.
Displaying the time slots that are available for the client. So as to avoid overbooking.
Setting the duration of each service differently.
This simply means that you can configure your booking form to meet your exact needs and you do not have to stick with the preset format that was set up by Bookly. It is your choice how the form functions.
Disadvantages of NOT using Bookly
You maybe wondering at this point: Must I use Bookly? Is it compulsory for me to use this Plugin on my WordPress website. The answer is no, you can choose not to use Bookly for your website but the truth is that the disadvantage of not using this software far outweighs the advantages. So what are some of the disadvantages if you decide to reject the uniqueness and beauty of Bookly?
Your clients will not be able to book your service easily: Bookly is the ultimate Chiropractic office manager because it works without you being directly involved all the time. However, if you decide to keep running your chiropractic practice the traditional way, your clients will not be able to book for your services easily. They will have to contact you via phone calls and this is cumbersome and redundant.
Losing track of appointments: One of the limitations of man is the fact that we are bound to make mistakes. This can also be reflected in your practice if you decide to neglect a technology like Bookly. If you decide to do it yourself or hire someone, there are chances that some appointments may be lost or misplaced and this will bring a bad reputation to your practice.
Losing your clients to competition: Bookly is an online scheduling software that is invading the sphere of chiropractic practice and if you do not embrace it, your clients will turn to your competition who has. This is because nobody likes stress and everybody likes when life is made easier for them. So they will turn to your competition and leave you to stick with your old way of doing things.
These are some of the disadvantages of not using Bookly for your WordPress Website. So if you want the ultimate chiropractic therapy assistant, Bookly is your best bet. If offers you quality, speed and efficiency and it helps you to attain customer satisfaction with minimal fuss. So if you want to take your chiropractic business to the next level, then your plan must include Bookly, the best chiropractic office manager you can get.