As a real estate agent it can feel impossible to escape from your phone. Scheduling viewings and answering queries is extremely time-consuming. While even the most committed realtor can't be available at all times, using a WordPress booking plugin you will always be able to take bookings.
There will be some customers that want to use their phone to book an appointment. But equally, there will be many customers who would prefer to schedule a time using an online booking form. Clients are often time scarce during the working day and don't have a lot of time to spend on a phone call. Unless you want your evening interrupted with appointment bookings, being available for those calls won't make sense.
With a WordPress booking plugin, your clients are empowered to make their own bookings. They can do so at any time which is most convenient for them. In this guide we'll explore these and other benefits of providing an online reservation system for your clients. We will explain exactly how you can get quickly setup and install your own WordPress appointment plugin.
Installing & setting up a WordPress booking plugin on your real estate website
Before you can add the booking plugin, you must be running your website on WordPress. WordPress is an intuitive and user-friendly content management system, which powers approximately a third of all of the websites on the internet. There is a good chance that you are already using WordPress, but if you aren't, you may want to consider switching so you can take advantage of booking plugins and more.
Bookly is the leading WordPress appointment plugin. There are both free and premium versions of the plugin available. You can download the free version of Bookly from the WordPress directory or from the plugin section of your WordPress dashboard. If you want to take advantage of all of the premium features of the paid version of the Bookly plugin you can find it in the CodeCanyon marketplace.



Once you have downloaded your Bookly zip file, you need to install it. To do this under the plugins option on the left-hand side menu of your dashboard, click on add new. If you have already downloaded the Bookly plugin, press the Upload plugin option at the top of the page. Then choose the file from your computer and select Install now. You will need to wait while the plugin is being installed. Once it has finished the installation process choose Activate plugin.
Benefits of a WordPress appointment scheduling plugin
Mobile-friendly booking form

Clients find properties that they want to view using their phone. In fact, 57% of all online U.S. traffic now comes from either smartphones or tablets. You want to make sure that it is just as easy to schedule an appointment to view that property using their phone. Bookly identifies that the user is viewing your website using a mobile device. It will then display a booking form which is optimized for the smaller mobile screen. Having a mobile-friendly form which is easy to interact with will help to ensure that clients complete the booking form.
SMS or email notifications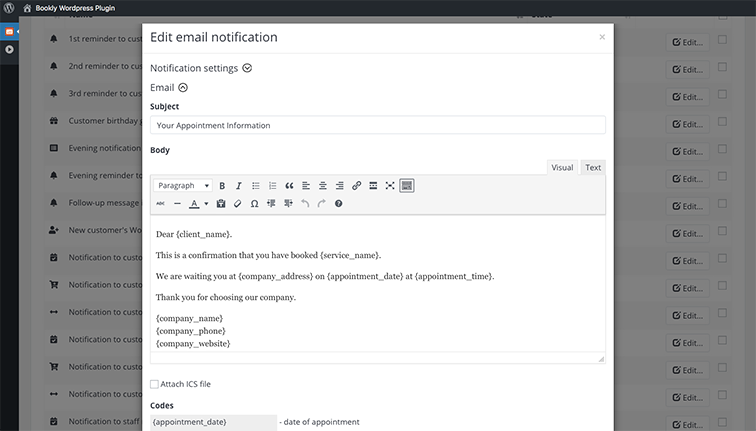 Missed appointments are the bane of realtors lives. With a packed schedule of viewings a missed appointment is a slot that could have been used to show a property. One of the best ways to reduce client no-shows is to remind them of the appointment. Clients don't always mean to miss appointments. With busy schedules it is easy to forget an appointment that has been made or to incorrectly recall the time and date of that appointment. With Bookly you can avoid this problem by sending automatic SMS or email notifications. These will provide the client with all of the details of their appointment. This not only reminds them of the appointment but also provides the key information they need to find the property.
Google and Outlook calendar integration
You may already have a scheduling system that works for you. This may include popular calendar options such as Outlook and Google calendar. With Bookly you don't need to switch away from your existing setup. The WordPress appointment plugin integrates with both of these third party calendars. Once connected, appointments that are made in your Bookly calendar will also be available in your Google or Outlook calendar.
Allow clients to view and edit their own appointments
Imagine this common scenario. A client has booked to view a property that you are showing at the end of their work day. They get called into a last minute meeting and they are no longer able to get to the booking. Rather than call you to cancel they simply don't show. Using Bookly clients are able to edit their own appointment times. They can reschedule to a new time. For you it avoids having a no-show client and still gives you the chance to show the appointment to that client at a later date.
Having a booking form on your real estate website can increase your bookings, lessen your workload and provide a superior service for your client. Setting up a WordPress appointment plugin is extremely simple and only takes a few minutes, so there really is no reason to delay adding it to your website.