Hot sales season has already started and we are all waiting for the two biggest online shopping days in 2018 – Black Friday (November 23) and Cyber Monday (November 26). These days are going to bring you a lot of sales and attractive offers.
Black Friday and Cyber Monday are informal names of the days following Thanksgiving Day in the US when many stores and companies sell goods and products at a lower price and make special offers. Usually, these days are regarded as the beginning of the Christmas shopping season.
Our team has prepared the first big sale on Bookly products to let you also benefit from advantageous offers. Don't miss a chance to get Bookly Pro and its add-ons at CodeCanyon at the most amazing discount ever and join 20000+ businesses that have already automated their booking process with the best appointment booking and scheduling software system for WordPress!
WordPress appointment booking plugin 50% discount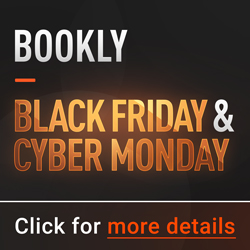 On 23 Nov 2018, enjoy a special offer on Bookly Pro and get the plugin with 50% OFF. If you use the free version of Bookly and haven't upgraded to the paid version yet, it's a good time to purchase the Bookly Pro add-on and enjoy the advanced functionality for effective scheduling and management of your booking system! Black Friday also is a perfect time to buy the most flexible booking plugin with 50% discount, if you're looking for the appointment management solution to boost your bottom line and optimize scheduling process.
Bookly Pro add-on allows you to use dozens of additional features, settings and capabilities, install other add-ons for Bookly, and includes six months of customer support. Some of them include:
unlimited number of staff members with an individual working schedule;
unlimited number of services with additional settings (padding time, visibility, limitations, etc.);
additional templates for Email and SMS notifications;
advanced features for customizing your online booking form (show address fields, birthday fields, Facebook login, timezone switcher);
Google Calendar and WooCommerce integration;
ability to receive secure and flexible online payments on your website;
built-in analytics, and much more.
WordPress appointment booking Cyber Monday deals
On 26 Nov 2018, save 50% on top popular add-ons for Bookly. If you already use Bookly Pro, you'll be able to choose and purchase more add-ons at the discounted price. Our comprehensive collection of paid add-ons can meet special requirements, provide you with additional useful features and fulfill your specific needs for building a smart automated online scheduling system.
Paid Bookly add-ons will allow a deeper customization of your booking system and will bring up an online scheduling experience for you and your customers to the next level. Some of them include such features:
various payment gateways for accepting credit card payments on your website;
group bookings;
recurring appointments;
service locations;
personal staff cabinet for employees;
user account for your clients;
custom fields;
and much more!
Visit this page to learn more about Bookly Black Friday & Cyber Monday hot deals, subscribe to our newsletter not to miss the most long-awaited shopping event, and feel free to share this post!