Managing a business can be a bit overwhelming when you do not have capable hands to perform important tasks at the right time. Since you can't do everything by yourself, it is often advisable to delegate responsibilities to people you can trust to do the job well. Most times, your secretary is the one person you can count on to handle basic clerical and organizational responsibilities in the office. But finding the right candidate to fill this position can be a real challenge considering that their role is crucial to the day-to-day affairs of the company.
Thanks to Technology, however, you do not need to be overly concerned about finding a secretary to whom you will assign all office and administrative matters. Now, you can relax knowing that there will be fewer disappointments and delay in the office. The Bookly Pro plugin is designed to make work easier and faster in the workplace. It reduces the workload on staff so that they can have time for other activities.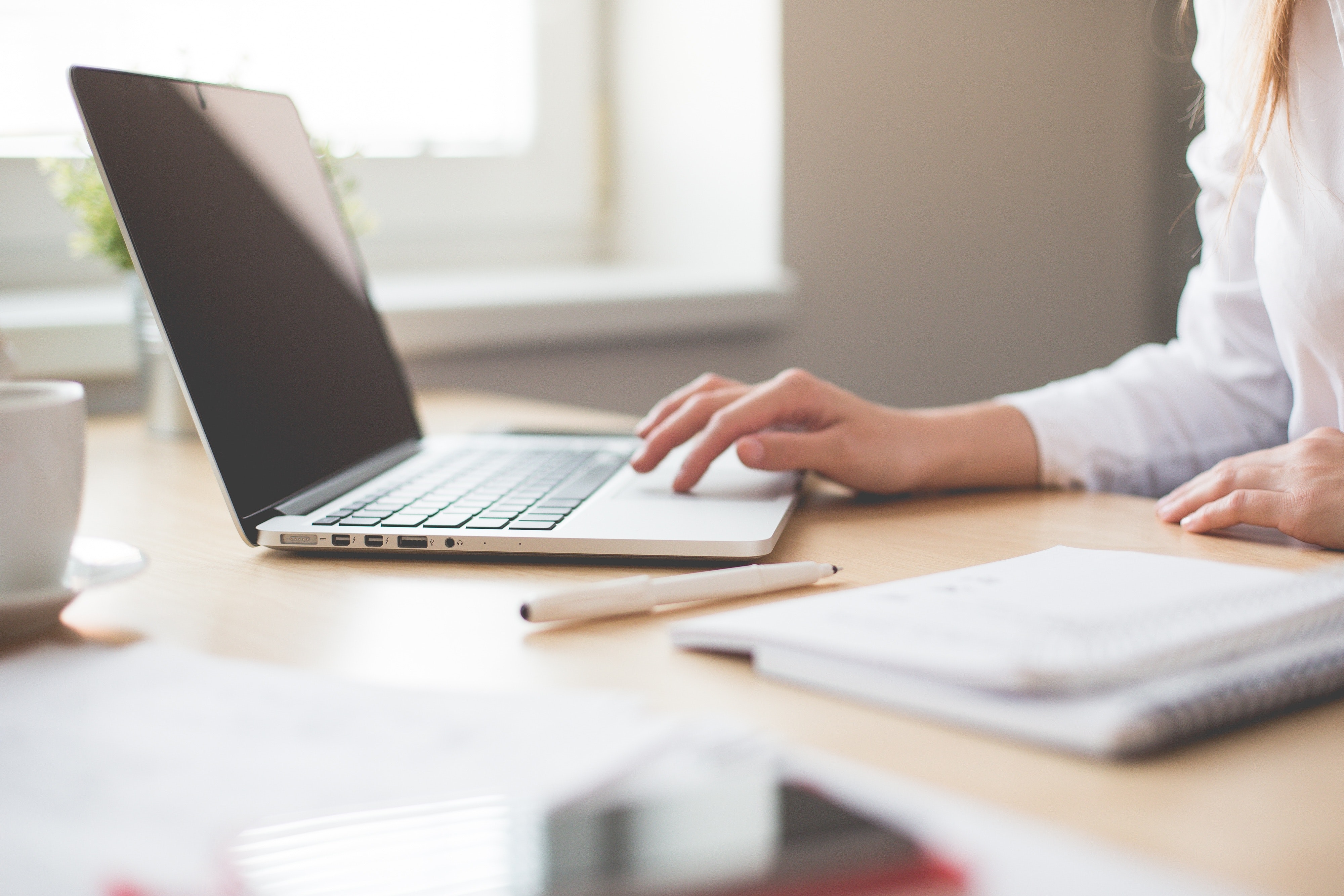 Bookly Pro is currently one of the best WordPress plugins in the market. Whether you are a developer or a business owner, there are many benefits of using this unique booking system for work. It performs some of the duties of a secretary, making it convenient for your clients to do business with you. Here are the benefits that Bookly Pro offers.
1. Makes a Booking of Appointment Easier and Faster for Clients
With Bookly Pro, clients can easily book appointments on your site without having to call you or your secretary directly or having a face-to-face meeting. Bear in mind that nothing makes a customer happier than getting fast and efficient service from a service provider. Bookly Pro ensures that your customers are happy and satisfied with your services, starting from the process of booking an appointment. Since Bookly Pro design is fully responsive, clients can make a booking on any device. Here's all they need to do to book an appointment.
Step 1: Select Service
Once clients arrive at the page containing the booking plugin, they will be required to fill in their preferred service, staff member and desired date and time.
Step 2. Pick a Time Slot
Based on the date and time you chose in step 1, a list of available time slots will appear on the screen. The clients may have to go through the scheduling list to pick a time that is convenient for them.
Step 3 (optional): Book More than One Appointment in One Session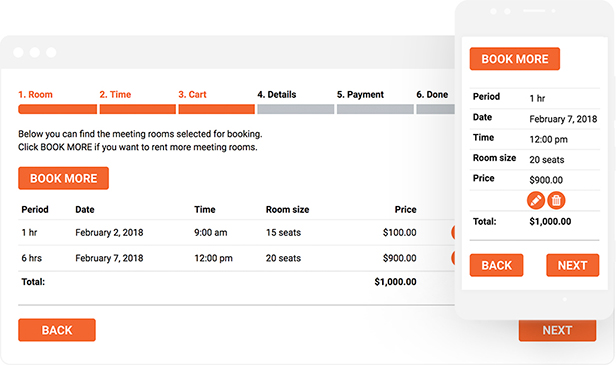 Clients can book more than one appointment in a session using the Bookly Cart add-on. After completing step 2, this feature will display the 'book more' option. If they click on it, it will take them back to Step 1 and save the current booking on their cart. If they successfully book multiple appointments, all the details including dates, times, staff members, and prices will be displayed together.
Step 4: User Info
This step requires clients to enter information like their name, email and phone number for marketing and organizational purposes. They can choose to replace their phone number with a Skype ID. Clients can leave notes requesting for parking space or any other favor on the booking system.
You can add other fields to the booking form if you want to.
Step 5: Payment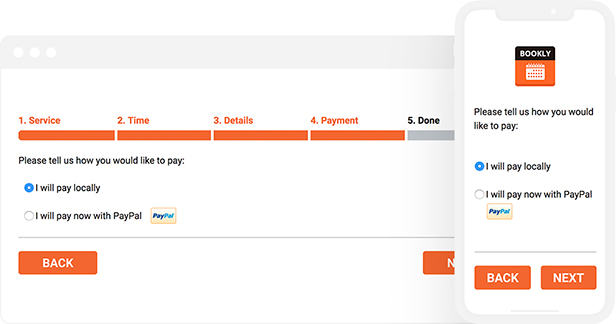 The booking system allows for a variety of payment options, including offline payment. Depending on what you think your clients prefer, there are over ten online payment options to pick from and enable for your plugin.
Step 6: Booking Confirmation
You need to be able to let your clients know that their booking was successful. You can set up notifications, a text message (SMS) or an email with booking details to confirm the appointment. If the pending appointments feature is on,
ensure you send an acknowledgment, informing your clients that you will contact them later.
2. Saves Time and Cost
For your website to accept bookings online, you will need to employ the services of an experienced programmer who will set up the booking system for your site. Professional programmers can be very expensive to hire and choosing to keep such individuals on your payroll can be financially draining. If you decide, however, to train a member of your staff to keep the system running, you will spend time and money doing so. You would also have to train all your employees to use the software and probably employ an extra hand to oversee the bookings and allocate members of your staff. With Bookly Pro, all of these unnecessary spending and time wasting can be avoided. The simple plugin comes with powerful features that make online booking quick and stress-free.
3. Easy to Set Up
You do not require any coding experience to install and begin using Bookly Pro plugins on your WordPress website. The intuitive WordPress admin panel of the software allows you to navigate it like a pro. Regardless of your skills and preferences, you can use the software to manage appointments, enhance customer experience and boost sales.
4. Friendly Booking Interface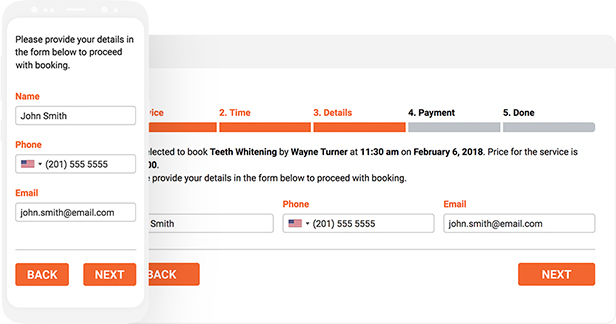 The booking system has an elegant but simple design that fits perfectly into any web page. The booking interface is user-friendly and easy to navigate. Your clients can easily go through it and schedule an appointment in no time. It is pertinent to bear in mind that customer satisfaction and loyalty is greatly influenced by the first impression a client forms of your brand. If they are impressed by the booking process and subsequent service, chances are, they will come back again.
5. Modify the Appearance of the Booking Forms to Suit Your Business Needs
You can change the layout of the booking form to what works best for your business, website, and brand. The customizable booking form allows you to show or hide specific fields, change color, add new fields, and customize text among many others. No matter what your customization needs are, you can achieve your dream booking form with Bookly Pro.
6. Create and Publish Multiple Booking Forms on Your Site
With Bookly Pro, you can never lack booking forms. The software allows you to add unlimited booking forms on your websites for as many clients that want to book a reservation online. All appointments made in the booking form by clients will appear in your Bookly and Google Calendar.
7. Keep Your Team Informed About Upcoming Appointments
Bookly Pro eliminates the problem of missed or late bookings by sending out SMS and email notifications and reminders of upcoming appointments to employees. All reservations made through the booking plugin will be contacted to you and your staff as the scheduled date approaches. Additionally, you can send the agenda for the next day to members of staff to get everyone ready for the activities of the day.
8. Keep Your Customers Updated
You certainly don't want your clients to native language in the dark regarding the reservations they have made. It is important to confirm their appointments and let them know if it was approved, canceled or pending. Bookly Pro allows your customers to get notifications via email or SMS about their reservations. Since the notifications can be customized, you can send SMS reminders about an upcoming appointment to your clients or even thank them for their patronage.
9. View Calendar in Different Formats
Your calendar shows all appointments made by clients. You can choose to view this information monthly, weekly or daily. Your Bookly calendar will remind you and your staff of all the appointments you have for the day, week or month.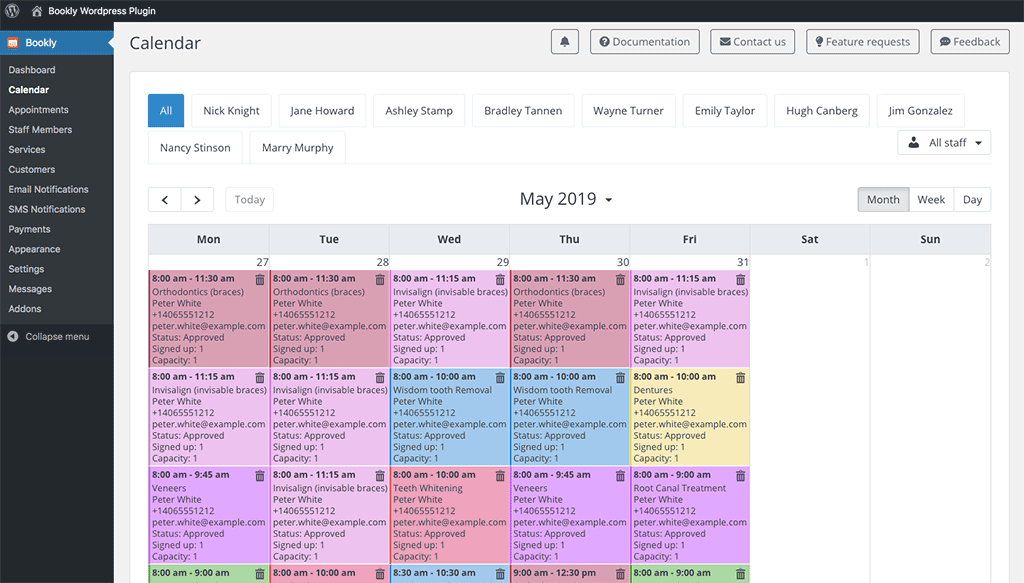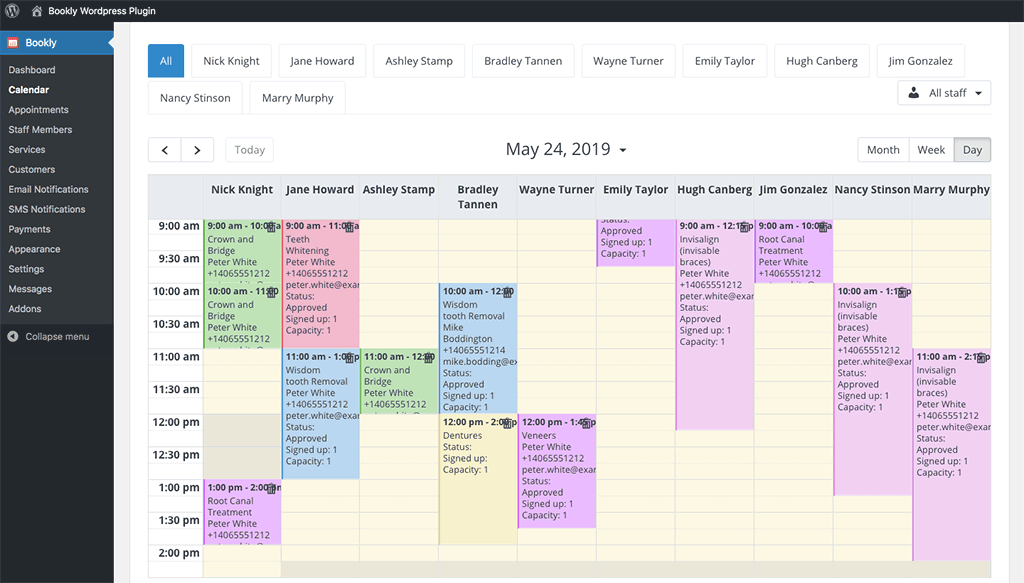 10. Allow Clients Make Reservations Anywhere, Anytime
The booking form is designed to fit your mobile site, allowing clients to use the plugin at any time and place. They can always book their reservations using their mobile devices. You, on the other hand, can manage your bookings from anywhere and at any time. You don't need to wait until you are at your office to view your client appointments. Just use your mobile device to put things in place.
11. Let Customers Book in Their Preferred Language
Sometimes, you may have clients from different nationalities who are not fluent in English. Instead of forcing them to speak a language that hinders them from expressing themselves properly, they can make their reservations in their native language. Bookly Pro is compatible with WPML, allowing for the translation of the text into a language that you can understand. The plugin supports the translation of 12 languages including English, Chinese, French, Japanese, German, Swedish, Russian, Italian, Spanish, Dutch, Romanian and Portuguese.
12. Add Woocommerce to Your Booking System
The integration of Woocommerce into your Bookly Pro allows you to utilize their payment gateways regardless of the size of your business. This is what makes Bookly Pro one of the best WordPress plugins for your store page.
13. Efficient Management of Your Customer Base
Bookly Pro enables you to efficiently manage your client base without breaking a sweat. The plugin provides you with an unlimited, sortable and searchable customer list. It also allows you to create and assign WordPress accounts to clients, view booking and payment history of each client, write and save internal notes about a client and add new customers directly from your calendar.
14. Set Different Prices for Employees With Different Skill levels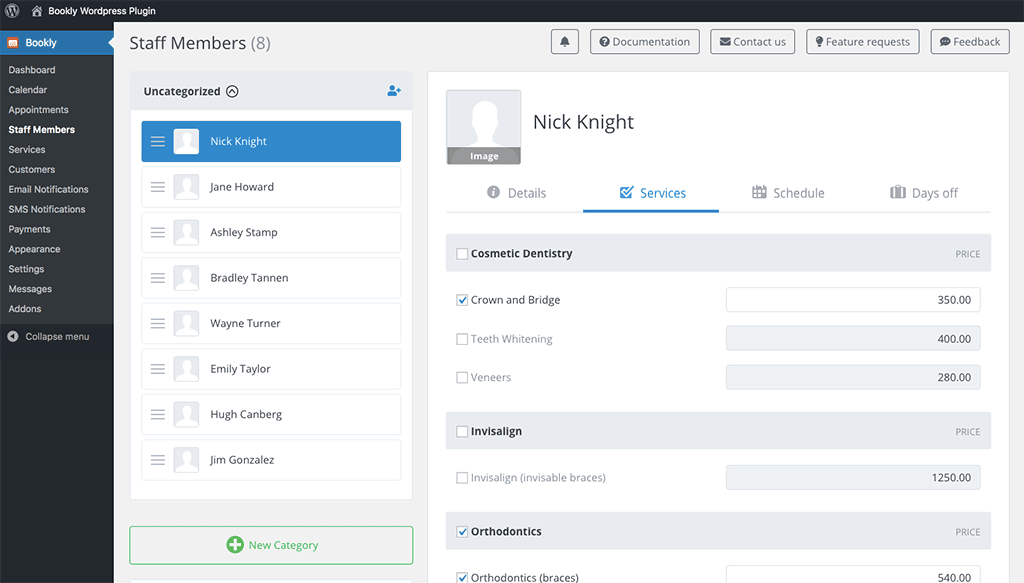 If members of your staff are at different skill levels, you can choose to add a price tag that matches the skills they possess. The services of an experienced employee could cost more than that of an employee with lesser experience. Your clients can choose whoever they feel possesses the right skill to satisfy them.
15. Import and Export Data
Bookly Pro allows you to export all kinds of information in the plugin including appointment log, list of customers, and customer details. You can also import client databases into the plugin. Bookly Pro is designed for the convenience of both clients and service providers.
16. Create Custom Schedules for Each Employee
With Bookly Pro, your employees do not have to stick to regular business hours. You can create individual booking hours for each employee. But you need to meet with them first to discuss the most convenient working hours for each of them. This way, clients can request for their services during the hours that they will be available. You can also add breaks and annual leave in the plugin.
17. Let Clients See and Edit Bookings Online
You can add a booking list to your site, and this will be updated automatically. Clients who want to see their reservations can do so by simply logging in with their credentials. When you create WordPress accounts for all customers, Bookly Pro automatically sends these login details to your clients. This will enable them to view or cancel their reservations.
18. Allow Clients to Cancel When They Can't Meet Up
Bookly Pro allows for cancellation of appointments for customers who are unable to meet up with the scheduled appointment. Sometimes, unexpected events and change in circumstances can prevent clients from showing up on the scheduled date. Instead of waiting endlessly for your customers to come, you can make Bookly Pro's cancellation option available to your clients. You should, however, set a minimum notice period for cancellations. This will prevent your clients from canceling on short notice.
19. Accept Deposit Payments
With the Deposit Payments add-on, clients will be instructed on the deposit amount that they can pay online at the time of booking. Their reservations will not be approved if they do not make the deposit payment.
20. Accept Group Bookings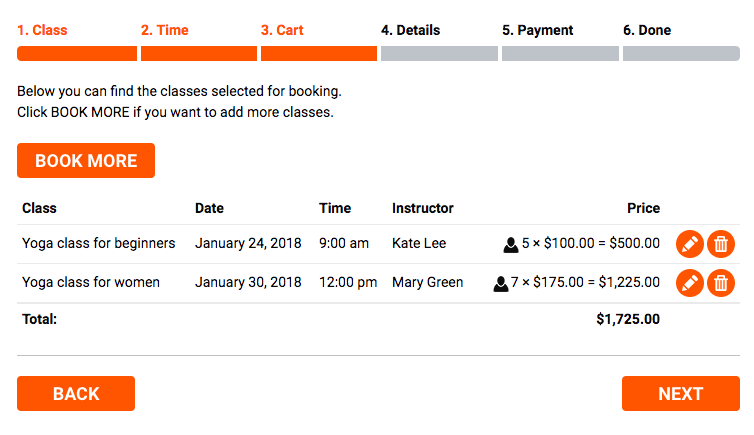 Customers can book reservations for themselves and other people on Bookly Pro. The Group Booking add-on allows you to accept group booking but the client should tell you in advance how many persons they are booking for.
21. Allow Clients Choose a Convenient Location for Their Appointment
If you have more than one business location in the city or country, you can allow your customers to choose where they will like to be served. With Locations add-on, your customers will be able to select a convenient place for their appointment before they pick a date and time.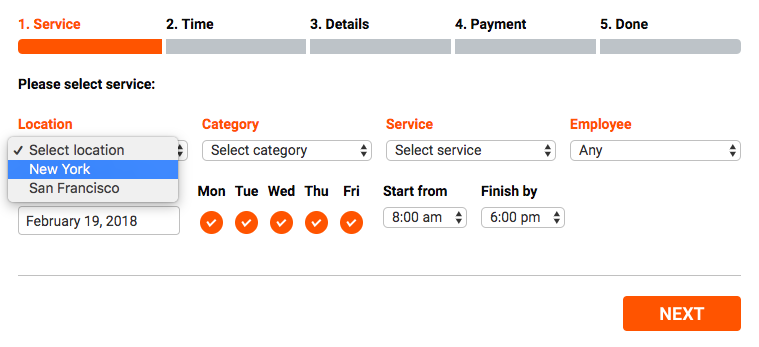 Bookly Pro is not your regular booking plugin, it is a personal secretary. With it, you can greatly enhance customer satisfaction and take your business to greater heights. Bookly Pro caters to the needs of businesses within the healthcare, beauty, education, medicine, and other professional sectors. Whatever the service you are offering, Bookly Pro can help you serve your customers better as it is one of the best WordPress plugins designed with the interest of clients and business owners in mind.