Every business has unique needs. This is certainly true when it comes to adding an online booking form to your website. Despite this many online appointment booking solutions lock you into "cookie cutter" forms with little or no flexibility.
Bookly is different. With Bookly you have access to a highly customizable booking form which lets you create bespoke forms for your needs. But what really sets Bookly apart is the extensive range of WordPress add-ons that are available.
Bookly WordPress add-ons allow you to integrate specific functionality. You can choose what features you need your booking form to have and what you can do without.
The flexibility of WordPress add-ons means that you don't have to decide upfront all of the features you are going to need from your booking form. With Bookly your online appointment booking form can grow with your needs.
Getting started with Bookly WordPress add-ons
In order to use add-ons, you will need to have Bookly PRO installed and activated. Once you have Bookly PRO setup, you will be able to add any of the dozens of Bookly add-ons that are available. You can purchase any of these add-ons through the Codecanyon add-on store.
The default configuration of Bookly PRO comes backed with a huge selection of powerful features which make it a great choice even before you install any WordPress add-ons. Just some of the features in Bookly PRO include:
Create an unlimited number of staff member profiles. Each staff member can have their own individual working schedule, profile and calendar;
Take payments with the popular PayPal Express checkout solution;
Compatibility with the leading WordPress eCommerce plugin WooCommerce;
A completely customizable booking form which can be viewed or managed from any device;
Templates to create SMS notifications or email;
Lists of all your bookings which can be filtered, sorted and searched.
On top of all of this, you receive six months of customer support, which is available any time of day or night.
Add-ons allow you to take this powerful framework and add custom functionality that meets the exact needs of your users. Here we'll look at just some of the way you expand the possibilities of your Bookly forms with add-ons.
Create and manage your tasks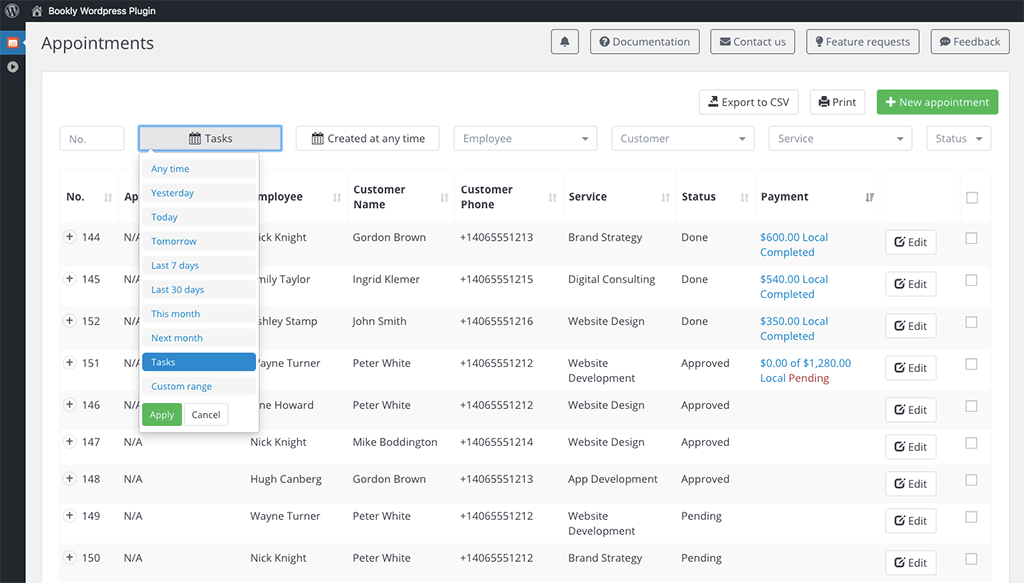 Not every business takes appointments which require the customer to select a specific day and time. Bookly's Tasks add-on makes it easy to create and manage tasks for these unscheduled bookings. And all of this is managed within the Bookly admin dashboard.
This can be helpful in a number of different ways. Firstly, the tasks add-on can serve as a to-do list. You can allocate tasks for your employees that they will need to complete.
Secondly, this add-on lets you change the process by which you accept appointments. Depending on the nature of your business, you might not want to require your clients to specify the exact time or date of their booking. This add-on lets you take those booking without requiring this information upfront.
For example, you might want one of your employees to pre-vet potential clients before making a time for the appointment. You can set that employee a series of tasks that they should go through before the appointment is approved. Once they have completed those tasks, the booking can then be converted into an appointment.
Another scenario is where you want to take bookings and then organize the scheduling for them afterwards. This may be because you don't have a regular schedule or you want to organize your schedule once you have a better sense of demand.
With the tasks add-on, you can remove the date and time booking feature from the appointment form. When a client makes a booking, that appointment is added to the list of tasks. You can then go through the backlog of tasks at a later date and turn them into actual appointments. When they have been turned into an appointment the client can be notified automatically of the date and time by SMS or email.
Bill your clients with invoices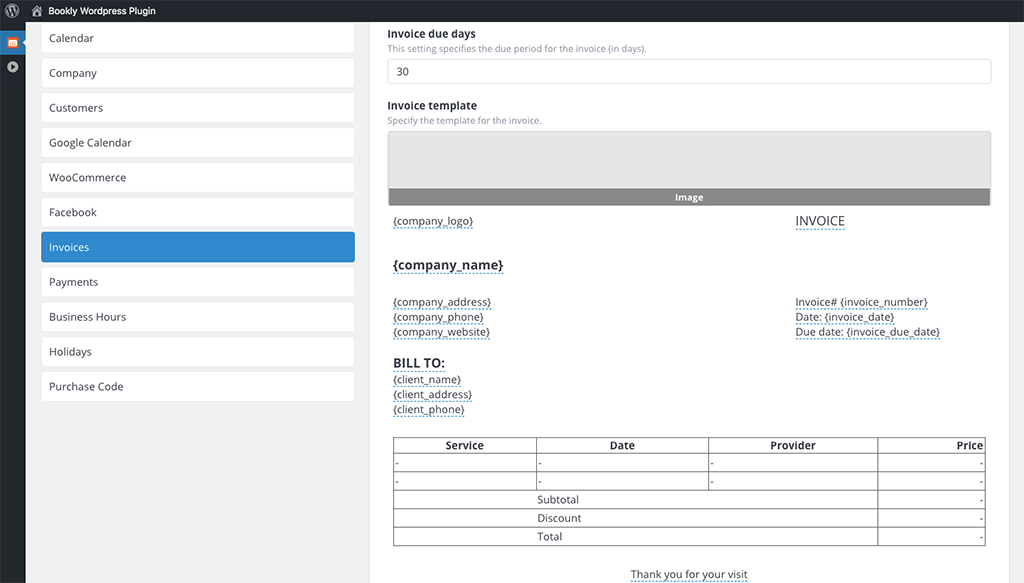 To run a successful service-based business you need to make sure that you are billing regularly. Bookly provides the ability to take payment for your bookings when the appointment is being made. With the invoice add-on you have even more flexibility about when you choose to bill your client. This makes it even easier to ensure you get paid.
The Bookly Invoices add-on lets you auto-generate an invoice directly from the Bookly admin panel. You can then have this invoice sent to your client either by SMS or email. Invoices can be sent automatically during any stage of the booking process. This includes once appointment has been booked or approved. You can also choose when the invoice should be paid.
Bookly invoice templates are customizable so that they look professional and match the rest of your company branding. Managing your invoices is also simple with this Bookly add-on. You can filter and view all of your invoices in the Payments section, then download any invoice as a PDF.
Enable clients to choose the exact duration of their appointment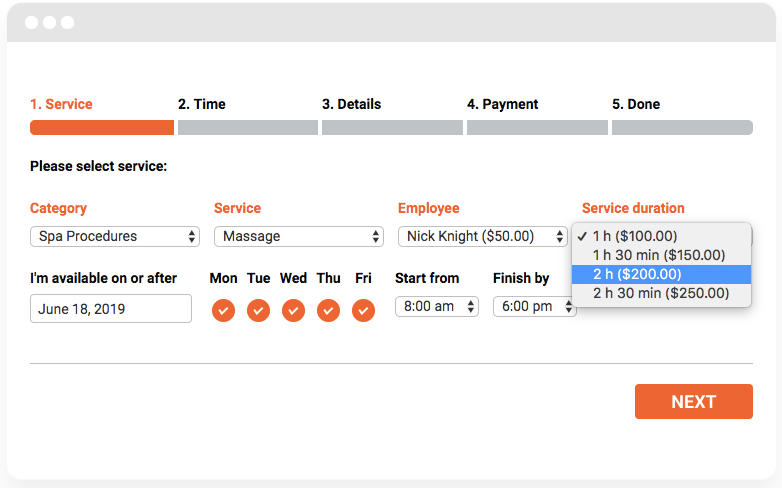 A common disadvantage of many online appointment booking solutions is that they limit the length of the booking. Often clients will only be able to choose a one hour appointment slot. Of course, many services don't fit neatly into a single hour. The end result is inconvenient for both you and your clients.
The Bookly Custom Duration add-on addresses this problem. It allows your customers to choose the exact duration for their appointment. While the client is able to choose an appointment length which best suits their needs, you are still in complete control of the process, as you can manually approve any booking.
In addition, the custom duration add-on automatically adjusts the price that your client will be billed. As you client chooses a longer appointment time, the amount that they will be billed will be adjusted proportionally upwards.
Google Calendar and Outlook Calendar integration
A lot of online appointment booking platforms require that you switch entirely to their processes and systems. But what if you are already happy organizing your scheduling through your Google or Outlook calendar? You might have a large team of employees who already understand and are comfortable with the current setup.
With the Google Calendar and Outlook Calendar add-ons you don't need to compromise. You can access all of the powerful booking and scheduling features of Bookly, but have them integrate directly with either Google or Outlook calendar.
The Google and Outlook calendar add-ons allow for bi-drectional synchronization with your Bookly calendar. This means that you will be able to manage and view your appointments in either calendar and have it automatically synchronize with the other one.
You can even further customise how your calendars synchronize. The add-on comes with three different synchronization modes to meet your specific needs. This includes the ability to choose how much of the appointment history that you want to synchronize. For example, you may want to have a more top level view of the appointment within your Google or Outlook calendar and keep more detailed information about the booking within your Bookly calendar.
The details that are included within your Outlook or Google calendar can be further configured using shortcodes. These short codes include the event title and the specific appointment or customer section.
Sort your customers into groups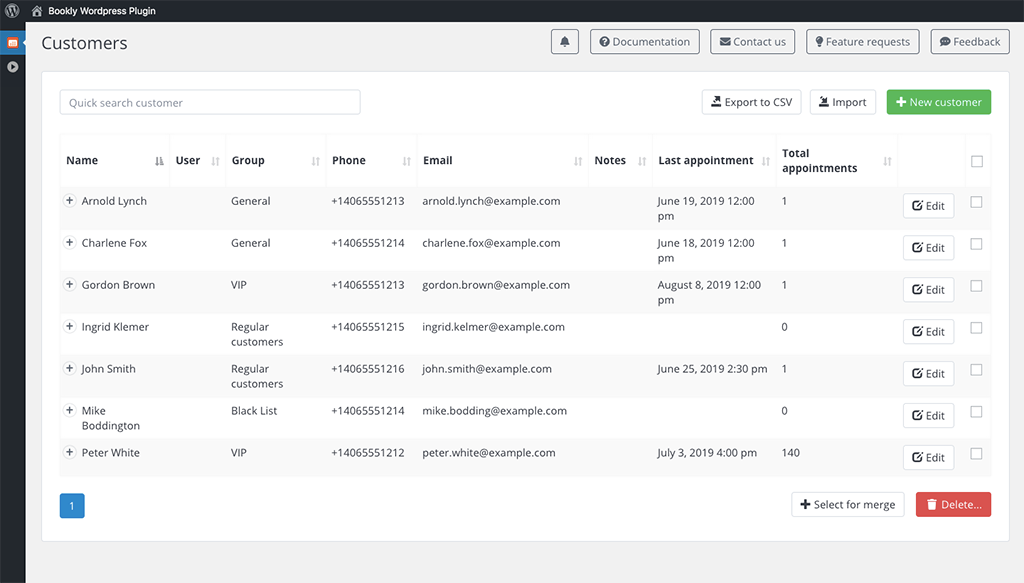 Not all of your customers are alike. You might have specific onboarding or training process that your customers go through. Once they have completed this process, you are comfortable having their appointments being automatically approved.
For brand new customers, you want to have steps in place to first vet them and manually approve any booking. Or maybe you want to offer a certain segment of your client base special offers or advanced classes.
With the Bookly Customer Groups add-on you can do all this and more. The Customer Groups add-on allows you to sort your customers into specific groups based on particular characteristics. Once you have categorized clients into particular groups, you will be able to implement different prices, services and booking processes.
You can choose to have certain services only visible if a customer belongs to the designated groups. You can also offer a promotion to only a set group of clients. There is no limit to the amount of groups you create, allowing for a lot of flexibility in how you handle your internal processes and marketing.
Provide specific locations to offer your services
Does your business have more than one location around the country? If so, you'll want to use the Bookly Locations WordPress add-on.
When you integrate the Bookly Locations add-on users will be able to select a specific property during the booking process. You can even assign specific employees or contractors with a particular location. This means that customers will only be able to select staff members that service that location.
With the Locations add-on customers can choose the location that they would like to book the service before they choose a specific service category.
And special days to your staff schedule
Not every month will be identical for your staffing schedule. Using the Bookly Special Days add-on you can adjust the working hours of your staff for those special days during the year.
This can include longer working days leading up to public holidays such as Christmas or you can assign shorter working days, for example, over the holiday period. With the special days add-on you can even create specific settings for each of your staff members.
When you use the special days add-on, it will override any regular schedule that has been created for that staff member. Clients will only be able to book staff members according to the settings that you have setup. This helps to avoid the embarrassing prospect of having to inform a client that the staff member they booked, isn't actually available on their chosen day.
Organize recurring appointments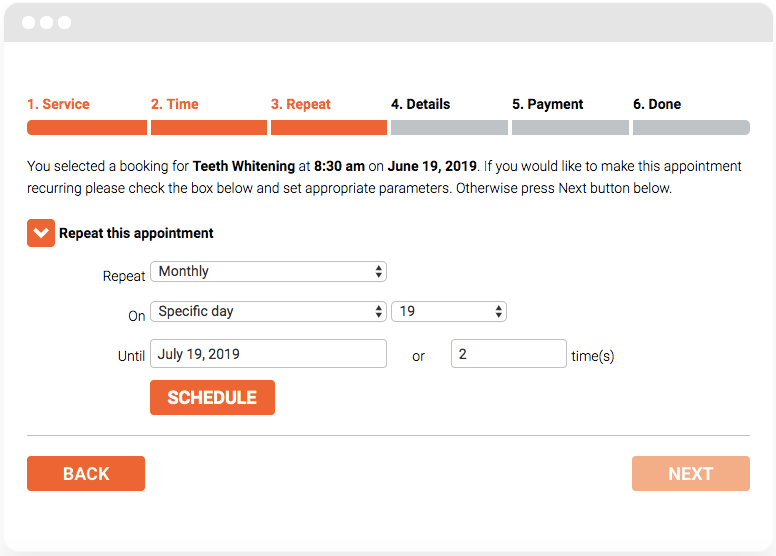 If you are running a service-based business, chances are that you have recurring customers. With the Recurring appointments add-on clients can automatically repeat bookings at custom intervals.
You can set a recurring appointment for weeks or even months in advance. Recurring appointments can be assigned to a specific service. If you do not want to offer recurring appointments, you can disable the option for a particular service offering.
Clients can choose whether they want to have the recurring appointment anywhere from a daily basis to once over the course of several months. Once a recurring appointment has been booked and approved, it will be made available instantly. If a client chooses an appointment time which is currently unavailable because that slot has been booked out, they will receive a suggestion for the nearest available time.
Recurring appointments work with other features of Bookly PRO including notifications, payments and synchronization with Google Calendar. This means that you can take payment for the entire series of recurring appointments upfront.
Offer coupons to your clients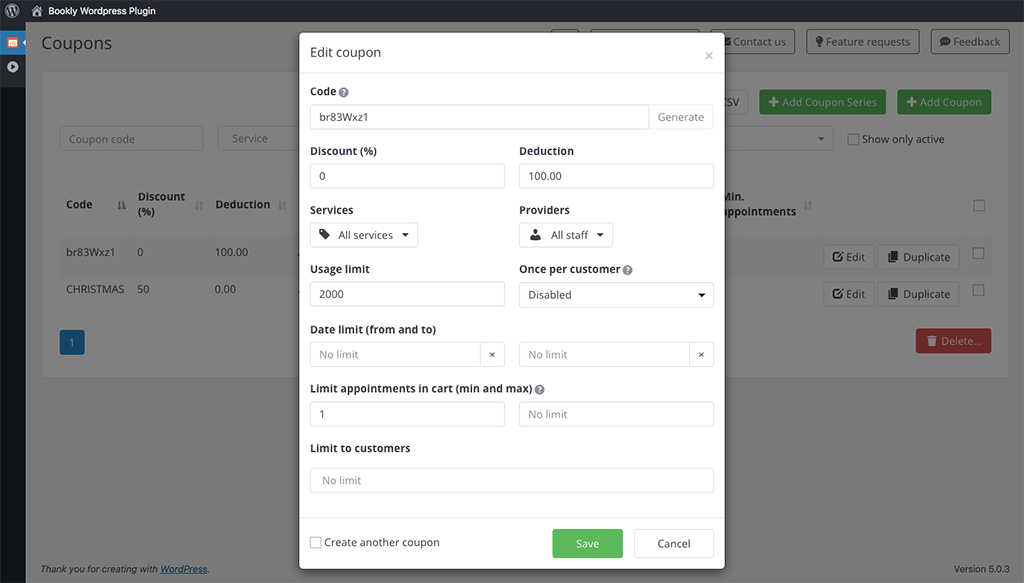 One of the best ways of attracting new business and rewarding previous customers is by offering coupons. The Coupons add-on allows you to create promo coupons to boost your sales. You can see the results of your coupon through the statistics dashboard.
Coupons can be offered to clients for specific services. Clients with a coupon will be able to apply the coupon code during checkout. When they pay for that service, they will be charged at a reduced rate.
Conclusion
With Bookly you don't have to settle for unwanted features or limited functionality. You can choose the features that your business needs to grow.
Bookly is constantly improving the core Bookly PRO plugin, as well as the add-ons. Any future updates are included in the initial purchase price. So you can be comfortable that the add-ons you buy will work now and in the future.