Expenditure on pet healthcare in the United States is predicted to reach $69.36 billion this year. That's up from $66.75 billion in 2016. Contributing to this rise in spending on pet healthcare, is increased ownership of pets. In fact, 68% of people in the US now own a pet.
Animal therapy centers play a key role in the pet healthcare industry. It's estimated that at some point in their life between 30–50% of cats and dogs will suffer from osteoarthritis. Once an animal begins to suffer from osteoarthritis it will continue for the rest of that animals' life. Receiving care at an animal therapy center is critical for providing quality of life for that pet.
The typical animal therapy centre will offer a range of services for pet owners. This could include hydrotherapy, massage, physiotherapy, grooming and more. This service might include both in-calls and out-calls. The complex range of services on offer and different pets arriving at the centre at each day necessitates a sophisticated online booking system.
Having an advanced booking system simplifies the process of arranging an animal therapy appointment easier for time poor pet owners. Standard animal clinic hours are usually when the pet owner is working. Having to call to arrange a pet and vet clinic visit during working hours isn't always ideal. An online booking form means that appointments can be made outside of pet clinic hours.
This streamlining of the booking process leads to fewer drop-offs in the booking process. As shown below integrating an online booking system also helps to automate staff scheduling. Staffing schedules can be immediately matched with appointments without the need for additional administration.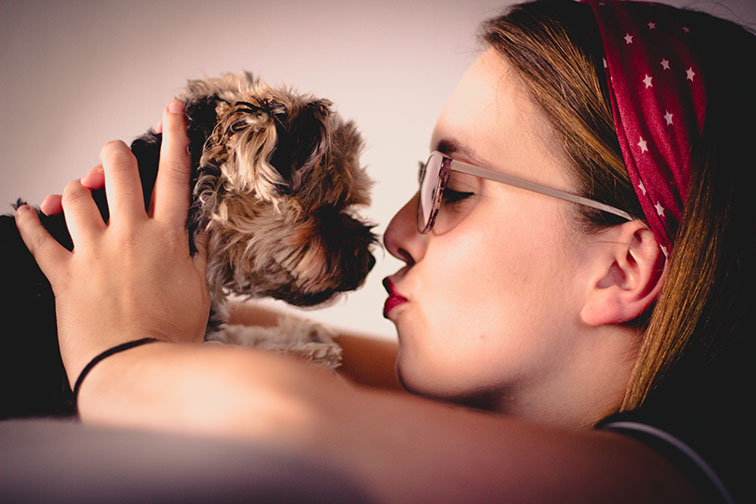 Here we'll look at the key benefits of adding an online booking process to an animal therapy center website for both clients and employees. We'll also show why setting up an online booking system is an easy process for anyone running a WordPress website.
Getting started with your online booking form
In order to get started with Bookly, the animal therapy center website needs to be using WordPress. WordPress currently powers 35% of all of the websites on the internet. It's extremely well supported with a passionate developer community and a huge range of plugins and themes. These let you customise the exact look and functionality of your animal therapy center website.
Bookly is one such plugin. It is designed to work with any WordPress website and can be setup in only a few minutes. There are two different options for installing this online scheduling plugin: Bookly and Bookly Pro. Bookly is the free version of the plugin and allows animal therapy centres to explore whether it is the right solution for them without having to invest any funds. Bookly Pro is the paid version of the plugin which offers a very extensive range of functionality.
In order to install the free version of Bookly, you simply need to search for Bookly through the Plugin section of the website's dashboard. Once the Bookly plugin has been selected, simply install and activate the plugin and you are ready to get started setting up your booking forms.
If you opt for Bookly Pro then you need to visit CodeCanyon. Create an account, purchase the plugin and then download the zip file that is provided. Again, visit the Plugin section of your WordPress website dashboard. Upload the Bookly Pro zip file and install. Activate the plugin and you are ready to use all of the features of Bookly Pro.
Key benefits of Bookly for animal therapy centre owners
As mentioned in the introduction there are some major benefits to adding Bookly to an animal therapy center website. These benefits for both the business and the clients that they serve. Here we highlight some of the ways that having Bookly can improve business operations and increase revenue while delivering a superior service for clients.
Allow pet owners to book an appointment outside of pet clinic hours
The type of pet owner that is able to pay for pet therapy tends to have a busy work schedule. For these pet owners taking time out of their day to call an animal therapy centre or to engage in a series of email exchanges to make an appointment, may simply not be possible. These pet owners need and expect the process of making a booking for their pets to be as easy as possible.
Having an online booking form means that pet owners are able to make an appointment during the evening, even if the animal therapy centre is closed. As shown below, Bookly forms provide a sophisticated range of options, eliminating the need for interaction with a member of staff. Bookly forms are also designed to be mobile responsive. This means that making an online appointment with a smartphone is no more difficult than on a laptop or desktop computer.
Take payments for animal therapy programs
Providing animal therapy programs can be expensive, so you want to eliminate no-shows and lock in payment. Taking payment during the booking process achieves precisely this. With prepayment for the service there are no invoices to chase.
At the same time, it is convenient option for pet owners who are used to purchasing products and services online. What's more because the service has been prepaid, they can quickly drop-off and pick-up their animal without needing to pay when they arrive.

Bookly integrates with more than a dozen of the most popular payment gateways. This makes it easy to accept different forms of online payment and to integrate with your existing financial processes. All bookings can be filtered by whether payments have been made or not.
If you prefer not to take full payment during booking, you can also opt to take a deposit instead. This can be either a percentage of the total service fee or a fixed amount. The deposit that has been taken and the amount that is still owing will show next to the appointment booking. Front of desk employees can quickly see what is remaining to be billed, after the service has been delivered.
Provide appointment notifications for the pet owner
Automated appointment notifications help to streamline your business operations, reduce no-shows and allow clients to quickly find the key details of their appointment. Bookly allows you to setup automated notifications to be delivered either by SMS or email. These notifications can be set to be delivered at predefined times leading up to the appointment. The notification will include the date, time and place of the appointment, so that the pet owner doesn't need to search for these details.
Bookly notifications can be customised to meet the needs of the business. You can include fonts, colour and branding from the animal therapy centre. This helps to improve brand recognition and provide a professional image for your animal therapy centre.
Create different web forms for various animal therapy programs
As noted in the introduction, there is likely a range of different therapy services that your centre will provide. These forms will require taking different information from the client. You may also prefer to take payments or deposits for some of the services, and not for others.
Bookly provides as much flexibility as you require in this regard. You can have different forms for each of the services that the centre provides. These forms can display different fields and hide or show steps depending on the requirements.
Have package deals for animal therapy programs
Many pets will require a range of different therapies. By offering these different services as a package, you can offer you clientele better value for money, while also increasing the average revenue per customer.
Using Bookly you can create package deals where you offer different services grouped together. These can be priced differently to their individual service price. Customers can book all of the different services during the same booking and arrange individual appointment times for the different components of the service.
Let customers create repeat bookings
In addition to requiring different types of services, clients will also typically need to book appointments on a recurring basis. When a customer makes an appointment with Bookly, they will choose the date and time of their first booking. They can then be given the option to repeat that appointment at recurring intervals. The total series of bookings could be for weeks or months ahead.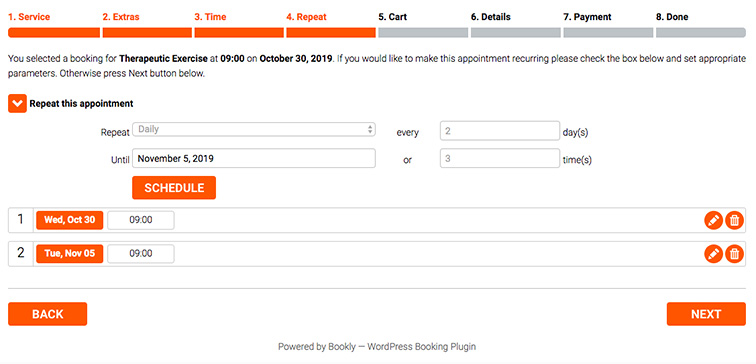 As the administrator you can give or restrict clients from having the option to book appointments on a recurring basis. You can also determine the payment options for those recurring appointments. This could include making the client pay for the series of appointments upfront or on a per booking basis. You can also determine the intervals which are available for a recurring appointment.
The Bookly system will try to arrange the recurring appointment with the same employee at the animal therapy center. This provides continuity for the client and the pet. If this employee is not available, the appointment will be made at a time which is closest to that requested by the client.
Provide differential pricing depending on your animal clinic hours
Many busy clients would prefer to bring in their pet for therapy outside of traditional working hours. These appointments may soon become overbooked and there may be additional staff costs. In order to deliver a convenient service for your clients who wish to pay and maximize your centres revenue, it makes sense to offer differential pricing for early morning and evening appointments.
With Bookly you can alter the price of appointments depending on when they are booked. This means you can offer normal pricing for bookings made during standard animal clinic hours and add an additional charge for out-of-hours appointments.
Offer services in different locations
You may have multiple centres or deliver services in different locations. Multiple locations often create confusion for clients and scheduling issues for employees. Bookly resolves this by allowing customers to book at different locations that you set.
When the client receives either SMS or email notifications about the appointment it will include the location details for their appointment. The location will also show up on your Bookly calendar, so that both administrators and employees have visibility where services will be performed.
Let client book additional services or longer appointments
Providing additional services or allowing clients to book a longer appointment allows you to maximize the amount that customer spends per booking. At the same time this add-on delivers greater value for the client and the pet.
For example, as an addon service to physiotherapy, you may also want to offer grooming. From the customers perspective the client gets the convenience of having their pet groomed, while also taking care of the animal's therapy needs. Addons don't just have to be services either. There may be physical products that can help the pet with their therapy. You can connect useful products with a related service. Not only does this create another opportunity for a sale, it means that the client doesn't need to look elsewhere for the product they need.
Allowing customers to extend the amount of time of an appointment can also be useful. Clients may want a longer therapy session for their pet, while others may opt for the standard-length appointment.
Customise settings for different services
Animal therapy services will often vary significantly in terms of the number of employees required to deliver them, the length of the appointment and more. With Bookly you can completely customise specific services.
You may, for example:
want to assign more than one employee to a particular service;
include a buffer at each end of the appointment;
predetermine the length of the appointment;
choose to limit the number of appointments that any customer can make for that service.
In order to make it easier to analyse individual appointment in the Bookly you can colour code them. Each type of service can be assigned its own unique colour. This allows you to see at a glance how popular a particular animal therapy programs is in any given month. Colour coding will only be visible to employees and administrators through the Bookly calendar.
Conclusion
Pet owners are more than willing to spend money to ensure quality of life for their pet. But these busy clients do require that making those appointments fits the demands of often hectic schedules. Bookly is the perfect fit for animal therapy centres, with the flexibility to deliver customised service solutions that both your employees and clientele will love.