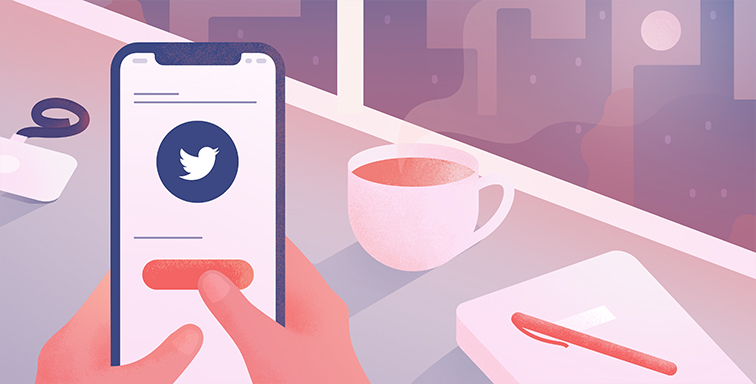 10 ways to use Twitter for business success
Want more clicks from your Twitter to your website? Want to gain more followers?
While many brands turn to Twitter to gain brand awareness, they don't always hit the mark, getting only a few clicks on their links.
The good news is, it doesn't have to be that way! With focused action, you can generate more leads with your Twitter. Since social media is now more important than ever in today's society, brands are seeing this as a gateway to more leads and more sales. With social media as a gold mine, why miss out on all that potential business?
Here are 10 ways that you and your business can use Twitter to grow successfully:
Use Twitter Chats
One of the easiest ways to gain more followers is to utilize Twitter Chats. Not only will Twitter Chats ensure that you gain more followers, but it helps you gain active followers.
But, how are followers considered "active"?
Twitter Chats allows you to be more conversational with your audience. Since people use Twitter to talk to one another and discuss their favorite topics, you can use Twitter Chats to talk about and share ideas, not just show them your content. As you make connections to your followers through chats, be sure to follow them back, favorite and retweet their content, and engage in what they're saying. This allows you to build meaningful relationships, so that people will remember you and your brand.
Have A Strategy And Schedule
Having a posting strategy is important, because your strategy acts as an approach on how to gain and keep your followers interested. Plus, having a posting schedule is important, because then you'll know what you're tweeting and when you're going to tweet it. With that said, create an editorial content calendar to keep track of your scheduling.
And as always, don't forget to promote your tweets to gain even more visibility on the platform.
Connect With Prospects
It's important to establish connections with your prospects, since you're ultimately selling to them. So when connecting with on platforms like Twitter, it's imperative that you establish a human face by interacting with followers and following up with them. Whether they're just regular people, or entrepreneurs, etc. get your foot in the door by connecting with them on Twitter.
Your Brand Must Have A Voice
When running a business, you must portray yourself as professional. Leave the "Internet" language, or casual speak (i.e. slang), at the door, unless it's a true part of your brand. But for business-related conversations, be professional, so that your prospect (i.e. CEO, CMOs, influencers, publications, etc.) is fully engaged. Plus, make sure that your tweets, replies, and retweets are free of spelling and grammatical errors.
Showcase Expertise
When introducing your brand to people, they should see you as an expert of what you have to sell or offer. And with many users online every day, it's crucial to stand out above your competitors.
First, get verified on Twitter (which is the blue check-mark to the right side of your Twitter name). Next, without being overbearing, list your various companies, endeavors, or accomplishments in your bio, along with the link to your website.
You can also create or join groups and forums to get yourself out there with other people like you, or those who might be interested in you. Groups and forums allow you to participate in lively discussions, and contribute to conversations that may extend beyond Twitter. Just keep in mind: You have to respond to people in a timely manner, which shows other users that you're open and available to communication.
Twitter Ads Can Help
Broken down into Promoted Tweets, Promoted Accounts, and Promoted Trends, Twitter ads are a quick way to get your message directly onto a consumer's feed. Clearly marked with a "promoted" icon, users are able to interact with most promoted content in much the same way as organic content. If you follow, like, or Retweet content on Twitter, including promoted content, your followers may see your name associated with that content.
Lead Traffic To Website
Did you know that cross-pollination isn't just for the bees?
In fact, cross-pollination between your website and Twitter account is a thing, believe it or not. All you have to do is embed a "follow" button and or put a timeline widget on your webpage. Also, mention your website on Twitter frequently to direct people back to your source, while also listing your domain in your main biography. Thus, you'll generate leads in this way.
Contests And Giveaways
Twitter contests let you convert followers to email leads and (potentially) customers.
Plus, the possibilities are endless. Just choose the event (i.e. sweepstakes, giveaway, etc.), pick the prize, create and promote the event, and then see what happens.
Once your contest ends and you've selected a winner, keep the buzz going by sharing who the winner was on your Twitter or website, send a follow-up email to those who had entered, share details about future contests, etc. This lets you gain more brand awareness long after your contest has concluded.
Use Automation Tools
When growing your business with Twitter, you may want to use automation tools to make marketing less time-consuming. Automation tools allow you see who your followers are, their location, and so much more. You can even share reports and compare social graphs to other users.
Some good examples of automation tools that can be used on Twitter include:
TwitterFox
TweetDeck
SocialOomph
Hootsuite
Analyze Performance
Finally, monitoring and analyzing the performance of your tweets and page are a must. Twitter's Business Analytics can summarize your performance in a concise report. Plus, you can even cross-analyze your progress between different social media platforms with various analytics tools.
Conclusion
With Twitter as a proven gold mine for brand marketing and lead generation, these are just 10 ways that your business can make its mark on the platform. By utilizing tools to facilitate a fun, fresh, and informative experience for your followers, you can also keep in mind these tips based on your business's needs, and then succeed in your marketing endeavors.
Katherine Rundell writes and edits at Essay Writing Service. As an experienced blogger, she is driven by her passion for providing the best content possible, gaining reader satisfaction.