How art classes help students?
There has long been an ongoing discussion regarding the validity of fine arts education within schools. Some assume that they're frivolous, comparing to the Common Core and STEM-focused subjects, others argue the fine arts are intrinsically valuable to both education & life.
The fact of the matter – and yes, we can indeed say fact, as many advantages of arts education have been thoroughly researched – is that the arts can teach life skills, inspire students & allow them to experience the world in many ways.
What qualities & benefits does Art Education provide?
Creativity
Often the 1st skill many people think of when they hear the word "art" is creativity. It is an incredibly important thing to foster and hone, as people apply creativity to just about every aspect of life – problem-solving, everyday writing, projects (business or otherwise), etc.
Improved Tolerance and Empathy
Students who experience an art show have an increased capacity for tolerance & empathy. This is most likely because being engaged in art exposes students to viewpoints outside of their own. They come face-to-face with other people, places, and ideas, and this can help them learn to see the world outside of themselves and tolerate the differences they'll encounter in the future.
Diligence
Painters will tell you that practice makes perfect. So will musicians, writers, actors, and just about any type of artist out there. To get better, individuals must be persistent in their craft. Students in band will practice on a daily basis – often before school, during & after on their own. Learning to have this diligence early on will leave a lasting impression on the student, who can take their hard-earned diligence and apply it to other parts of their life.
Improved Test Scores and Graduation Rates
While researchers aren't in the same agreement on art education's ability to improve results in other subjects, some studies have found a link between art education, higher test scores & graduation rates. While the reasons for this aren't entirely clear, it's possible that engaging students in art, gives the ability to think more creatively in other subjects. It may also help students to better understand how school subjects connect to the world & their own futures.
Patience
Photographers must have an excellent sense of timing & might have to wait for a while in order to get a good shot. A flute players, who try to master a difficult section of a piece will have to have patience with themselves if they make mistakes. In order to get better at any skill – artistic or otherwise – a lot of time & effort will need to be put into it. Nobody becomes Van Gogh overnight.
Expression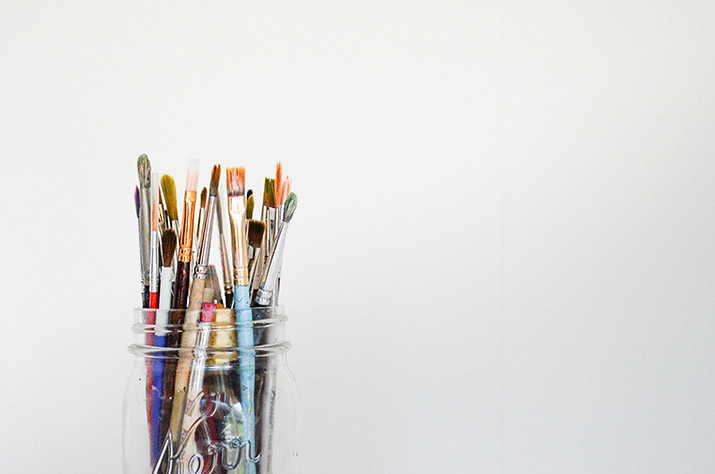 There's no doubt that the teenage years can be difficult and tumultuous. Instead of rebelling in potentially harmful ways, teens engaged in various arts express themselves in a positive way through a creative outlet.
Improved Resiliency
Producing art, rather than simply experiencing it, may also be beneficial for students. As a recent study found that visual arts production can change the wiring of the brain cells, improving areas that help us manage stress. Adults who produced art, showed improved psychological resilience – a benefit that will help them better cope with future stress.
Teamwork
Many forms of fine arts require more than one participant. Band, drama, orchestra, choir and film are team efforts so students can learn the importance of working with others and understanding their contribution to the bigger whole. For example – marching band requires students to master their placements – if one person is off, the entire picture is likely to endanger. This emphasizes the importance of the individual within the larger organization. It's a skill & mindset that will be vital down the road.
Appreciation for diversity
The world is a big place filled with fascinating people from all walks of life. An appreciation of the arts can lead to an appreciation of those different people & cultures. This can support students in working with people unlike them in the future & showing respect to everyone they meet, regardless of similarities or differences.
Scientifically-Proven Benefits
There is no shortage of scientific studies that highlight the importance of the arts in education. For this article, we'll focus on one conglomerate study – Champions of Change: the Impact of the Arts on Learning (Fiske, 1999) which featured a number of different scientific teams looking at various aspects of the influence of art.
Higher student attendance & lower dropout rates.
Fewer brawls, better understanding of diversity, and greater peer support.
The arts provide challenges to students of all levels—from beginner to expert.
Students learn to become engaged and self-educating. Instead of just regurgitating facts, they actively seek new information.
21% of students with low socioeconomic status, who had studied music scored higher in math versus 11% of those who hadn't. By senior year, these numbers grew to 33% & 16%.
There are, of course, many other benefits of fine arts education – too many to list here. It is a vital part of the school system & must be appreciated, not left aside. If you're signing up for classes, try to include choir, band or visual arts. If you don't have time in your busy schedule, try joining an art club at your school.
Teacher education approach
Talk about the lesson for days or weeks – good ideas grow over time. Consider using questions that make students curious and inspired. Encourage some individual ideas and approaches.
Distribute supplies (avoid disruptions later).
Review something that was studied recently and introduce today's work. Using questions during the review lets students know that you expect things to be remembered and used again.
Practice what is new before students are asked to be creative with it. Students that have hands-on practice prior to the project are apt to be more confident & creative than those that have no idea what they are doing. Hands-on practice and questions can replace many teacher demos and examples that could dampen individual imagination, thinking and creativity.
Student time on task – often motivational open questions are used to help enrich, personalize, and focus ideas during this time. If things are not going well, stop everything and refocus the class. If things are going well, it is good to back and allow creativity to flow.
Present main assignment – motivate more than one way. Some ways include touching, seeing, hearing, tasting, smelling, games, practicing a process, competitive idea teams, drama, collaborative projects, dance, poetry experimentation and accidental series, and so on.
Critique time – students can learn critique approaches that are both affirmative & discovery-based that encourage learning without turning off or discouraging the participants.
Endings & connections (discuss related art history & art in their lives) – review what was learned and how they learned. How we learn in studio art is often quite different than in other classes.
Setup & foreshadow upcoming sessions to activate thinking, sketching, journaling, subconscious thinking, and ideas.
The order in which things are done tells a lot about the teacher's philosophy of education.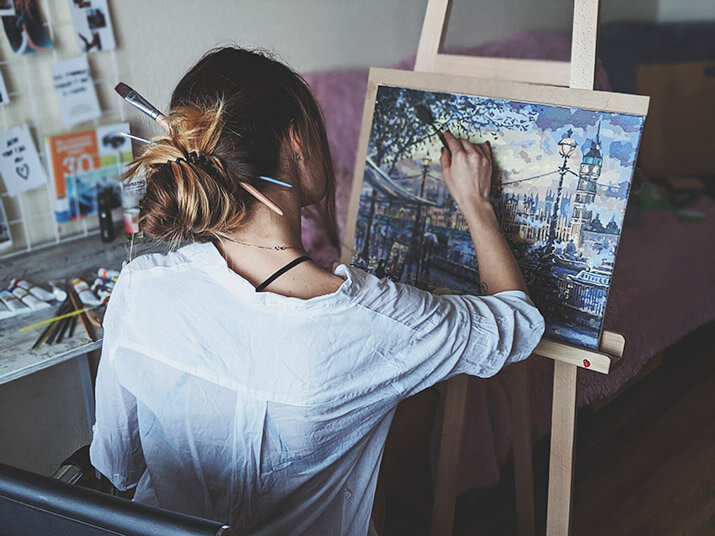 How to make money teaching art classes
Have you ever questioned, if and the way you'll get profit by doing art? Otherwise, you are already doing a living and need to expand your financial gain along with the help of your creative side projects.
Art lessons might target one demographic (such as youngsters, teens, or adults) or be offered to all or any demographics. Similarly, your lessons might concentrate on one specialty (such as painting or ceramics), though it's within the artist's best interest to show in as several disciplines as they will.
Create an internet faculty containing a number of courses that facilitate users to learn what you recognize and do. Videos, workbooks, exercises, live session… no matter what it takes to present users enough worth for his or her cash. They learn a brand new talent, receive loads of cash, and you expand your personal brand as a professional at a selected skill… it's a win-win state of affairs.
Consider what audience you'll really fancy operating with most. If you prefer youngsters, teaching art to youngsters is often fun thanks to the possibility to win profit. Youngsters bring a spark and type of energy to art that no adult will even try and match. However if you discover yourself impatient with the insufficient ones, the hours can probably drag.
A lot of individuals assume that it's easier to show youngsters than to show adults, however, the alternative is often true. After you get a bunch of grownups in an exceedingly space, outside of work, paying their own cash to be learning one thing, you recognize they require to be there. If you would like your students to possess an exact level of maturity and focus, teaching art categories to adults is unquestionably the thanks to go.
Plan your business
A clear set up is crucial for fulfillment as an associate businessperson. It'll assist you to plan the specifics of your business and see some unknowns. Some necessary topics to think about are:
What are the startup and initial costs?
Who is your target market?
How long it'll take you to break even?
How will you name your business?
What are the prices concerned about opening an art lessons business?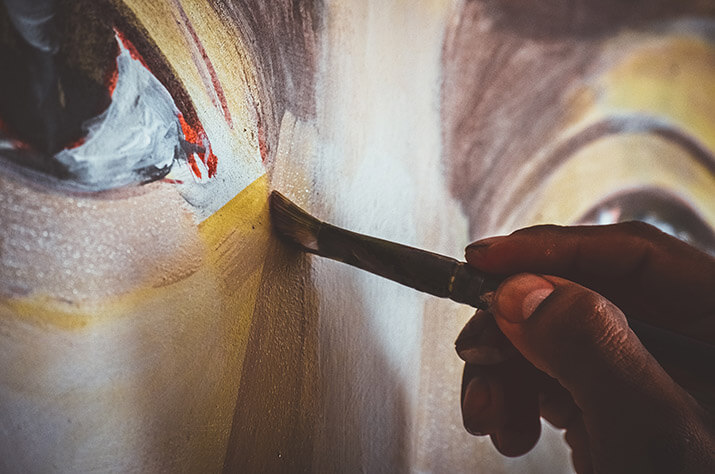 How much it is worth to open your business hinges greatly on wherever you may be conducting lessons. For example, many of us teach out of their homes if they need enough area to try and do, therefore, this can fully eliminate the requirement to acquire a further monthly rental payment. If you are doing hire out of a special area, take into account dealings with little living accommodations that are within a house. This enables you to have the good thing about a separate area for much but leasing business property, and whereas costs vary based on region and size, you'll probably rent such an area for fewer than $1,000 a month.
One creator reported that dealings and renovating such an area prices her $5,000 at first, however, this enclosed a good quantity of painting, cleaning, and daubing, all of that she paid professionals to try and do on prime of things like security deposits to secure the situation. On the far side paying for the area, however, your solely real prices are the prices of your materials, and whereas this varies supported what you may focus on, you must be ready to start for fewer than $500. You'll produce a webpage for complimentary if you need it, although most of your true advertising is going to be done via social media like Facebook and Instagram, and such advertising is fully free.
What are the ongoing expenses for an art lessons business?
Arguably, the most effective issue concerning this business is the lack of true current experiences. As mentioned earlier, a good variety of art academics teach from their own homes, therefore your solely real expenses return from materials and mileage, each of that is utterly acceptable for you to charge customers for. Thus, your solely true due prices might be the shape of traditional advertisements you decide on to create and therefore the fee for any professionals you still use, like an accountant for your business. This suggests that, with enough customers, this could be a really profitable venture.
Who is the target market?
Sometimes youngsters are your best purchasers. Their minds are at the same time open to new ideas and receptive to direct instructions, and they are less possible to be excessively essential of their own work. This can't be forever true of teenagers and adults, who may generally disrupt your lessons.
How do art lessons business make money?
Obviously, a business specializing in art lessons makes a profit by charging purchasers for the art lessons. The precise quantity you charge can vary depending on the subject, lesson time, venue, and whether or not it's a very personal lesson or not.
How much you can charge customers?
In time, you may understand the most effective value that works for your individual area. However, a decent rule of thumb is to charge between $40 to $100 per hour of one-on-one instruction and between $25 to $50 for an hour, per student, of a little group. If you're willing to travel to purchasers, you must either charge additional upfront or just bill them an extra quantity for miles driven or traveled. Finally, you must contemplate a business model wherever you provide many weeks of lessons and charge a lower rate (between 25%-50% lower) per hour; this makes it financially a lot of engaging for individuals to be your purchasers for an extended time and ultimately advantages your bottom line.
How much profit can an art lesson business make?
Depending on your quantity of purchasers, this will be a really profitable business. If you imagine a "standard workday" of teaching for eight hours and charging students a lower finish of $50 an hour, then the duty will simply bring over $100,000 a year, with little overhead and therefore the ability to regulate your own hours and do what you're keen on. The liberty of your schedule suggests that you'll additionally supplement your business financial gain by marketing your own art and/or teaching at native faculties (which is in a different way to effectively advertise yourself as well).
How can you make your business more profitable?
Make sure that your business name is catchy as well as your social media pages are participating and spirited. Keep your home or different studio house heat and professional. Always remember to indicate your students what quantity their skills are growing at intermediate lessons; this develops your rapport with purchasers when it validates their desire to rent you to assist them to develop their skills.
How will you name your business?
Choosing the proper name is extremely necessary. We tend to suggest checking if the business name you decide on is obtainable as an internet domain and securing it early thus nobody else will take it.