There's no denying the fact that photographers are creative people who add spice to an occasion and make it unforgettable. Pictures help to keep the memory of people, events, and places alive. If you are a photographer, just know that you put smiles on many faces every day with the work you do.
However, photographers need to keep working hard to get clients if they want to make a profit. Having many clients means more bookings and more money for the photographer. But what can you do to get more people to request your services? Consider the following suggestions on how to get more photography bookings.
Make Booking Easy
If your clients can't reach you and make their bookings whenever they want to and from wherever they are, they will be discouraged and will probably go somewhere else. Don't make your booking process stressful and complicated. Your clients want comfort and if you can't offer them that, they will walk away. You also need to know that some clients will want to make inquiries before they eventually make their bookings. If you do not respond promptly to their inquiries, they might grow impatient and conclude that you are either too busy to respond or just incompetent.
Improve Customer Experience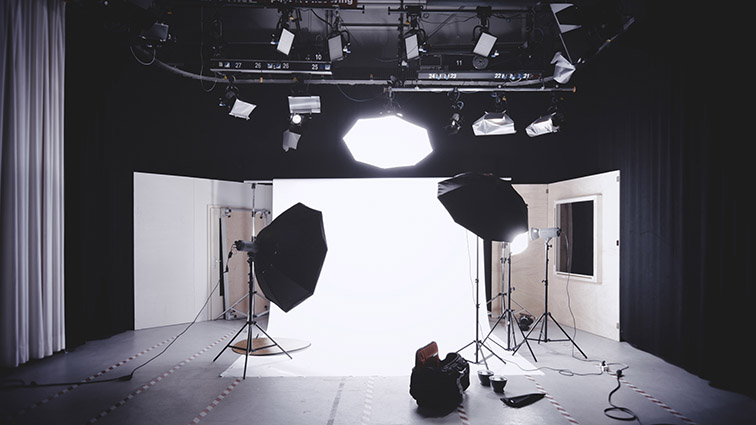 Every business owner knows that customer satisfaction is a priority. Without your clients, your business will not exist. It is therefore pertinent that you do all you can to improve your customer experience. Remember, a happy customer is a loyal customer. When your clients are pleased with the quality of services you offer, they will be moved to tell others about you. They will be quick to refer you to their friends and family members who may want a photographer to cover their event. The truth is many people prefer to work with photographers that have been recommended to them by trusted friends and family. So look for ways to provide an unforgettable experience for each of your customers, so that they will refer you without hesitation.
List Your Prices
When booking photography clients, many of them often ask about the cost of your services if it is not listed on your website. When you tell them how much you charge for a shooting session, some of them may be overwhelmed and may not even think things through before contacting another photographer.
However, when you list the price on your website, prospective clients will have the time to think about how much they can afford and if they can make adjustments to be able to pay for your services. Stating the services you offer and how much each of your photography packages cost on your website helps to prevent confusion.
Showcase Your Best Work
One of the best ways to market yourself to prospective clients is to showcase your work on your website. Don't just put up any picture, put up your best work. If there is a particular shoot that stands out for you, put up the photographs.
Visitors will be thrilled to find something unique on your site. By showcasing your best work, you let your clients know that you are skilled at what you do. They will likely not feel that your services are not worth the price when they are convinced that you are an innovative photographer.
Create an Amazing Website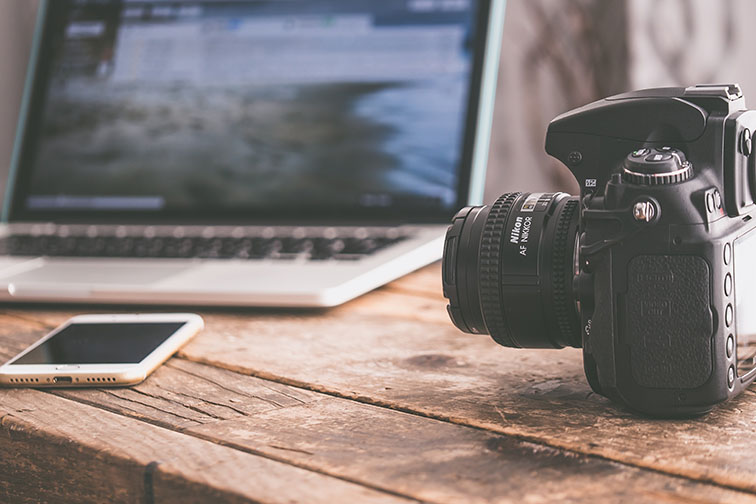 You need a website if you want to get more photography bookings. Your website is often the first point of call for first-time clients. They will want to see previous work you have done, read reviews, see your pricing as well as the packages you offer. A well-designed website gives you credibility and adds professionalism to your work. Your website represents your brand image. So ensure that it is clear and easy to navigate.
Now that you have ideas on how to get more photography bookings, you may be wondering what you should do first. Well, a good place to start is to create a website where clients can learn more about your brand and get a glimpse of your creativity. But what kind of website should you create?
A WordPress website is the best option for your photography business. Having a website on WordPress allows you to install different plugins such as Bookly and enjoy the numerous benefits that it offers. A booking plugin which is also called a booking system or an appointment scheduling system can help you get more bookings from potential and existing customers. Consider its benefits:
1. Makes Booking Easy and simple
With a photography online booking system, you can reduce bookings over the phone. The reality is that some clients find it difficult to pick up the phone, dial the number of a particular service provider and book an appointment. Most times they have to call more than once to get all the information they need. This is a lot of work especially for people who don't like talking to people they have not seen before. It is easier to pick up their mobile devices, go to your website, check out what you offer, your prices, and your availability. If they are satisfied with the information they have on your website which is the case most times, they will book a session. It's easier, simpler and more straightforward than booking over the phone.
2. Eliminates Last Minute Preparation
Some clients can be very busy. They may be too preoccupied with their work during the day and may forget to call in and book a session. Some of them may keep procrastinating until it is one day to the event. If they contact you and you accept the job, you may not give it your best. This is because you did not have time to prepare.
With a booking plugin, the client would have made the booking in advance, giving you enough time to put your things together and think of ways to make the session more memorable. When you have time to prepare, you can be sure to be at your best during the shoot, rendering quality service that will blow the minds of your clients.
3. Allows You to Give Your Website a Professional Look
Photographer booking software allows you to customize your website and make it look professional. Booking plugins like Bookly come with a variety of options that will fit any brand. You can modify the colors to match your brand, put up employees' photos for clients to choose whom they want to work with. You can also create a gallery of photos featuring some of your best works. With the booking plugin, you can also choose how you want your clients to view your booking availability.
4. Allows You to Reach More People
We live in a highly technological world and everyone wants the easiest and fastest way to get things done. You need to know that most of your clients are tech-savvy and would appreciate it if you use a booking plugin. This way they can contact you from anywhere and at any time using their mobile device and internet connection. When reaching you becomes very easy and convenient for most of your clients, they will want to refer you to their friends and family who may need to cover an event or have a photo shoot. With their referrals, you can increase your clientele in no time.
5. Saves Time
Think about how many hours you or your employee spends every day on the phone attending to clients who want to book photography sessions. This time can be dedicated to working for your clients and improving the quality of the service you render. Allow the clients to book their appointments at their own time and pace. Spending long hours on the phone talking to different clients can increase the workload of your staff as they will also have to attend to other important business matters after the call. At the end of the day, you will be left with employees who are stressed and probably unhappy. The result is often absenteeism and low productivity. Now that doesn't sound good for business!
6. Allows You and Your Staff to Effectively Manage Bookings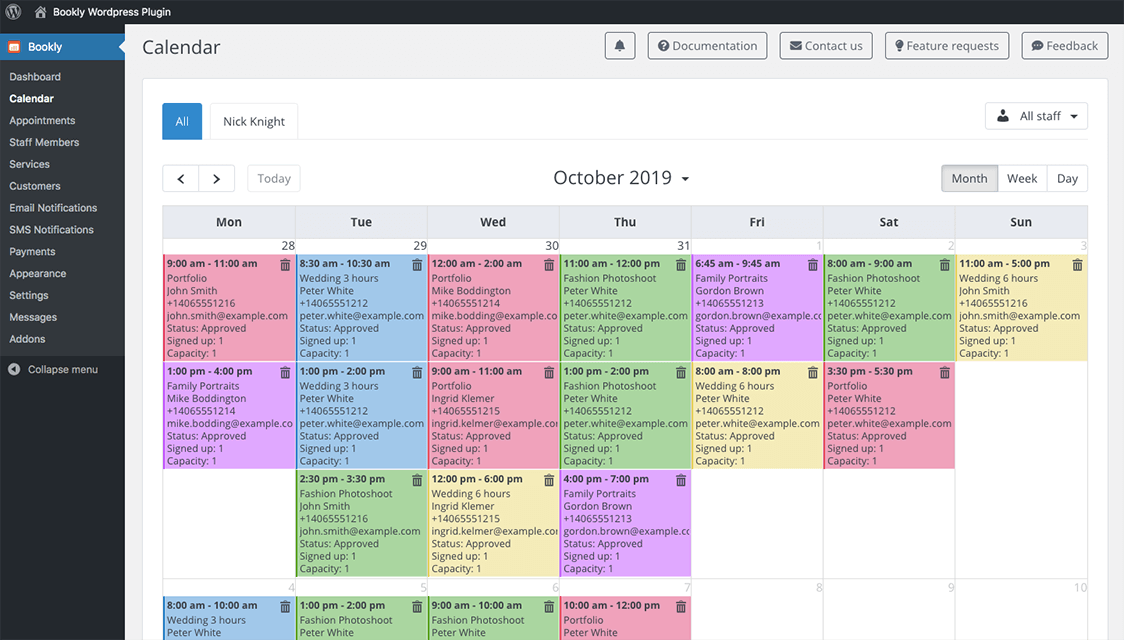 The photographer booking software allows you and your staff to be in control of your appointments. If you or your staff will not be available at a particular time, your clients will see it on your calendar. They can only choose a day that is free for you and your staff. You can check for client information as well as payment details at any time and place. With bookings done over the phone, however, you may not be able to get a client's details unless you are in the office and have access to the computer used in saving the information.
7. Sends Notifications
When you install a booking plugin, your clients who have booked an appointment will get an email and/or SMS reminders notifying them of their meeting with you. This notification may come two days or a day before the scheduled date. This way clients who probably have a lot on their hands can clear up their schedule to be at the venue at the agreed time. These reminders help to reduce no-shows.
The booking plugin is designed to allow clients to cancel an appointment if they are unable to meet up. However, these clients cannot cancel whenever they like. When setting up the booking system, you can specify how much time the client has to make cancellations. If the client cancels on time, the slot can be taken by another client. When clients receive reminders before a photoshoot, they come prepared and ready to face the camera.
8. Allow Customers to Pay Online
Sometimes you may hurriedly take the booking of a client without discussing how much your services cost, or how and when the payment will be done. On the day of the shooting, you will find yourself discussing payment in a rush and if your prices are not listed on your website, you and the client may not agree on the amount that you may request for.
Most booking plugins integrate with many payment gateways. For instance, Bookly integrates with Woocommerce, allowing clients to make payments in advance for their photography session. You can ask your clients to pay a specific amount as a booking deposit or you may ask them to pay in full. If they fail to show up on the day of the shoot and do not cancel in advance, they will lose the money they paid as a deposit.
9. Manage Staff
If you have a team of people that you work with, you can effectively manage them regardless of where they are. With a booking plugin, you will know which of your staff is working with you on a particular day, who has an appointment with a client, and what they are up to.
You can send reminders to your staff, notifying them of an appointment or upcoming event. Your staff can also access the booking calendar to know if they have any appointments for the day.
A photography online booking system allows for the smooth running of affairs in the workplace.
10. Supports Multiple Languages
Sometimes you may have clients who do not speak the language that you understand. Well, you don't have to lose these clients to your competitors. With a photographer booking software, your clients can book appointments in a language that they understand. The booking information will be translated into your preferred language so that you can know what the client wants. You can now render your services to clients who speak a different language with ease. Your booking plugin has got you covered.
Conclusion
Modern technology gives professional photographers a lot of opportunities to improve their customer service experience and expand their business. Whether you specialize in covering weddings, birthdays, fashion events or shooting newborns, you have a responsibility to make your clients happy and create fun memories with your magic fingers. Bear in mind that if you want to be a successful photographer, you must meet and even exceed their expectations starting from the process of booking photography clients.
Installing a booking plugin is undoubtedly a great idea if you want to please your clients. They are counting on you, don't disappoint them.