If you have an eCommerce business or are planning to start one, you will need to come up with a list of things that will make your business thrive. You will also need to think of ways you can make your business accessible to people. One area that you should pay attention to if you want to encourage customers to buy from you is your payment method. People who buy from your online store want convenience and if the payment gateway you use offers anything short of this, they will go somewhere else to buy. No doubt, payment gateway integration is crucial to the survival of all eCommerce businesses. But the plethora of payment gateways out there may make it difficult for you to make the right choice. You need to know that there are certain factors to consider before choosing a payment gateway. What works for your website may not work for another website. Here are the factors that should determine your choice of payment gateway.
1. Cost
When choosing a payment gateway, you need to consider the cost of using it. You should ensure that you know how much is charged for the transaction, statement, chargeback, and merchant account fees. Keep in mind that some gateway tools do not require any subscription but demand a high per-transaction fee while others require a subscription but with low transaction cost.
2. Security
Security is a top priority for every eCommerce business owner. If you fail to handle customers' personal information properly, you may expose them to fraud. The penalty for such carelessness can destroy your business. When you use a reputable payment gateway, your customers will feel safe doing business with you.
3. Compatibility
When it comes to gateway payment integration, compatibility is a key factor.
The gateway payment you choose should be compatible with your current platform. If you are going to have a hard time incorporating it into your existing structure, then it's not the best for you. While some payment gateways can be customized to match the feel of your site, you need to ensure that it is compatible with your brand. The right gateway tool will enhance the purchasing experience of your customers.
4. Approved Payment Methods
It is important that you do everything you can to make buying from you easy and fast. Your existing and potential customers will likely make purchases when you choose a payment gateway that accepts a wide variety of payment methods. So ask yourself, does my gateway option accept credit cards and other popular methods of payment? Note that the preferred payment method of shoppers differs from country to country.
Now that you know the factors that should inform your choice of payment gateway integration, it is time to get familiar with the best payment methods for eCommerce businesses. Here are your top six options.
1) PayPal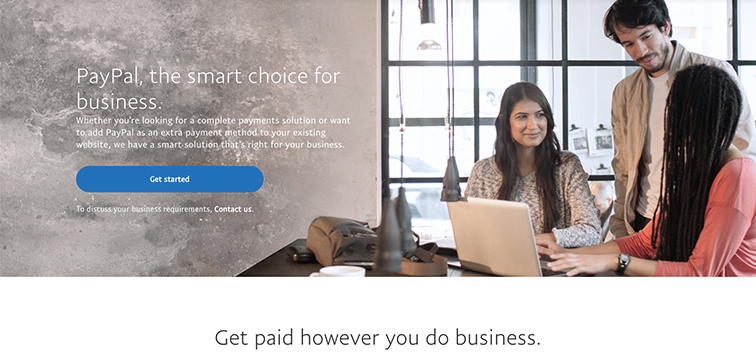 PayPal is the most popular payment gateway with over 218 million users.
It has over the years gained the trust of customers all over the world. It was the first company to provide a safe means of making payment and transferring money on the internet without having to use a credit card. It is easy to set up and that is why most entrepreneurs use it for their website. To make a payment, the user needs an existing account or a credit card. With PayPal, you can send money directly to an email address. PayPal is the preferred payment gateway for most customers because many of them have PayPal accounts.
Pros
It is simple to set up.
PayPal Express does not require a monthly subscription fee.
You can cancel whenever you feel the gateway does not suit your site or brand needs.
Supports most eCommerce platforms including Shopify, Volusion, WordPress, BigCommerce, and Magento.
PayPal Express application programming interface (API) used by PayPal Express integration allows customers to pay directly on your site.
It is secure and reliable as the company provides advanced encryption for fraud protection.
It comes with a detailed integration manual.
Cons
Outrageous currency conversion rates.
Freezing of accounts and funds without advance warning.
Chargeback fee.
Fixed fee per international transaction.
2) Braintree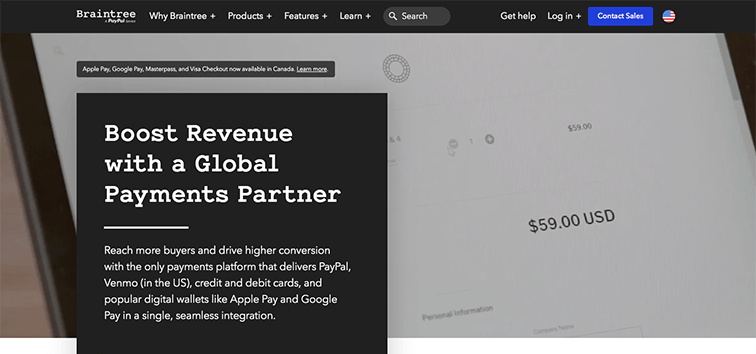 Braintree was launched in 2010 but was later acquired by PayPal. However, it still manages to stand as a competitive alternative to PayPal and maintains its own rates. This payment gateway accepts Venmo, Apple Pay, PayPal, and Android Pay. However, Braintree does not support Shopify and that is why many entrepreneurs do not consider it a great option for their online business. But if you don't use Shopify for your online store, this payment gateway may turn out to be a valuable tool for your site. Since Braintree supports a variety of payment options, customers will not find it challenging to make payments.
Pros
Integrates with major platforms like Spree Commerce, Magento, BigCommerce, WooCommerce, and other top WordPress plugins.
Low chargeback fee.
Accepts payment from Venmo, Bitcoin, Android Pay, Apple Pay, and PayPal.
Provides great customer support.
Ultra-secure platform.
Designed mainly for in-app or website purchases, making it suitable for photographers who have websites and fixed rates.
Accepts over 130 currencies.
Cons
Still subject to the standard PayPal fees.
It does not support Shopify
Demands an additional fee of 1 percent for international payments.
3) Skrill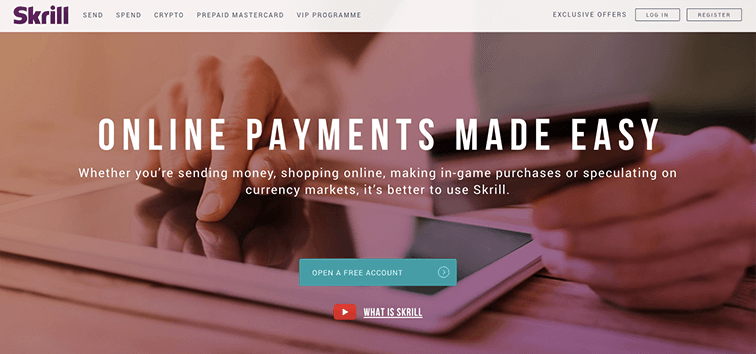 This payment gateway allows users to transfer funds both internationally and domestically. When Skrill was launched in 2001, the primary goal was to facilitate the transfer of funds online from one Skrill user to another. With time, other services were added, including prepaid debit cards and bank account withdrawals. Skrill has about 40 million users worldwide. While it offers its payment gateway services to different industries, its main target is the online gambling and forex market. Most online casinos who are new in the online gambling industry are prohibited from using PayPal and this leaves them with only a few good payment options. Skrill took advantage of the situation by lowering its threshold so that online casinos can benefit from their services.
Pros
Supports a wide range of payment options including debit/credit card, Bitcoin and Bitcoin Cash, Klarna, Neteller, bank transfer and Paysafecard.
Supports over 40 currencies.
A free cross-border transaction fee.
Supports online gambling.
Offers promotion when you sign up for gambling.
Allows all customers to use MasterCard Debit Card.
Cons
Charges a deposit fee of 0% to 7% of the total.
Supports only about 7 major European languages.
Allows multiple currencies for only VIP accounts.
Charges a currency conversion fee of 2.99% to 3.99%.
Charges €1 per month if your account is dormant for 12 months.
4) Amazon Pay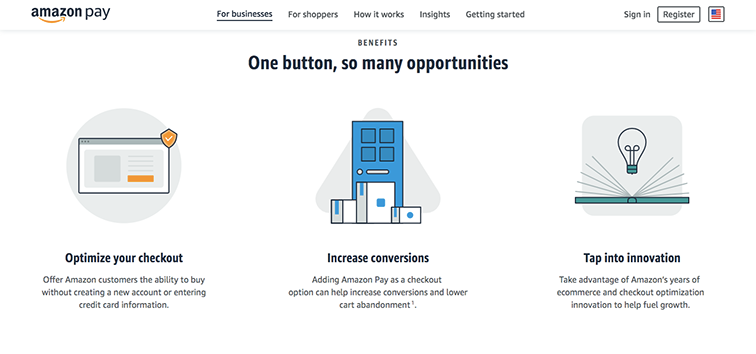 When Amazon launched this service in 2007, they assured users of the same
shopping experience they get from Amazon on third-party sites. True to their word, they have strived to provide a wonderful experience for their users. One of the most impressive things about this payment gateway option is that you do not have to leave the website where you want to make a purchase before you can make payments. Apart from the fact that Amazon Pay incorporates perfectly into the look and feel of most websites, it also allows customers to use their one-click shopping options. Plus with this provision, customers can use the credit cards that they have in their Amazon account. This information is stored on Amazon servers and by logging in with their Amazon account and password, they can transfer their payment data and shipping details to your site, saving everyone time.
Pros
Makes the buying process easy especially for customers with an Amazon account.
Supports platforms like Big-commerce, Magento, Shopify, Volusion, WooCommerce, and other WordPress plugins.
No fraud protection fees.
No setup fee.
No contract.
Comes with a detailed integration manual that contains code samples and testing scenarios.
Cons
Charges per transaction with an additional domestic processing fee of 2.9% and authorization fee of $0.30.
Does not accept credit cards without a US billing address.
5) Stripe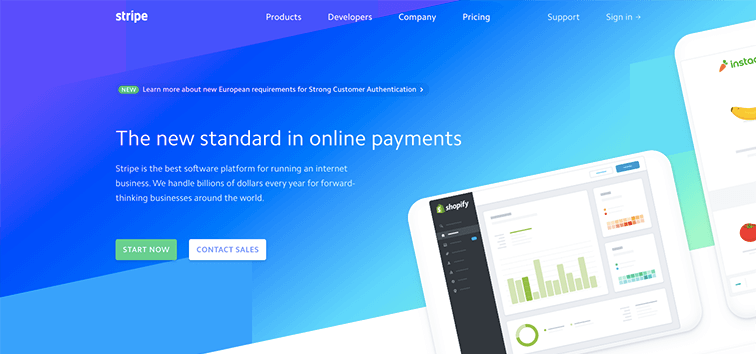 This third-party payment processor allows eCommerce business owners to accept credit card payments. Stripe was founded by Patrick and John Collison in 2010 and it has grown to become one of the best payment gateways for online businesses. Stripe makes the processing of credit card transactions easy for different internet businesses. Many big names in the tech industry use Stripe as their payment solution including Facebook, Microsoft, Uber, Amazon, Shopify, and Google. Thanks to the advanced developer tools employed by Stripe, different kinds of eCommerce businesses can customize their payment processor using a variety of programming languages. This has helped to provide a positive user experience.
Some of the most valuable features of this gateway tool include Stripe Connect, Stripe Atlas, Stripe Sigma, Stripe Relay, and Stripe Issuing.
Stripe Connect allows users to customize on-boarding and set payout timing. It is designed for larger marketplaces and makes complex money movement possible. Stripe Atlas allows entrepreneurs to create an online business in the United States. With this toolkit, you can open a domestic bank account, get legal advice, receive tax, get a debit card and process payments via Stripe. With Stripe Sigma, you can create fully customizable reports using SQL. Stripe Relay is an API that is designed to facilitate mobile in-app purchases. With it, you can easily link your eCommerce platforms with the app and ask visitors to make purchases using buy buttons. Stripe Issuing allows you to create, distribute and manage virtual and physical cards.
Pros
Accepts most payment types including American Express, MasterCard, and Visa.
Supports credit card payment in 25 different countries.
Processes over 100 different foreign currencies.
No contract requirements.
Easily integrates with major eCommerce platforms like Spree Commerce, WooCommerce, Shopify and BigCommerce.
Free currency conversion.
Supports mobile wallets like Apple and Google Pay.
Allows you to cancel any time without an additional fee.
API for integration with custom solutions.
Cons
Cancellation or Freezing of account without prior notice.
Charges an additional 1 percent fee on international card purchases.
6) Authorize.Net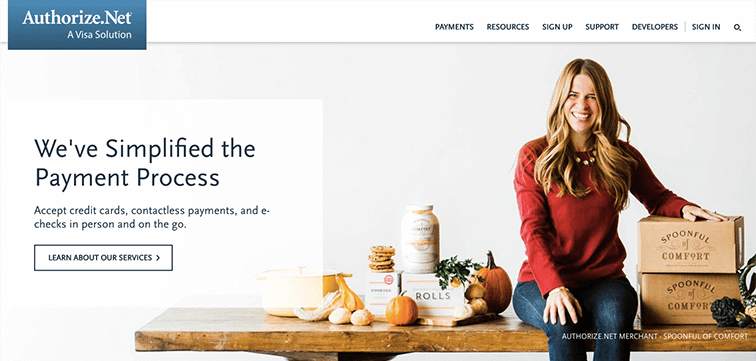 Authorize.Net is a widely recognized payment gateway and boast of over 300,000 merchants. It has been around since 1996. It supports most big eCommerce platforms and works with a good number of digital solutions.
Although this gateway tool requires subscription payments, it offers many features that make it worth the fees.
Authorize.Net makes provision for businesses that gets bigger over time. They do this by offering the Payment Gateway Only plan to merchants who seek better fees. This special offer also ensures that you do not make any changes to your site when you subscribe to the plan.
Pros
Supports major eCommerce platforms.
Accepts a wide variety of credit cards.
With the help of Advanced Fraud Detection Suite™, Authorize.Net identifies and effectively manages potential fraudulent transactions.
Authorize.net Customer Information Manager (CIM) saves your customer's credit card details on secure Authorize servers. This way returning customers can find and use their previous credit card information which is on their profile in your site.
CIM is PCI compliant and free.
Toll-free phone support and online chat.
Cons
Initial set up fee.
Prohibits you from transferring your customer card information when you change to a different payment gateway.
7) Neteller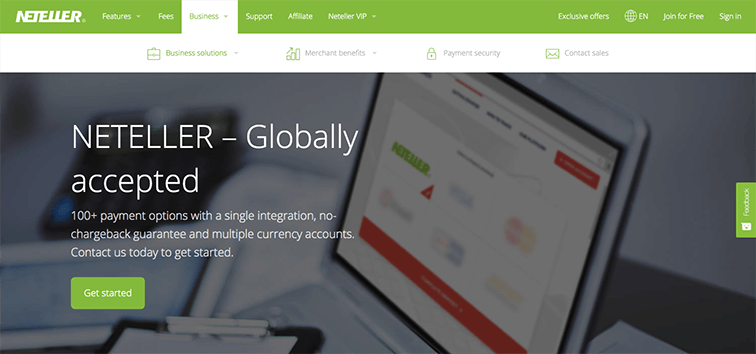 Neteller is specially designed to cater to the needs of the online gambling industry. The rapid growth of internet casinos has prompted many payment gateway providers to provide a gateway tool that facilitates payment and enhance user experience. While there are numerous online casino deposit and withdrawal methods to choose from, it is important to note that some are more advantageous than others. Neteller has managed to maintain a reputation for high-quality service. The ease of fund transfer makes it a top choice for gamblers.
Pros
Offers simplicity.
Impressive transaction speed: You can start playing immediately you deposit into your online casino account.
It is secure and reliable as users don't need to provide any bank information or complicated codes, reducing your chances of becoming a piracy victim.
Neteller also uses 128-bit encryption technology to enhance transaction security.
It is accepted by many online casinos.
Cons
Charges 1% to 5% of the amount deposited by players.
Users who make huge deposits frequently risk bankruptcy.
It takes about 3 to 7 working days to cash out your money.
Conclusion
When looking for a payment gateway for your online website, you should choose one that is reliable and suits your site nicely. Do not forget that customer satisfaction should be your priority if you want them to buy from you again. So put them in mind when making your decision. Customer experience is essential when trying to grow your online business.